Hi friends!
I have a new dessert for you that you are going to be obsessed with – vegan cookie dough pops are here and I am obsessed. They are 100% plant-based, dairy-free, gluten-free, oil-free and no-bake. I know you will run to the kitchen to make this!
First, you are going to blend all of the ingredients in the food processor, then fold in chocolate chips.
If you wanted to stop here and just eat the cookie dough now, you totally can! BUT, if you want to take it a step further and decorate them and make them into cookie dough pops, keep reading.
Once you roll these into balls, stick them in the freezer for 30 minutes to firm up then roll them in the melted chocolate and roll in toppings.
Topping Ideas:
Vegan sprinkles
Chopped nuts
Shredded coconut
Plain chocolate
Chia seeds
Hemp seeds
Can we just take a minute to drool at this picture together?!
Pure cookie dough heaven.
My favorite part about these vegan cookie dough pops is that they're made with chickpeas and you or your guests would never know. There are so many unhealthy vegan cookie dough recipes out there so I wanted to provide you with a cleaner ingredient recipe.
Questions:
Do I have to put toppings on? No, of course not! The beauty of this recipe is that you can choose what toppings to put on, if any. You can just eat these cookie dough pops plain if you want without any toppings!
Where did you find vegan sprinkles? Whole Foods has a great selection!
Can I use almond butter instead of peanut butter? Sure! That works perfectly.
How long do these store in the freezer for? Store in freezer for 3 months and in the fridge for 4 days.
Will my kids like these? DUH! What's not to like!
As you can see, I topped my vegan cookie dough pops with all different toppings so everyone could choose the one they like.
These vegan cookie dough pops are:
Decadent
Rich
Peanut buttery
Chocolatey
A lil salty
Perfect sweet
Mouth-watering
Heaven
Bring these to a party, make them for yourself as a vegan treat or snack, have after dinner if you need a night cap, or make them with your kids….vegan cookie dough pops are literally SO FUN and beyond delish.
I love that they're no-bake and it feels like you're a kid again because you get to decorate them.
Rate + Comment
If you make this recipe and love it, please rate and comment down below at the bottom of your page with your honest thoughts. Your feedback means a lot to me here at HealthyGirl Kitchen. In addition, if you weren't a fan of the recipe or substituted an ingredient/s, please let me know!
Share the Love on Social Media
Pin this vegan cookie dough pops recipe on Pinterest, share the link on Facebook for friends and family to see, or post a picture of your creation on Instagram. Also, be sure to follow me on my new tiktok account, I post a lot of great content on there.
Instagram: @HealthyGirlKitchen
TikTok: @HealthyGirlKitchen
Facebook: @HealthyGirlKitchen
What are you waiting for?! Make these ASAP!
Vegan Cookie Dough Pops
Vegan cookie dough covered in melted chocolate and your toppings of choice! The cookie dough is made with chickpeas and you can't even taste them!
the ingredients
Topping Ideas
chopped nuts

vegan sprinkles

shredded coconut
instructions
Make the chickpea cookie dough balls and place in freezer to set for 30 minutes.

Prepare a baking sheet with parchment paper.

Melt chocolate in microwave in 30-second increments, stirring in-between until completely melted.

Roll chickpea cookie dough balls in the chocolate and then roll them in whichever kind of toppings you enjoy or just leave them in plain chocolate. Place each one back on the baking sheet.

Place a cake pop stick in the middle of each of the balls. Freeze for an hour then enjoy!
More healthy plant-based, gluten-free, oil-free recipes you will love
!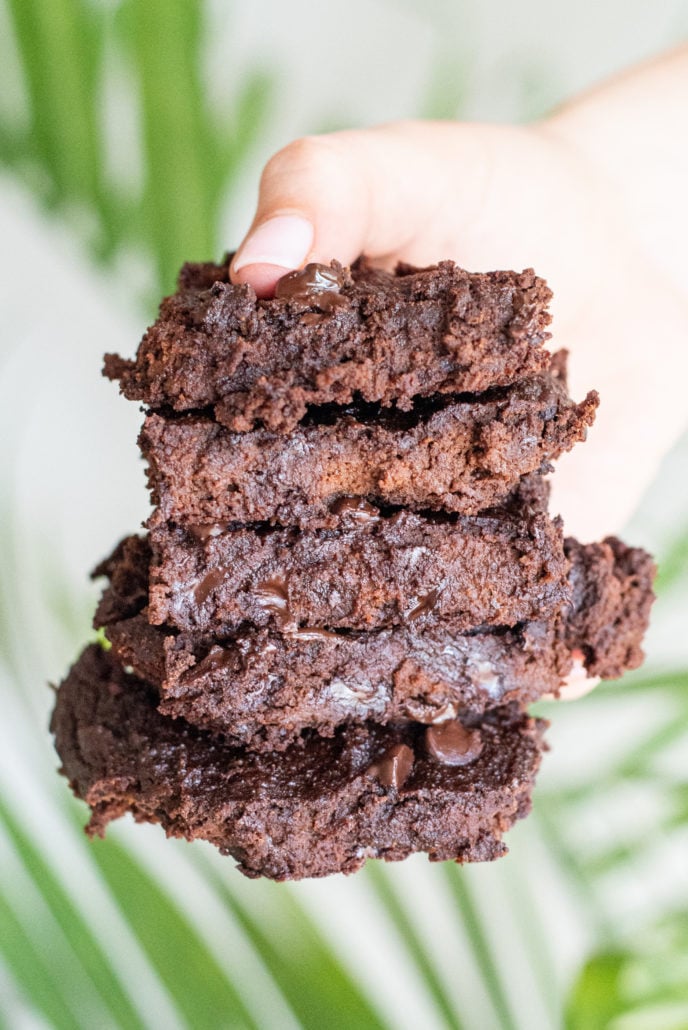 Healthy Vegan Thumbprint Cookies (gf, oil-free)
In good health,
Danielle