Hi friends!
Nothing screams the fall/winter season more than adding pumpkin into your cooking. I have been seeing canned pumpkin at every grocery store and I wanted to use it to my advantage. This recipe is inspired by Vegan All the Thyme. Also, comment below if you're going to make these! #veganbrownies
What better recipe to make than 1-Bowl Vegan Pumpkin Brownies?!
How do you make 1-bowl pumpkin brownies?
To be honest, I am a much better cook than I am a baker so when it comes to baking, the simpler the better. I don't have the patience or time for complicated recipes so I hope you can appreciate this easy 1-bowl brownie recipe as much I do. My chickpea brownie recipe is amazing too and is super simple, if you haven't tried it yet, I urge you to immediately.
All you do is mix all the ingredients together in one bowl, pour it into a pan and pop into the oven. After 35 minutes of waiting in agony for the brownies to be ready, they will be ready!
Let them cool for a bit and feel free to stuff your face!
What ingredients go into the brownies?
The ingredients in this recipe are super simple: it's made with almond flour but you can totally sub oat flour if you want! It also has lower glycemic sweeteners like coconut sugar. You can use pumpkin from a can so don't worry about having to use a fresh pumpkin.
Elevate your brownies: Serve with a scoop of vegan vanilla ice cream, homemade coconut whipped cream or simply just eat by themselves. I promise you will fall in love with these 1-bowl pumpkin vegan brownies. If you're looking to host a vegan Thanksgiving, you HAVE to add these to the menu – your guests will be so impressed with how freaking amazing these are.
Vegan Egg Replacement
The egg replacement in this recipe is flax! You can use ground flax seeds to make egg replacers in baking recipes – it's the best hack for plant-based cooking and baking. Simply mix flax and water and it will congeal to make a flax egg. See the recipe for details.
How to make a flax egg:
1 tbsp flax
2.5 tbsp water
Mix
Let it congeal for 5 minutes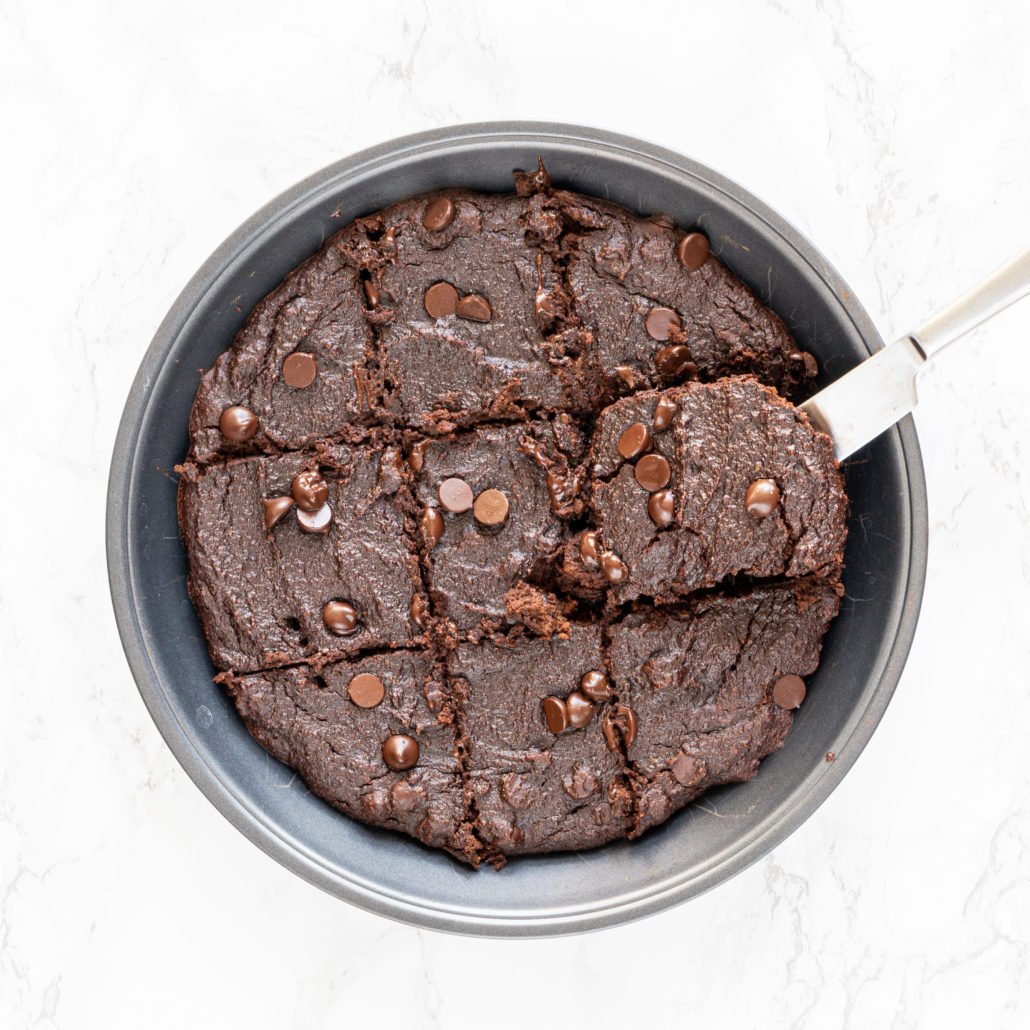 These vegan pumpkin brownies are:
Decadent
Gooey
Fudgy
Chocolatey
Rich
Mouth-watering
Comforting
Sweet
Common Questions:
How long do these brownies take in the oven?
They cook really quickly and only take about 35 minutes.
Can you freeze these brownies?
Yes! Freeze for up to 4 months, otherwise store in a container on the counter or in the fridge.
What are the best brands of chocolate chips?
I like Enjoy Life, the vegan ones at Trader Joe's or the vegan lily's variety of stevia chips.
Can I sub the almond flour with anything?
You can definitely try oat flour instead!
A few extra tips:
Use canned pumpkin, not pumpkin pie filling! Make sure it's unsweetened.
You can use either cacao or cocoa – both will be delicious.
Feel free to sub oat flour for almond flour.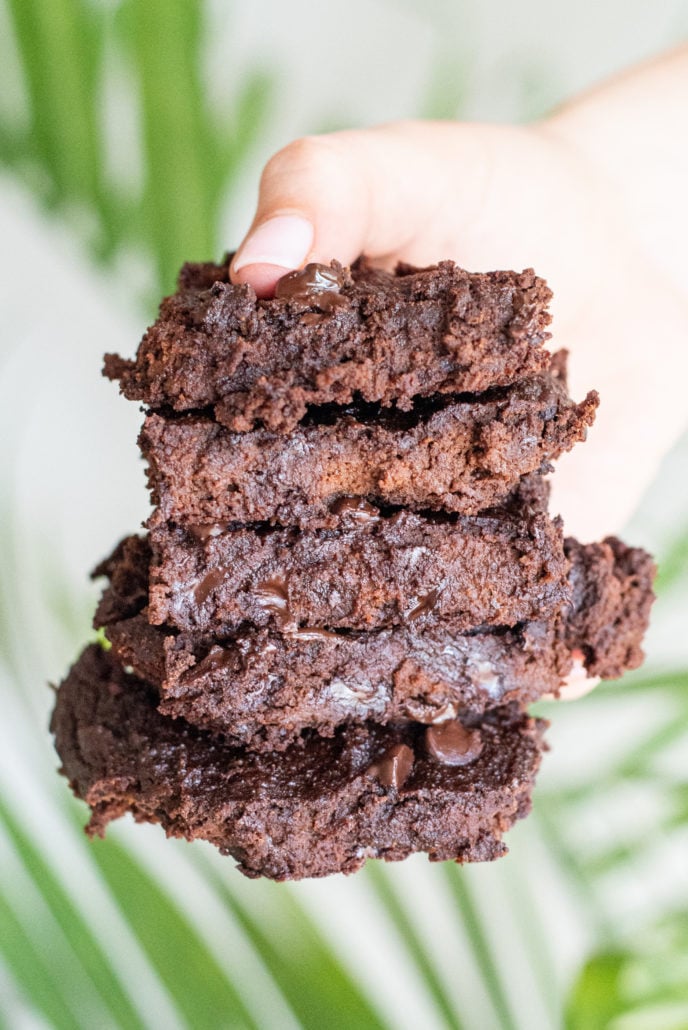 Share the Love on Social Media
Pin this 1-bowl vegan pumpkin brownie recipe on Pinterest, share the link on Facebook for friends and family to see, or post a picture of your creation on Instagram. Also, be sure to follow me on my new tiktok account, I post a lot of great content on there.
Instagram: @HealthyGirlKitchen
TikTok: @HealthyGirlKitchen
Facebook: @HealthyGirlKitchen
1-Bowl Vegan Pumpkin Brownies
Chocolatey, fudgy, gooey, vegan pumpkin brownies. Super easy, 1-bowl recipe that's done in under an hour. Oil-free, 100% plant-based and gluten-free.
the ingredients
1/2

cup + 2 tbsp

pumpkin

I used organic canned pumpkin

3/4

cup

almond flour

2/3

cup

cacao powder

1/3

cup + 1 tbsp

maple syrup

3

tbsp

coconut sugar

1

tsp

vanilla extract

2

flax eggs

2 tbsp ground flax + 5 tbsp water. Mix and let sit for 5 minutes.

salt

pinch

1/2

cup

vegan chocolate chips

plus a few extra for topping
instructions
Preheat oven to 350 degrees F. Use a non-stick 8x8 baking pan or line with parchment paper or grease lightly.

In a large bowl, whisk the pumpkin, maple syrup and coconut sugar.

Add the cacao powder and then whisk until thoroughly combined. Next, stir in the vanilla, salt and flax eggs.

Whisk in the almond flour until there are no lumps. Fold in chocolate chips and mix until evenly distributed. Pour into pan and make sure it's spread evenly.

Bake for about 35 minutes. Let cool for at least 30 minutes before cutting into them.
If you liked this recipe try my vegan chocolate frosted chickpea brownies!
Need another dessert for Thanksgiving?! Check out my plant-based pumpkin pie!
Made with love,
Danielle