Hi friends!
You need to make these homemade vegan protein bars. They are packed with healthy fats, omega 3's, fiber, and essential vitamins and minerals.
Store bought protein granola bars often have preservatives, way too much sugar, weird ingredients, and added oils. Making your own homemade vegan protein bars is much healthier, way more delicious and honestly, it's more frugal. Good news: they take 10 minutes to make and are no-bake!
How do you make homemade vegan protein bars?
The first step is adding all of the ingredients (except for the coconut and coconut) into the food processor. Blend until combined well but still has texture.
Melt the chocolate then pour on top of the granola mixture. Spread evenly. You can always add more chocolate but I wanted a thin layer since this is supposed to be a healthy snack rather than a dessert. Top with coconut shreds and extra chocolate chips.
Stick the bars in the fridge, let them sit for an hour, then feel free to cut them and devour these homemade vegan protein bars!
They are beyond delicious. 
These homemade vegan protein bars are:
Chewy 
Fruity
Perfectly sweet
Nutritious
Nutty
Filling
Healthy
Vegan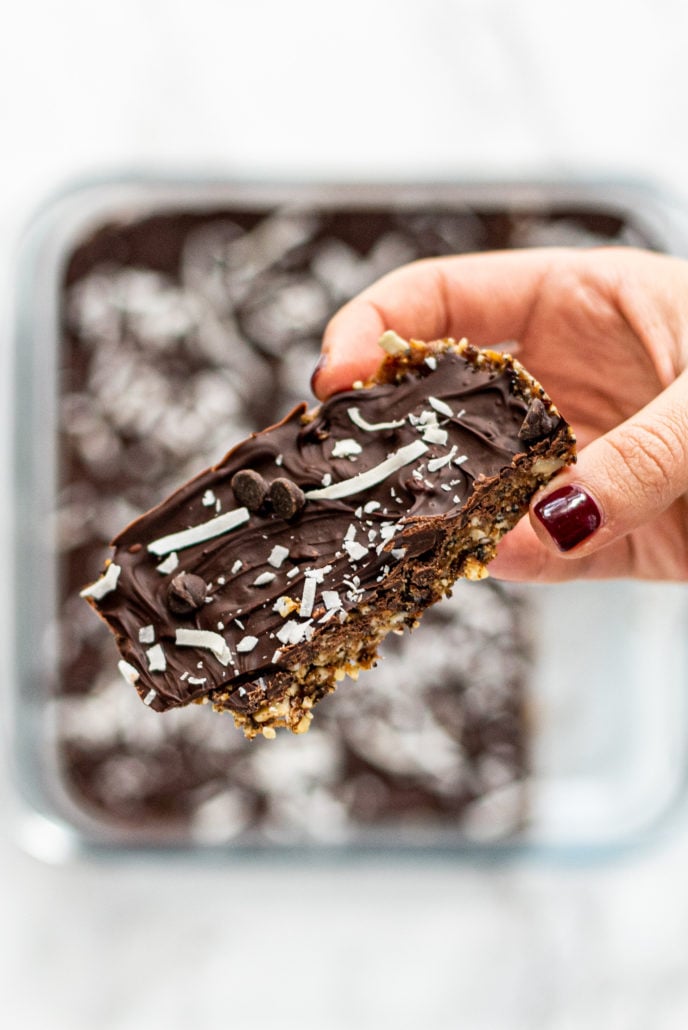 What makes these homemade vegan protein bars healthier than store-bought?!
I always read the labels of store-bought granola/protein bars hoping for clean ingredients but I am left disappointed. There are a couple brands out there with clean labels but honestly, most of the time, I find store-bought granola bars have WAY too much sugar, oil, tons of added artificial ingredients and weird additives. I'd much rather make my own. These are refined sugar free, they're gluten-free, dairy-free, plant-based, and soy-free. What more could you ask for?
The healthy fats in these protein bars in addition to the protein from the nuts and seeds will help to keep you full longer in between meals.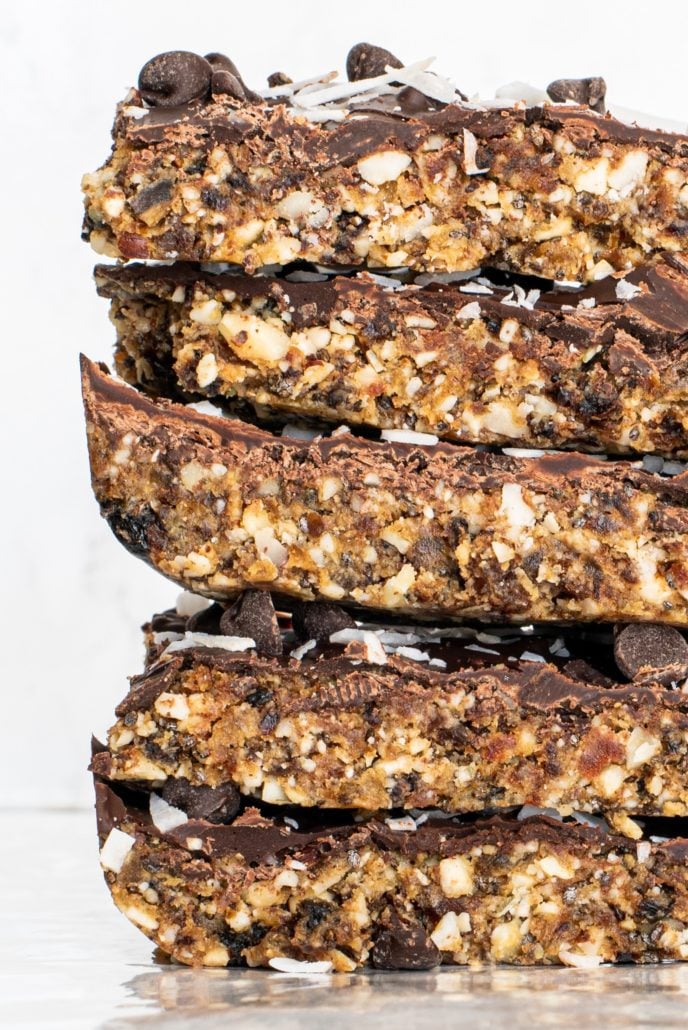 Common Questions:
Can these be kept in the freezer? OMG YES! Of course.
How many bars does this recipe make? Makes 10-12 large bars depending on how you cut them. If you want them into mini squares for more of a dessert treat, it makes about 20 little squares.
 Can I swap out the nuts for seeds if I have a nut allergy? Yes! Use sunflower seeds, extra pumpkin seeds, whatever you want.
Can I omit the chocolate layer if I don't want chocolate? Yes, still chill them in the fridge though to firm up.
Would it work if I replaced the dried cherries with raisins? Totally. I've tried them with dried apricots too and they're amazing
When should I eat these?
Need a healthy mid-morning or mid-afternoon snack? These are absolutely perfect for that! Whether you pack these in your kid's lunches, bring them to work with you, take them in your purse when you're on the go, or even to a pot luck – they come in so handy! I even like having them for a treat after dinner. They are filling so I often have a bite sized piece.
I always say, eat when you're hungry and stop when you're full. If you are in the need of a snack, I encourage you to eat! But…go for something nutritious. These bars are truly the perfect snack.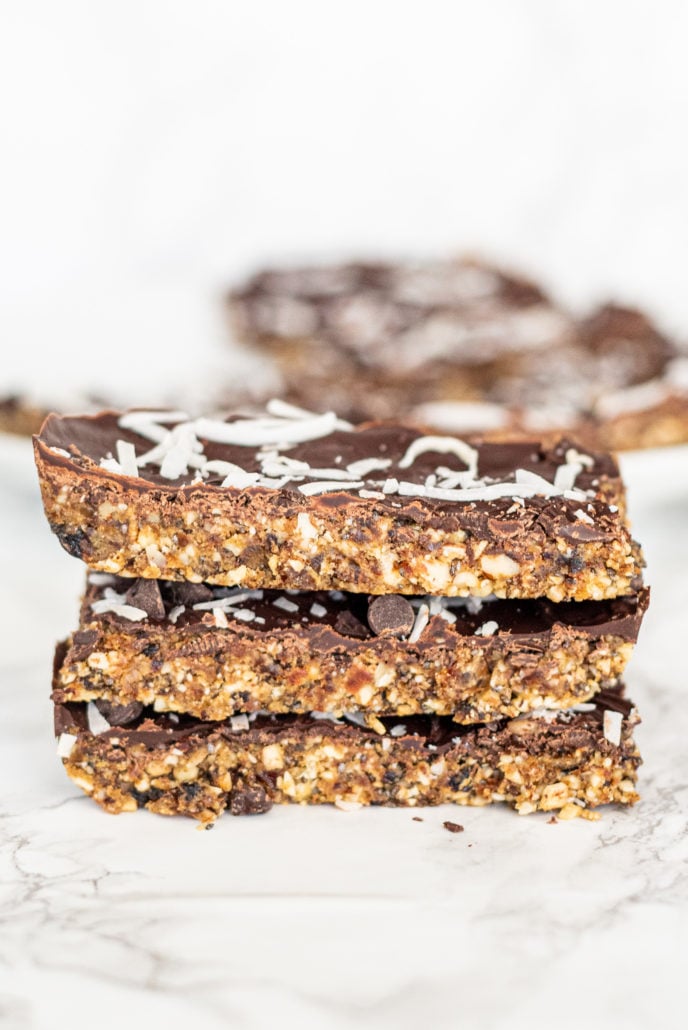 A few important tips:
Make sure to store these in the fridge or freezer
If you pack them in your kid's lunch, pack an ice pack as well.
Use a food processor for this not a blender
Feel free to omit the chocolate if you don't want it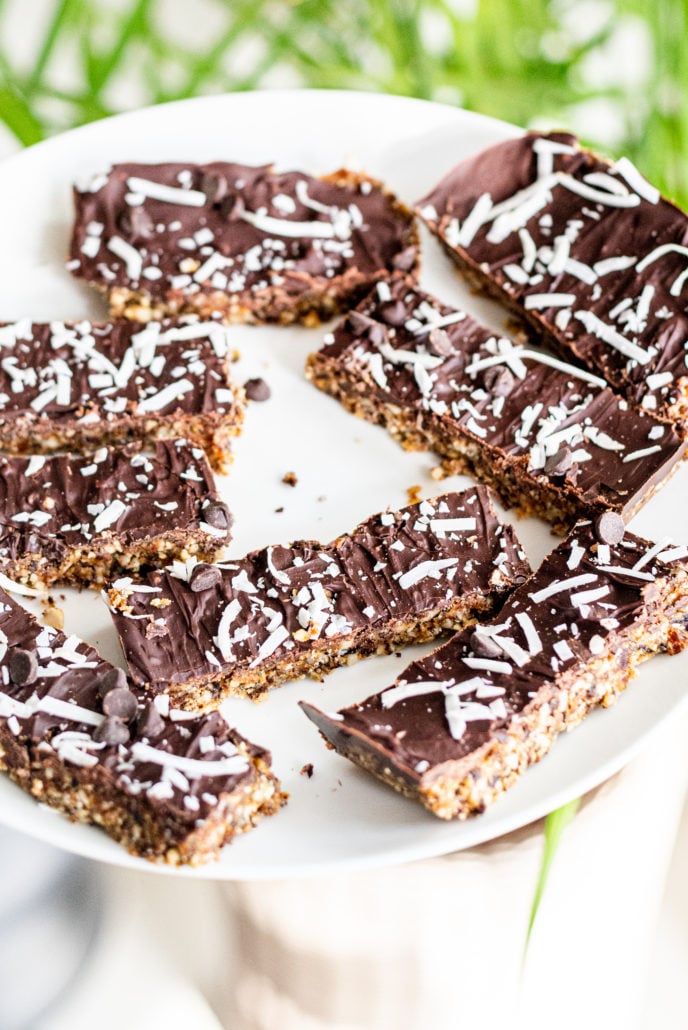 Want more FREE plant-based recipes and meal ideas?
Be sure to follow me on all of my social platforms:
Instagram: @HealthyGirlKitchen
TikTok: @HealthyGirlKitchen
Facebook: @HealthyGirlKitchen
Homemade Vegan Protein Bars
Easy, no-bake, omega and fiber packed homemade vegan protein bars are the perfect plant-based snack or after-dinner treat. Oil-free, gluten-free and no added sugar.
the ingredients
1

cup

pitted medjool dates

1/2

cup

raw cashews

1/2

cup

hazelnuts

or any other nut

1/4

cup

raw pumpkin seeds

1/2

cup

dried cherries

or any other dried fruit

2

tbsp

chia seeds

1/3

cup

creamy peanut butter

3/4

cup

dark chocolate chips

for melting on top

2

tbsp

shredded coconut

for topping

pinch of salt
instructions
Blend all ingredients except for coconut and chocolate in the food processor. Blend until completely combined.

Press mixture firmly and evenly into a 9x9 baking pan.

Melt chocolate chips in a bowl in 30 second increments, mixing each time until melted.

Spread the melted chocolate over the top of the granola bar mixture.

Top with coconut and extra chocolate chips if you want.

Let them sit in the fridge for at least an hour to firm up.

Cut when you're ready to eat them and serve!
If you liked this recipe, then you'll love my 1-Bowl Pumpkin Vegan Brownies!