Vegan frittata egg muffins are going to be your new favorite breakfast, or easy plant-based grab and go snack. They're light, fluffy, filled with veggies, 100% gluten-free, dairy-free and delicious. These are a 1-bowl recipe which means that clean-up is a breeze. Meal prep a batch of them at the beginning of the week and pop one in the microwave or toaster oven whenever you want one!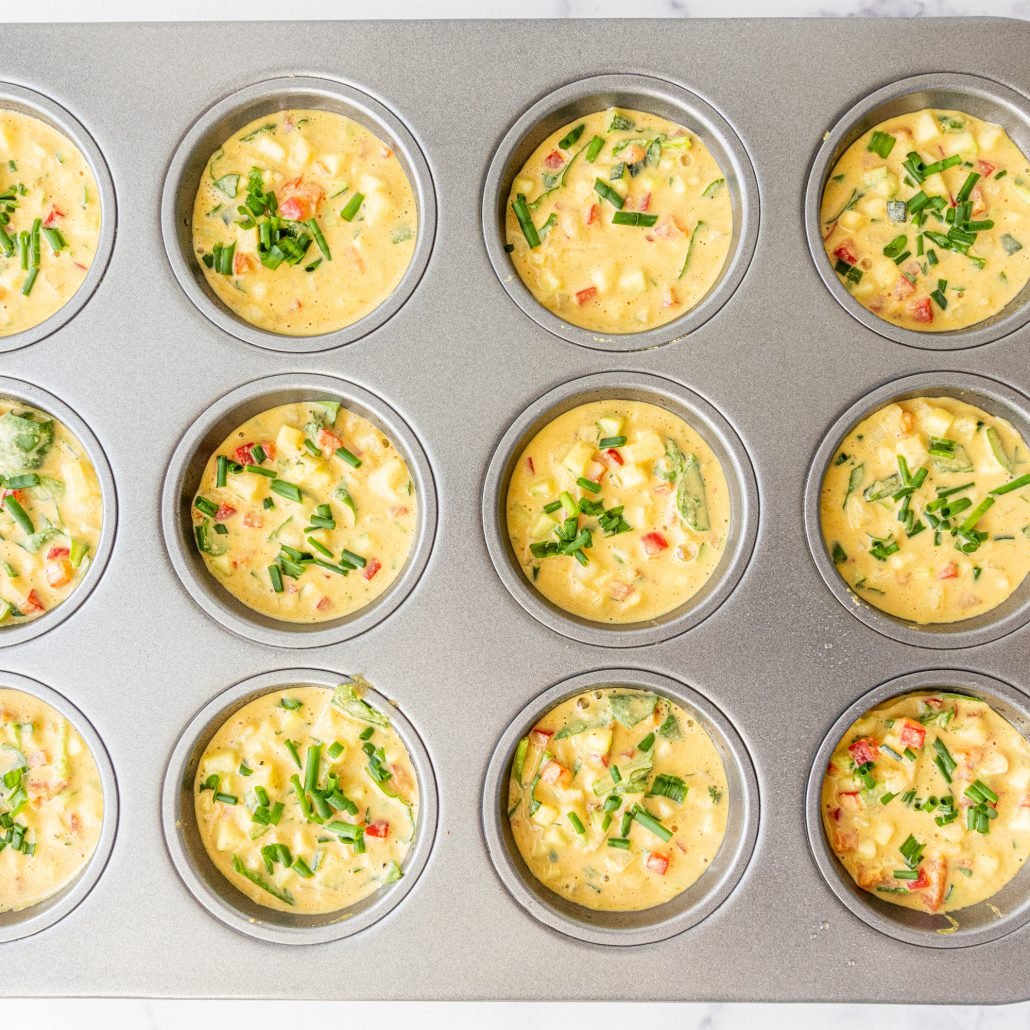 How do you make vegan frittata egg muffins?
First, in a large bowl, add all of the dry ingredients in and whisk. Then, add the wet ingredients like the macadamia milk and water. Mix in veggies of choice: I use peppers, spinach, zucchini and parsley. You could even add roasted mini potatoes or vegan bacon bits, or how about some tempeh? Mix then pour into a muffin pan. Line with muffin liners or grease the pan. I like to just grease the pan. Bake for 40 minutes then enjoy!
The best part of this recipe is how versatile it is. Add any combination of vegetables and seasonings you want to this. You could even add some shredded vegan cheese to these.
Do these really taste like egg?
These do not have that eggy sulfur like flavor, however, the texture is quite egg-like. If you are an egg muffin lover but you need a plant-based version, I think you are going to love these. If you want that egg-like flavor, add some black salt! It's magical! These bake just like an egg mixture would, you could even bake this in a frittata pan if you don't want to make muffins. Want an omelette? You could also use this recipe in a saute pan to make an omelette or scrambled chickpea eggs.
What other fillings would go well in these vegan frittata egg muffins?
diced breakfast potatoes
mushrooms
tempeh bacon
vegan sausage crumbles
vegan cheese
shredded kale
diced tomato
roasted diced sweet potato
Will my non-vegan family and friends enjoy this?
Yup! Absolutely. These are great to bring to a potluck, a family brunch, to pack in your kids lunches, or to share with your family and friends. I always serve these at my vegan brunches and all of my non-vegan friends can't get enough of them. I recommend adding breakfast potatoes to them for someone who would like a heartier egg muffin but overall, everyone who I have made these for has begged for the recipe.
A few important tips:
Make sure to store these in the fridge, do not leave them on the counter because they will get moldy.
Do not over-bake, they will dry out. Keep an eye on them while baking.
For a fluffier egg muffin cook for 35-40, for a crispier more golden brown egg muffin bake for 40-45 minutes.
Enjoy them straight out of the oven!
Watch the video tutorial on how to make the egg muffins here!
Why does this recipe contain macadamia nut milk?
Macadamia milk is amazing for vegan egg recipes because it's creamy, nutty, smooth and absolutely delicious. I use the unsweetened original one in this recipe. My favorite brand is Milkadamia and I am excited to have teamed up with them on this recipe! Their vegan nut milks are made from raw macadamia nuts that are sustainably farmed (so cool right?!). If you want to read more about their regenerative farming practices, head over to Milkadamia's website to learn all about it! Milkadamia's products are all non-GMO, soy-free, gluten-free, dairy-free and vegan. Use the Milkadamia store locator. 
Want more FREE plant-based recipes and meal ideas?
Be sure to follow me on all of my social platforms:
Instagram: @HealthyGirlKitchen
TikTok: @HealthyGirlKitchen
Facebook: @HealthyGirlKitchen
Vegan Frittata Egg Muffins (made with chickpea!)
Easy, delicious, chickpea egg muffins are 100% plant-based and perfect for a quick savory breakfast or protein packed snack.
the ingredients
1 3/4

cup

chickpea flour

1/4

cup

nutritional yeast

1

tsp

baking powder

1

tsp

garlic powder

1

tsp

salt

1/2

tsp

turmeric

1/2

tsp

smoked paprika

1

cup

unsweetened macadamia milk

I use Milkadamia

1

cup

water

1

cup

diced zucchini

1

cup

diced bell peppers

1/2

cup

diced onion

1-2

cups

chopped spinach

1/4

cup

chopped

parsley

chives

garnish
instructions
Preheat your oven to 375 degrees F. Prep a muffin pan by lightly greasing it.

In a large mixing bowl, add all of the dry ingredients and whisk.

Add the milk, water then mix. Add the veggies. Mix with a spoon. Use a 1/4 cup measure to add the egg mixture into your muffin pan. Garnish with chives.

Bake for 35-45 minutes. Enjoy fresh then store in fridge.