Vegan Carrot Cake Muffins…YES PLEASE!
I have been searching for a great muffin recipe lately that is not only tasty but also healthy! In my humble opinion, I think these vegan carrot cake muffins take the cake (no pun intended)!
You should have smelled my kitchen as these vegan carrot cake muffins were baking….omg! Total heaven! I had my friend over while I was baking these (who isn't vegan) and she gave them her seal of approval! She couldn't believe how moist they were.
Good news: these can be made in only 1-bowl which makes the baking process a whole lot easily, especially the clean up!
This recipe is: 
✔️Vegan
✔️Gluten-free
✔️WFPB friendly
✔️Soy-free
✔️Oil-free
✔️100% yummy
Natural Wholesome Ingredients
I love baking with healthier ingredients. I feel like in traditional baking there is always butter, sugar, eggs, dairy etc. Adding a healthier twist to modern baking by omitting oil, using low glycemic sweeteners and using flax instead of eggs is truly the way of the future! And guess what?!
They are equally as delicious as a typical unhealthy muffin.
The Perfect Vegan Carrot Cake Muffins
These are everything you could possibly want in a muffin.
Fluffy 
Moist 
Subtly sweet 
Soft 
Simple 
Satisfying
Tender 
Light 
I made these muffins gluten-free by using gluten-free all purpose flour and using almond meal instead of other flours. I have only tried this recipe with the ingredients listed, so if you want to experiment with other flours, go right ahead! Mine was adapted from Minimalist Baker. 
Report back if any other flours work! Just tell me in the comments!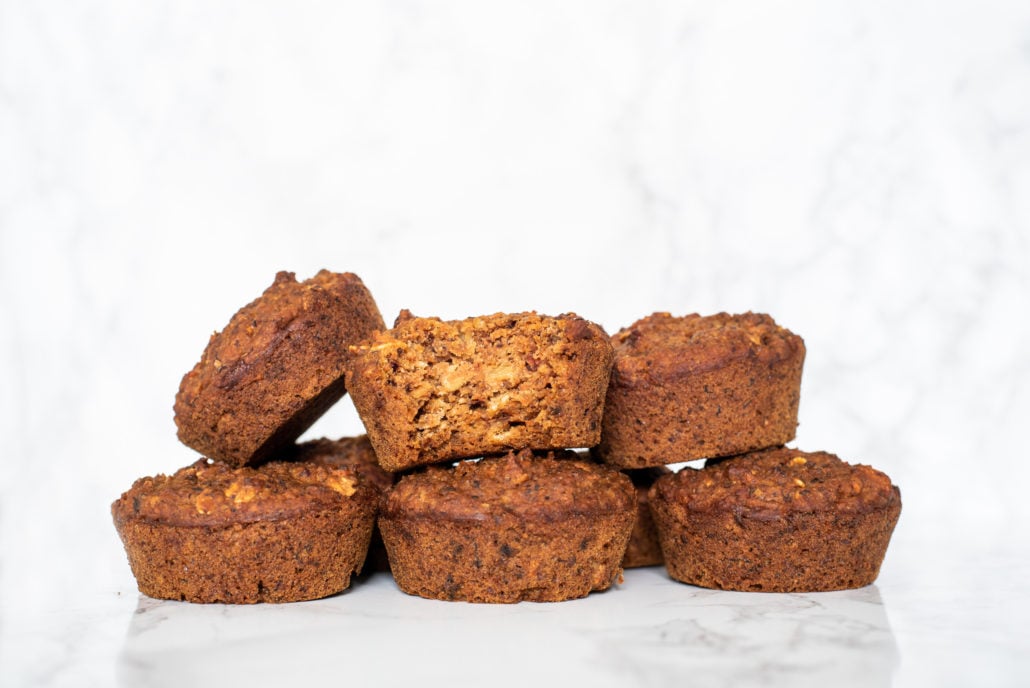 As a plant-based health coach, my recommendation would be to have one of these muffins as a snack or a little treat after dinner.
I personally like to have them as a snack between lunch and dinner to hold me over. I wouldn't use them as a meal replacement but if you need a quicky breakfast on the go one day, take one of these vegan carrot cake muffins and a banana and you're good to go!
Hosting a brunch? Going to a pot-luck? Is your kid having a bake sale? I promise wherever you go and whatever you do, these muffins will be a total hit!
Also, can we just talk about how they have banana, apples and carrots loaded into them?! So many nutrients and perfect for the picky eater.
Oil-Free Muffins
I like to cook and bake with as little to no oil as possible. Oil is highly refined and adds a lot of unnessary fat and calories to your food. Fun fact: I used unsweetened applesauce instead of oil in this recipe!
I also used a little almond meal to make up for the fat content lost from the oil. For a lower glycemic sweetener option, I added a bit of coconut sugar for sweetness! Healthy doesn't have to be boring!
Share the Love
If you make these vegan carrot cake muffins, share the love! Post a picture of your muffins on Facebook or Instagram and tag me @healthygirlkitchen! Don't forget to pin this on Pinterest to share with all of your friends as well!
Want to share the love even more? Post the recipe link so everyone has a chance to make these! 
Vegan Carrot Cake Muffins (gluten-free, oil-free)
Amazing, moist, subtly sweet, soft, gluten-free + oil-free vegan carrot cake muffins that can be made in 1-bowl.
the ingredients
1

flax egg

*Use 1 ½ Tbsp (10 g) flaxseed meal + 4 Tbsp (60 ml) water to make the flax egg

3/4

cup

applesauce

unsweetened

1/3

cup

mashed ripe banana

1/4

cup

maple syrup

1/3

cup

coconut sugar

1/2

tsp

salt

1.5

tsp

baking soda

1/2

tsp

cinnamon

1/2

cup

plain almond milk

unsweetened

1

cup

grated carrot

heaping cup

2/3

cup

gluten-free rolled oats

1/2

cup

almond meal

1

cup

all purpose gluten-free flour

I use the all purpose GF flour from Trader Joe's
instructions
Add flax egg in a large mixing bowl and preheat oven to 375 degrees F.

Prepare your muffin tin with liners or lightly grease them.

To flax egg, add mashed banana, maple syrup, applesauce and whisk to combine.

Then add coconut sugar, baking soda, salt, cinnamon, and whisk to combine.

Add almond milk and stir.

Add grated carrot and stir.

Add oats, almond meal, and all purpose gluten-free flour and stir.

Divide the batter evenly among 12 muffin tins, filling them about 3/4 of the way to the top. I only got 11 so don't worry if you don't get all 12!

Bake for 32-35 minutes, or until deep golden brown and a toothpick inserted into the center comes out clean.

Let them cool for about 20 minutes or longer.

Store in airtight container to keep them fresh or you can freeze them.