Hi friends!
This new recipe for vegan gluten-free matcha muffins is truly a winner. If you're looking for a healthier muffin recipe, stop right here because HealthyGirl Kitchen has you covered. They're moist, fluffy, perfectly sweet, deliciously plant-based and the perfect little snack.
Once I tasted these, I couldn't get enough!
Why is matcha healthy?
Matcha is incredible for your health as it's filled with antioxidants and is super in high EGCG which is known for it's anti-cancer properties (yes please!). Other benefits of matcha includes boosting energy, boosting the immune system, detoxifying the body, and helps manage type 2 diabetes.
Make sure to buy high-quality organic matcha! I am so excited to be featuring Mizuba Tea Company matcha in this blog. It's organic, non-GMO, radiation-free, preservative & heavy metal-free, and 100% pure!
Check out the Mizuba Tea Company mission here!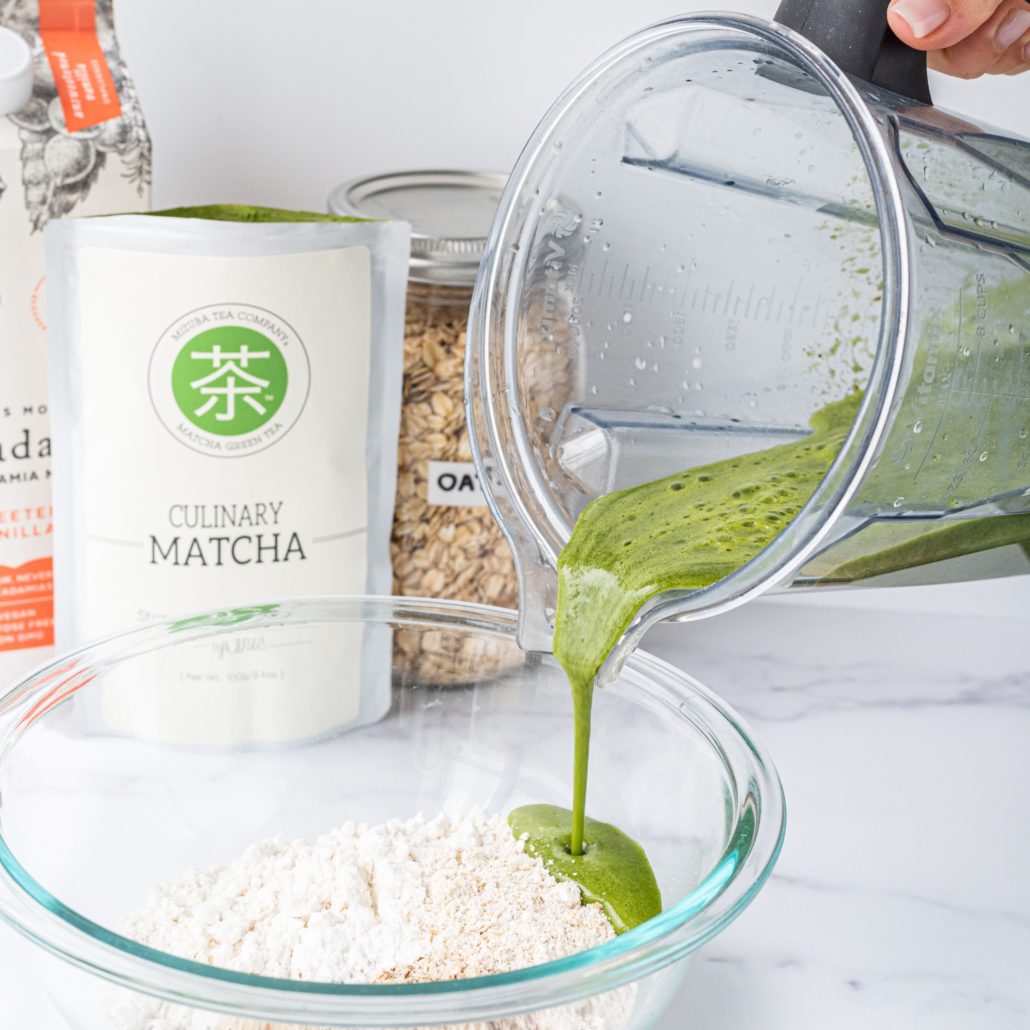 Why I recommend macadamia nut milk
Ever since going vegan, I have tried so many different non-dairy milks. One of my all-time favorites is Milkadamia's macadamia nut milk. It's creamy, delicious and PERFECT for baking! I love adding it into my baking recipes and I thought tit would be great in my vegan gluten-free matcha muffins.
I teamed up with Milkadamia for this recipe blog. Milkadamia is an incredible company that practices and supports regenerative, sustainable farming. Their vegan nut milks are made from raw macadamia nuts that are sustainably farmed in Australia (so cool right?!). If you want to read more about their regenerative farming practices, head over to Milkadamia's website to learn all about it!
Milkadamia's products are all non-GMO, soy-free, gluten-free, dairy-free and vegan. 
I don't know about you but I LOVE a company that is earth-friendly and actually cares about our planet and the animals.
What ingredients are in this recipe?
The ingredients in this recipe are super simple and the process is also super seamless. For example, this recipe has banana, matcha, macadamia milk, coconut sugar, oat flour, almond meal, gluten-free flour and vanilla…pretty simple if you ask me!
How do you make vegan matcha muffins?
I recommend using a non-stick muffin pan or parchment muffin liners. If you don't have either, you'll have to grease your pan! We don't want the muffins sticking to the pan. When you go to take the muffins out if you didn't use a parchment liner, just simply use a butter knife to remove.
The wet ingredients will be blended in the blender and then will be added into the dry ingredients. I love a 1-bowl recipe! The clean up is so easy! Bake for 22 minutes and BAM you'll have the most delicious matcha muffins that are healthy and taste amazing.
These vegan gluten-free matcha muffins are: 
Soft
Fluffy
Moist
Flavorful
Perfectly Sweet
Nutrient dense
Decadent
….and so delish!
Common Questions:
Where can I get the culinary grade matcha you used?
Where can I find the macadamia nut milk?!
Use the Milkadamia store locator here!
Can I get the Milkadamia on Amazon?
Yup! They sell packs of 6 on Amazon.  Get 40% off if you order from their website. 
Can I use cane sugar instead of coconut sugar?
Yes, use any dry sugar you'd like.
Is the banana flavor strong?
Nope – it's subtle.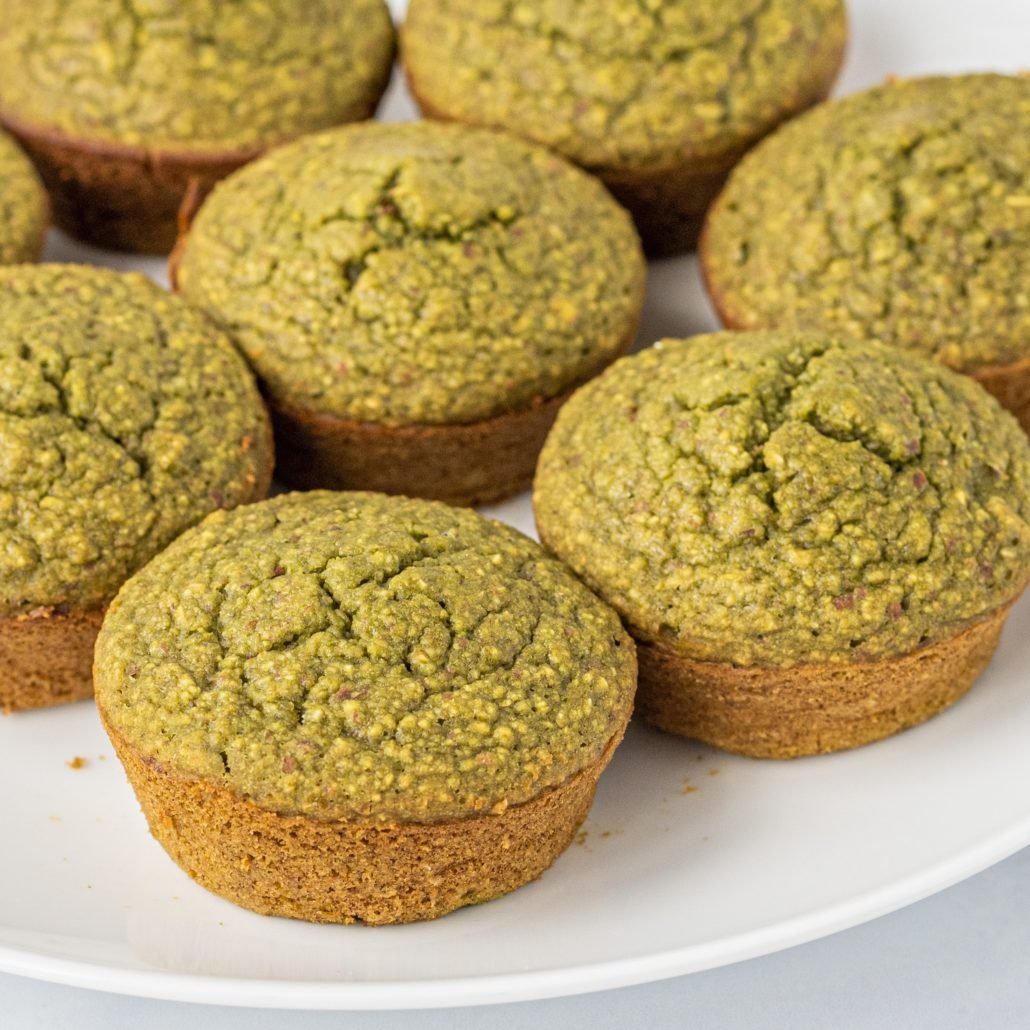 How many calories are in each muffin?
Eat these vegan gluten-free matcha muffins as a snack, treat, or even for breakfast. Bring these to a potluck, enjoy them with friends and family, make them with your kids or just make to keep in the house for an easy snack. Each muffin is 110 calories. Each muffin is hearty and makes for a great snack.
What is the best way to store these vegan gluten-free matcha muffins?
Store in an air-tight container for up to 3 days or freeze! They are definitely best fresh the day they're made but they will stay good for a few days in a container. It's important to keep them sealed in the container so they stay super moist.
Rate + Comment
Anyway, your feedback means everything to me at HealthyGirl Kitchen! If you make this recipe and love it, please rate and comment down below at the bottom of the page with your honest thoughts.
Let me know what you think about this recipe and if you make it, be sure to let me know in the comments and give it a rating based on your experience! If you weren't a fan of the recipe or substituted an ingredient/s, please let me know!
Get more free recipes:
Pin these moist vegan gluten-free matcha muffins on Pinterest, share the link on Facebook for friends and family to see, or post a picture of your creation on Instagram. Also, be sure to follow me on my new tiktok account, I post a lot of great content on there.
Instagram: @HealthyGirlKitchen
TikTok: @HealthyGirlKitchen
Facebook: @HealthyGirlKitchen
If you liked this muffin recipe, you will love my V/GF chocolate chip muffins too!
Vegan Gluten-Free Matcha Muffins (oil-free)
Moist, fluffy, soft, flavorful matcha muffins are 100% plant-based, gf and oil-free. Perfect for quick breakfast on the go, treat or snack!
the ingredients
1

cup

oat flour

make sure to get certified gf oats

1/4

cup

almond meal

1/2

cup

coconut sugar

or any sugar like cane sugar or monkfruit sweetener

1/4

cup

gluten-free all purpose flour

3/4

cup

unsweetened vanilla macadamia milk

I use Milkadamia

2

tsp

culinary matcha powder

I use organic matcha from Mizuba

1

ripe

banana

1

tbsp

baking powder

2

tsp

vanilla extract
instructions
Preheat oven to 350 degrees F.

In a blender, blend banana, macadamia nut milk, matcha powder, vanilla and sugar on high until completely smooth.

In a large bowl, whisk oat flour, almond meal, gluten-free flour and baking powder together then pour the wet mixture into the bowl and stir to combine well.

Grease the muffin pan, use a non-stick pan, or use muffin liners. Add the batter into the muffin pan filling each about 3/4 way to the top. Yields about 9 muffins.

Bake for about 22 minutes. Allow to cool for 30 minutes before removing from the pan.

Serve and enjoy! Store in air-tight container.
This blog was made in partnership with Milkadamia. I can't wait for you to try their plant-based macadamia nut milk!
Best,
Danielle