Hi friends!
I have a delicious new recipe for you all – 3-INGREDIENT OATMEAL BANANA BITES are going to be your new favorite healthy vegan snack and treat.
I wanted to share a recipe with you all that has simple ingredients, has no sugar and it the perfect little snack on a plant-based diet that's low in calories but is filling and delish.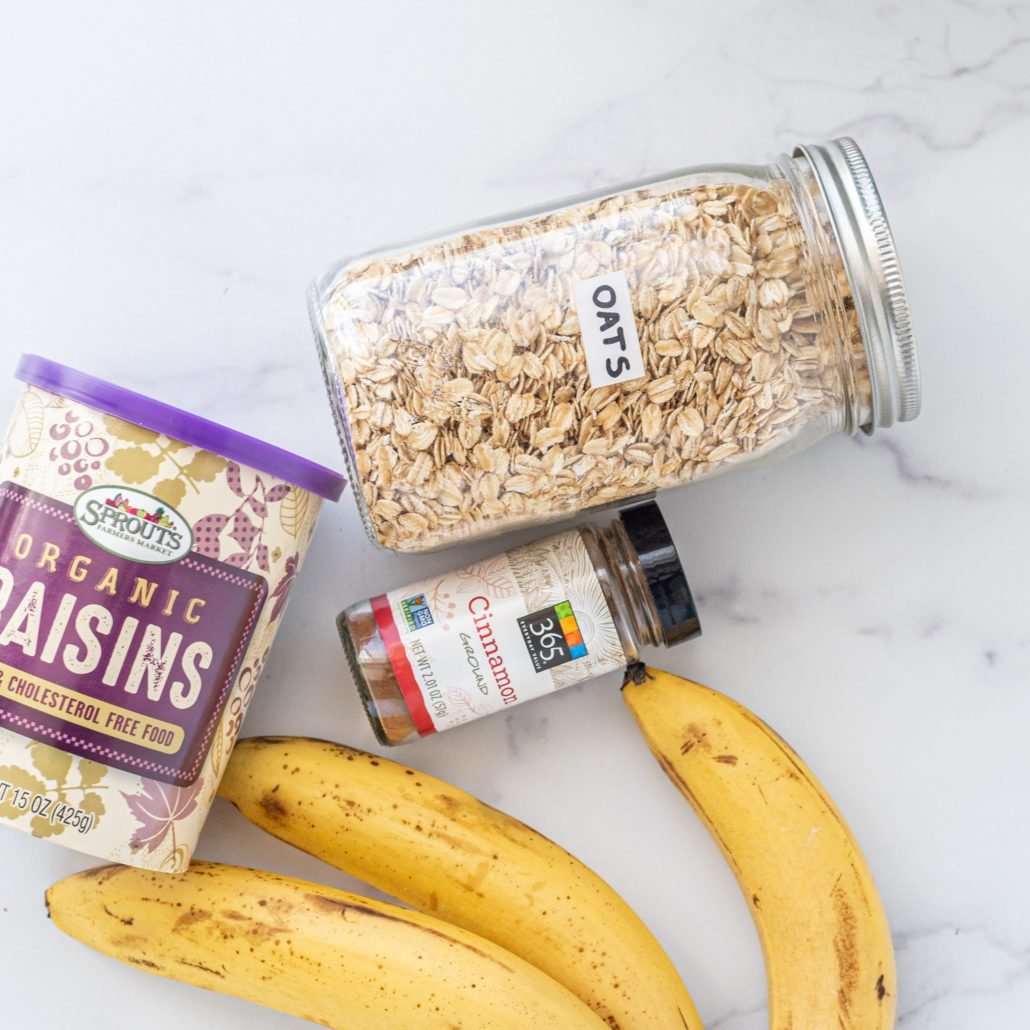 Common Questions
Can I substitute the raisins with anything? Yes! Feel free to substitute chocolate chips, dried cherries or dried cranberries. You can customize these bites with anything you want. You can add coconut shred, nuts, or vanilla extract! Yum!
How many bites does this recipe make? This recipe makes about 20-25 bites! I like to make mine about a heaping tablespoon. They are a great snack – pop 4-5 of them when you need a quick little snack.
What is the texture like? Chewy, soft, hearty.
How long do they need to bake for? Only 12-15 minutes! Could it get any easier?
What ingredients will I need?
You only need three ingredients to make these 3-ingredient oatmeal banana bites – rolled oats, banana and raisins! I like to add cinnamon for extra flavor and it makes these bites extra yummy.
Pack these in your lunch for work or school, make them to eat for breakfast, make them for a snack for your kids, etc.
Are you gluten intolerant or have celiac disease?
Make sure to buy certified gluten-free oats for this recipe! Not all oats are gluten-free so double checking your oats for a GF certification is important.
These 3-ingredient banana oatmeal bites are truly the perfect healthy snack because they are both plant-based and gluten-free but don't contain any added sugar! The raisins add the perfect amount of sweetness as well as the cinnamon.
What is the best way to store these 3-ingredient oatmeal banana bites?
Storage: I like to store these in an air-tight bag or container on the counter but if you add chocolate chips instead of raisins you can always keep them in the fridge so the chocolate doesn't melt. They stay good for a couple of days but I promise you they won't last long. Also, because they are super low in calories, you can eat a bunch at once!
Nutrition info:
If you make 25 cookies, these have 39 calories each, which is pretty good if you ask me! Each bite also has 0.3 grams of fat. Honestly, these 3-ingredient banana oatmeal bites are the perfect little snack/treat!
Want more nutrition info? Just add up the ingredients in an online food calculator and you can receive the full nutrient profile.
Rate + Comment
Anyway, your feedback means everything to me at HealthyGirl Kitchen! If you make this recipe and love it, please rate and comment down below at the bottom of the page with your honest thoughts.
Let me know what you think about this recipe and if you make it, be sure to let me know in the comments and give it a rating based on your experience! If you weren't a fan of the recipe or substituted an ingredient/s, please let me know!
Share the Love on Social Media
Pin these no sugar 3-ingredient banana oatmeal bites on Pinterest, share the link on Facebook for friends and family to see, or post a picture of your creation on Instagram. Also, be sure to follow me on my new tiktok account, I post a lot of great content on there.
Instagram: @HealthyGirlKitchen
TikTok: @HealthyGirlKitchen
Facebook: @HealthyGirlKitchen
3-Ingredient Banana Oatmeal Bites (no added sugar)
Chewy, soft oatmeal bites are perfectly plant-based and great for a healthy snack or treat. They are oil-free, have no added sugar and they are gluten-free and only take a total of 20 minutes.
the ingredients
1.5

cups

rolled oats

get certified gluten-free if you are GF

3

mashed bananas

1/2

cup

raisins

1.5

tsp

cinnamon
instructions
Preheat oven to 350 degrees F and line a baking sheet with parchment paper.

Mash banana first. Then add all of the ingredients into a bowl. Stir to combine well.

Scoop heaping tablespoons onto the baking sheet. It yields about 20-25 bites.

Bake for 15 minutes, serve and enjoy! Store in air-tight container.
More healthy plant-based, gluten-free dessert recipes you will love 
!
Healthy Vegan Thumbprint Cookies (gf, oil-free)
In good health,
Danielle