Hi friends!
This new recipe for my cinnamon bun cauliflower smoothie is OUT OF THIS WORLD.
Before you judge, I want you to know that I was skeptical at first too. Cauliflower in a smoothie that actually tastes good?!
No freaking way. YES WAY. You can add frozen cauliflower to your smoothie and you literally don't even taste it.
Josie's Organics – Braga Farms
I used the Braga Fresh cauliflower for my cinnamon bun cauliflower smoothie from Josie's Organics, an amazing all organic company that grows their produce in the fertile California Valley.
Their family farming business dates back to the 1920's, when two young Swiss immigrants, Sebastian and Josie Braga decided to start growing beets, tomatoes, onions, hay and corn.
Today, three generations later, the organic family farming tradition is being kept alive! Josie's Organics harvests over 25 varieties of USDA certified organic veggies.
How incredible?!
If I see Josie's Organics in the grocery store, I snatch it up real quick because it's truly such fresh produce. You can find their produce at stores like Trader Joe's, Whole Foods, Sprouts and many more.
Josie's Organics doesn't use any synthetic fertilizers or pesticides on their farms. This is so important!
Be sure to look out for Josie's Organics in your local store! Use their store locator here!
If you want to make this smoothie, all you need to do to prep is cut up and freeze the cauliflower the night before you want to make it! I was beyond skeptical of how this would turn out but it's a wellness trend that I needed to try for myself.
You'd have NO CLUE that there was cauliflower in this yummy smoothie…because it's frozen, it adds an amazing creaminess to the smoothie and makes it like ice cream.
Trust me on this, would I ever steer you wrong?!
I am obsessed with smoothies for an easy 5-minute breakfast.
The key to a filling smoothie though is making sure you have a balance of complex carbohydrates, healthy fats and plant-based protein.
I used peanut butter for my healthy fat, vegan chocolate protein from Whole Foods for my protein and banana for my carb. I usually add spinach for a veggie but I swapped in cauliflower and WOW, mind blown.
This vegan cinnamon bun cauliflower smoothie is:
Creamy
Sweet
Cinnamony 
Peanut buttery
Chocolatey 
Decadent
Perfectly smooth 
Healthy
Filling
#HealthyGirlKitchen approved
Questions:
Can you taste the cauliflower? Nope! It's totally hidden. Great for picky eaters or kids or just if you want to make sure you're eating enough veggies.
Does it have to be frozen? Yup! You need to freeze the cauliflower before making a smoothie with it. It adds a creaminess that is necessary.
What kind of chocolate protein do you use? In this smoothie, I use the chocolate and greens kind from Whole Foods, it's 100% plant-based and has super clean ingredients.
Can I use almond butter instead of peanut butter? Sure! That will be yummy too.
Is this good if I am trying to lose weight? Definitely! The healthy fats and protein will help to keep you full for hours.
#HealthyGirlKitchen
If you don't have or want to use vegan protein powder in this, you can just use some cacao powder instead to give it that chocolatey flavor – it definitely makes this like a dessert.
I would happily drink this every morning.
If you don't want to make this particular smoothie and want more of a tropical smoothie that's totally fine! The frozen cauliflower trick will work in any smoothie.
I added 1 date and a few drops of pure organic stevia drops for extra sweetness – the stevia is optional! You can always add 2 dates if you want to omit the stevia.
Rate + Comment
If you make this recipe and love it, please rate and comment down below at the bottom of your page with your honest thoughts. Your feedback means a lot to me here at HealthyGirl Kitchen If you weren't a fan of the recipe or substituted an ingredient/s, please let me know!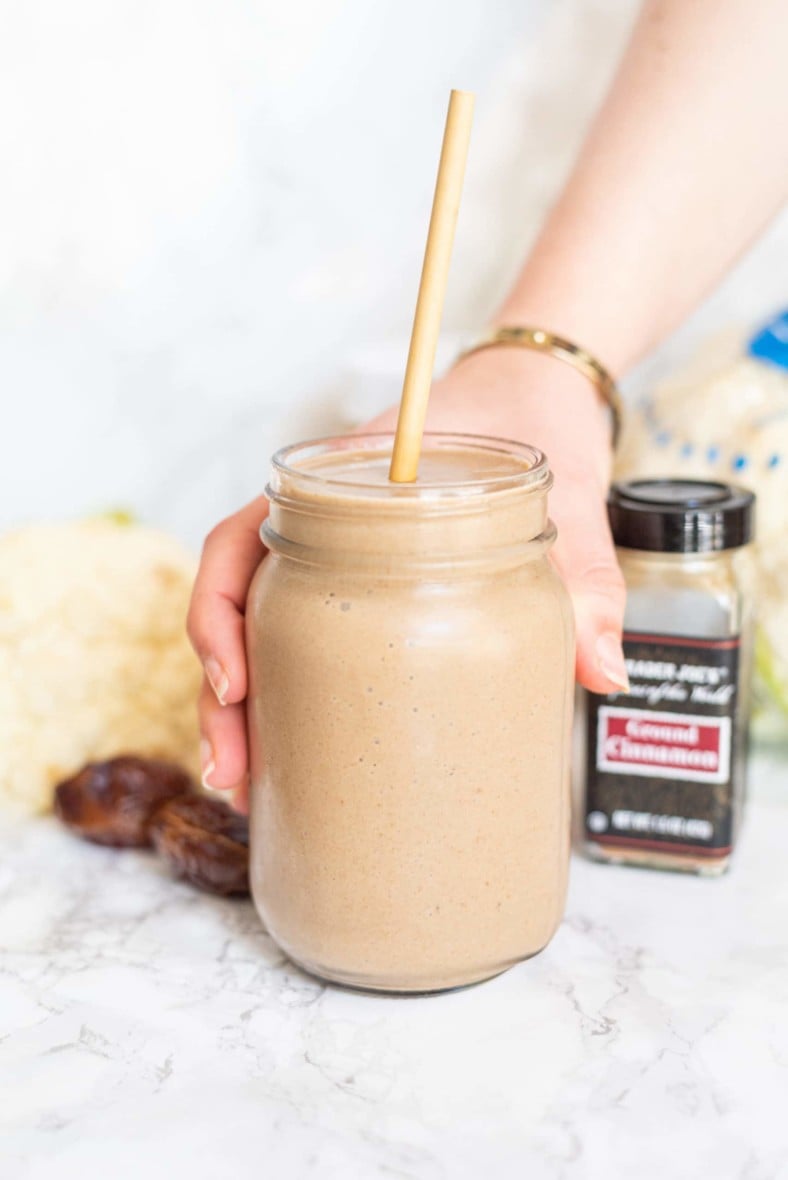 Share the Love on Social Media
Pin this vegan cinnamon bun cauliflower smoothie recipe on Pinterest, share the link on Facebook for friends and family to see, or post a picture of your creation on Instagram.
✨Follow me on Instagram: @HealthyGirlKitchen
✨Follow me on TikTok: @HealthyGirlKitchen
✨Follow me on Facebook: @HealthyGirlKitchen
Cinnamon Bun Cauliflower Smoothie
Perfectly sweetened, delicious milkshake-like treat that is 100% plant-based, healthy and uses frozen cauliflower to make it extra creamy. You can't even taste the cauliflower!
the ingredients
1

banana

1

cup

frozen raw cauliflower

I use Braga Fresh - Josie's Organics

1

tbsp

peanut butter

1

scoop

vegan chocolate protein powder of choice

or sub 1-2 tbsp cacao powder

1

medjool date

1/2

tsp

cinnamon

3/4

cup

almond milk

5

drops

pure stevia

use 2 dates if you omit this

handful

ice
instructions
Add all ingredients to blender. Blend until smooth!
This blog is sponsored by Braga Farms: Josie's Organics. I am so honored to partner with an incredible organic produce company!
More recipes with Josie's Organics produce:
Vegan Pasta Salad with Hemp Seed Ranch
Best,
Danielle