Hi everyone!
I hope you are all having a great week. I am here to make your week even better because I have an INCREDIBLE new recipe for homemade vegan pasta salad that I cannot wait to share with my HealthyGirl Kitchen audience.
It's truly one of the most delicious pasta recipes I've ever made – I am in love! The best part about it is that it's 100% plant-based, oil-free, and gluten-free optional.
Note: If you'd like to make it gluten-free just use gluten-free noodles.
Josie's Organics
I used romaine for my homemade vegan pasta salad from Josie's Organics, an amazing all organic company that grows their produce in the fertile California Valley.
Their family farming business dates back to the 1920's, when two young Swiss immigrants, Sebastian and Josie Braga decided to start growing beets, tomatoes, onions, hay and corn.
Today, three generations later, the organic family farming tradition is being kept alive! Josie's Organics harvests over 25 varieties of USDA certified organic veggies.
I love their produce and use it every day.
If I see Josie's Organics in the grocery store, I snatch it up real quick because it's truly such fresh produce. You can find their produce at stores like Trader Joe's, Whole Foods, Sprouts and many more.
Josie's Organics doesn't use any synthetic fertilizers or pesticides on their farms. This is so important!
Be sure to look out for Josie's Organics in your local store! Use their store locator here!
You will be pleased to find that this recipe is super easy. Basically you're making pasta, combining it with a ton of veggies and chickpeas, then tossing it in a dressing you'll whip up in the blender.
This homemade vegan pasta salad is:
Savory
Creamy 
Crunchy 
Perfectly salted 
Mouth-watering
Nutritious
Healthy
Honestly, I am not a huge fan of regular pasta salad due to the gloppy mayonaise. My spin on a traditional pasta salad is accompanied with a light, creamy, hemp seed ranch dressing that's to die for. You'll be begging for me.
Questions:
Can I use gluten-free pasta? Yes! Definitely. I recommend shorter noodles for this recipe though but feel free to use a gluten-free variety.
Is there a substitute for hemp seeds? Sure – try pine nuts, cashews, or blanched almonds instead.
Does this make good leftovers? Omg yes! The leftovers are delicious. I can't wait for you guys to try this. Enjoy it cold the next day.
What other veggies would be good this homemade vegan pasta salad? Adding cucumbers or some peppers would be perfect.
Can I use white beans instead of chickpeas? You sure can.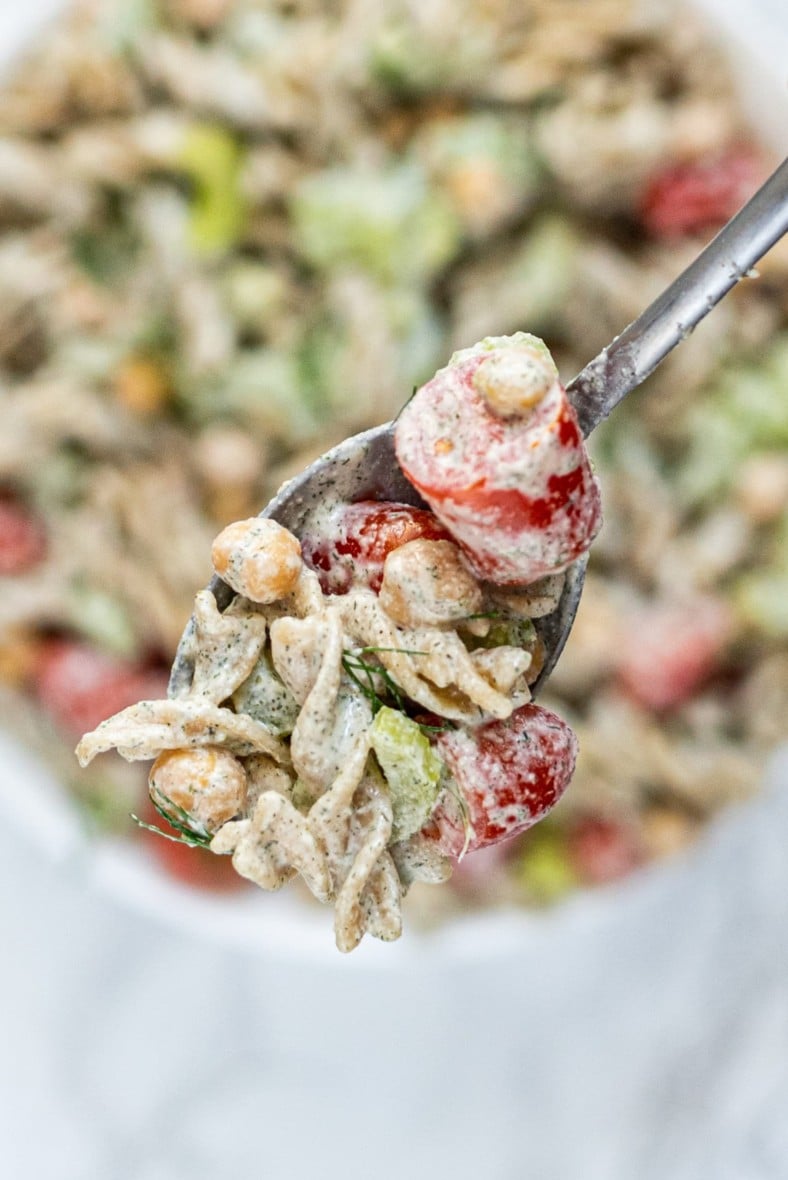 Rate + Comment
If you make this recipe and love it, please rate and comment down below at the bottom of your page with your honest thoughts. Your feedback means a lot to me here at HealthyGirl Kitchen. If you weren't a fan of the recipe or substituted an ingredient/s, please let me know!
Share the Love on Social Media
Pin this homemade vegan pasta salad recipe on Pinterest, share the link on Facebook for friends and family to see, or post a picture of your creation on Instagram.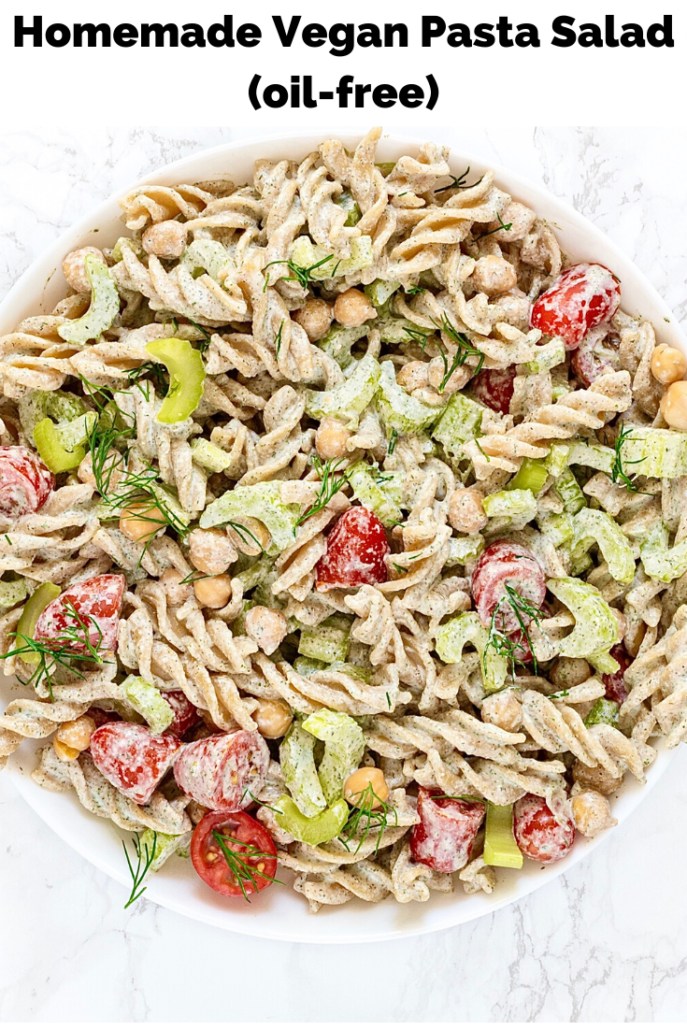 Homemade Vegan Pasta Salad (oil-free)
Creamy, savory, flavorful vegan pasta salad that's light, creamy and delicious. 100% plant-based, oil-free and gluten-free optional.
the ingredients
8

oz

pasta of choice

I used whole wheat rotini

1.5

cups

halved cherry tomatoes

1.5

cups

chopped celery

1

15 oz can

chickpeas

rinsed and drained

2

tbsp

fresh dill

chopped
Hemp Seed Ranch
1/2

cup

hemp seeds

3/4

cup

water

juice from 1 lemon

1

tsp

garlic powder

2

tsp

dried dill

1

tsp

salt
instructions
Prep the veggies - chop the celery, halve the cherry tomatoes and chop the fresh dill. Rinse and drain the chickpeas.

To make the hemp seed ranch, blend all the ingredients in a high-speed blender until smooth.

Strain the pasta and add into a large mixing bowl. Toss with the dressing, veggies and chickpeas. Garnish with fresh dill.
This post is sponsored by Josie's Organics. I am so honored to partner with such an amazing organic produce company.
More trending recipes right now:
Tofu Lettuce Cups with Thai Peanut Sauce
Vegan Chickpea Noodle Soup – 20 minutes!
In good health,
Danielle