Hello my beautiful healthy friends!
I hope this recipe excites you because it sure does for me! This recipe is inspired by Feasting On Fruit's blueberry muffins. She has an awesome blog. I can't wait for you to taste these Moist Vegan Blueberry Muffins as they are both gluten-free and oil-free! So delicious!
I am not much of a baker, I definitely prefer cooking as baking definitely is more of a science. Just so you know, whenever I upload a baking recipe to my blog it's going to be SUPER simple and doesn't take up a lot of your time in the kitchen. Healthy, delicious and super simple to make?! Sign me up!
If you're like me and you prefer cooking to baking, leave me a comment below! 🙂
With only a few key whole foods plant-based ingredients, these muffins are literally SO healthy!
The majority of store-bought muffins that you'd find at your local store or bakery are filled with refined flour, sugar, all kinds of toxic oils and chemical additives and artificial sweeteners.
Often times, a muffin may seem like the healthier option but when you're not making it at home yourself, I'll bet that muffin has the nutritional profile of a candy bar.
Questions:
Can I use applesauce instead of banana in this recipe? YES! Substitute about 1/2 cup applesauce for the banana. It will provide the moisture you need. You can also use about 1/4 cup coconut oil if you don't have either of those ingredients.
Is there another kind of flour I can use besides oat flour? I have only tried it with oat flour but if you decide to test the recipe out with other flours, let me know in the comments if you were successful.
Can I make oat flour from my oats? Yes, that is exactly what I did! I add 1.5 cups of oats into my Vitamix and made homemade oat flour – way cheaper than buying pre-made oat flour in the store!
Do the muffins store well as leftovers? 100%. Keep them in a sealed Ziploc or air-tight container to keep them moist. For freshness, you can microwave them for about 10 seconds before eating them.
If you need to bring muffins to a bake sale, pot luck or just need an easy snack for yourself or your kids…I've got you covered!
Moist vegan blueberry muffins will be your new favorite addition to your routine. I love how they're packed with nutrients from the oats and blueberries.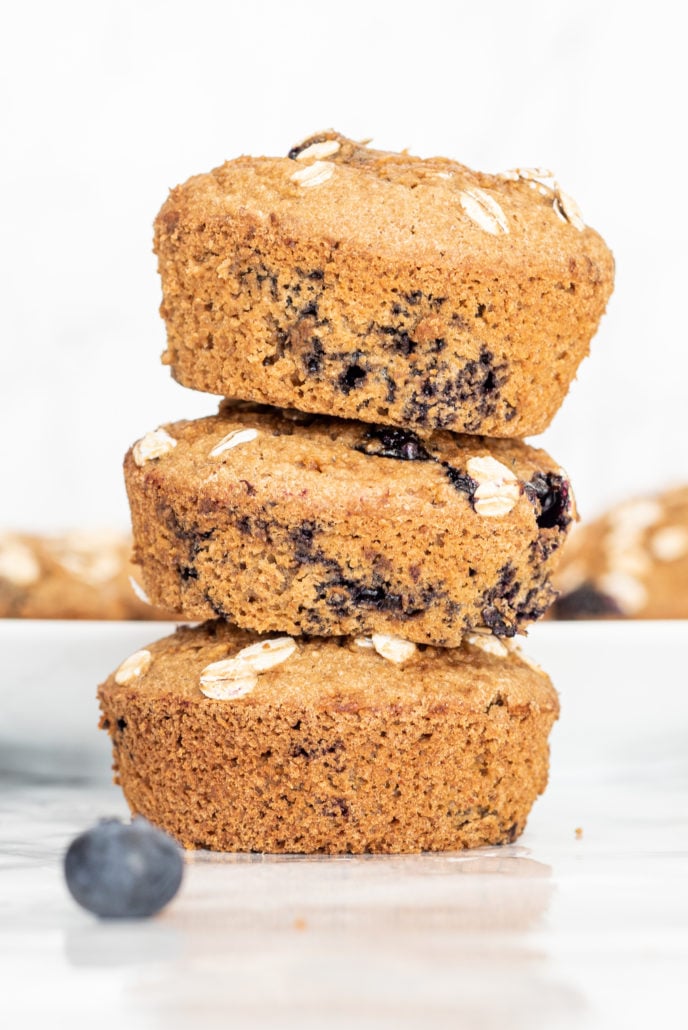 Are you drooling yet?!
Moist
Soft
Berrylicious
Perfectly sweet
Healthy
Nutritious
Mouth-watering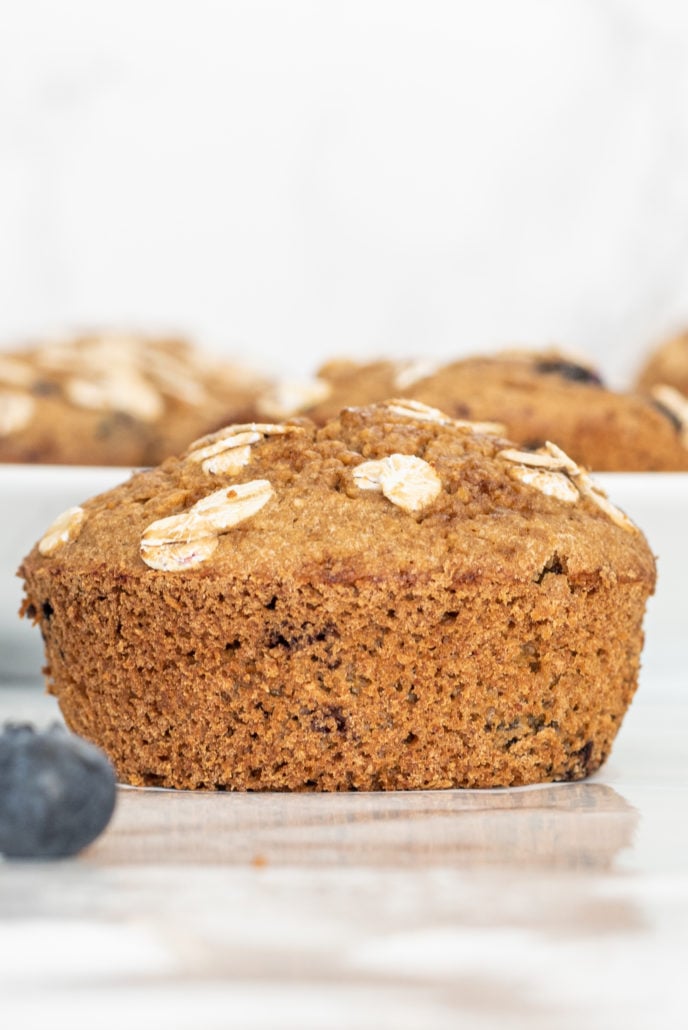 I added a ton of fresh blueberries into my muffins but feel free to get creative! You can make these into raspberry muffins, blackberry muffins or even make them into blueberry chocolate chip…the world is your muffin oyster (lol)!
Rate + Comment
If you make this recipe and love it, please rate and comment down below at the bottom of your page with your honest thoughts.
Anyway, your feedback means everything to me at HealthyGirl Kitchen! Let me know what you think about this recipe and if you make it, be sure to let me know in the comments and give it a rating based on your experience!
Share the Love on Social Media
Pin these moist vegan blueberry muffins on Pinterest, share the link on Facebook for friends and family to see, or post a picture of your creation on Instagram. Also, be sure to follow me on my new tiktok account, I post a lot of great content on there.
Instagram: @HealthyGirlKitchen
TikTok: @HealthyGirlKitchen
Facebook: @HealthyGirlKitchen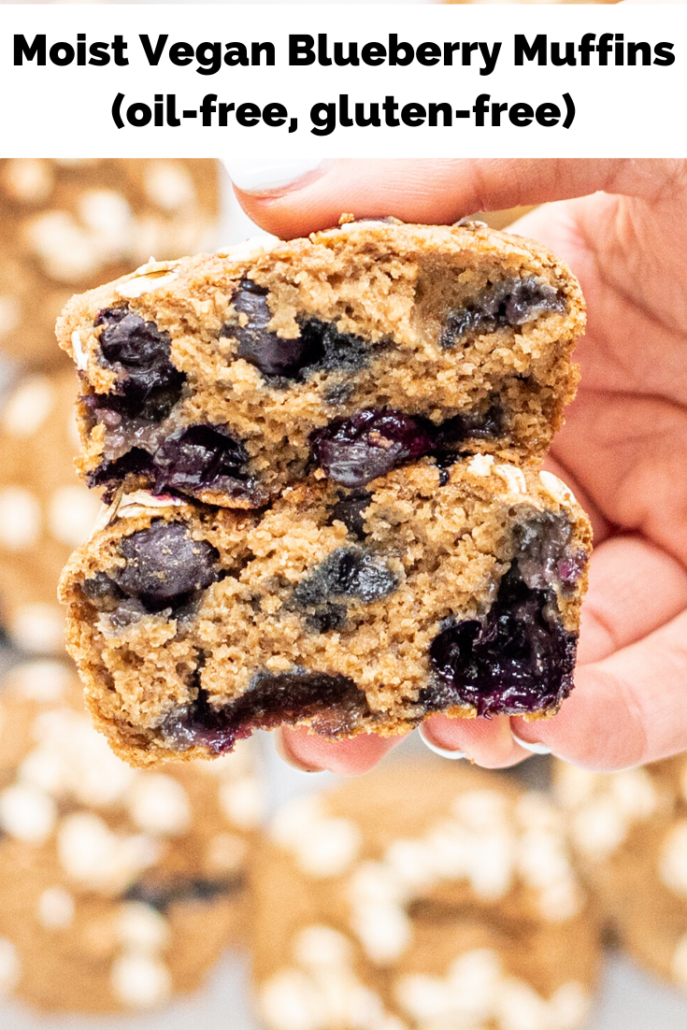 get baking!
Moist Vegan Blueberry Muffins (oil-free, gluten-free)
Perfectly sweet, moist, delicious 100% plant-based blueberry muffins that are the perfect grab-and-go snack, breakfast or vegan treat.
the ingredients
1 1/2

cups

oat flour

1/2

cup

coconut sugar

sub date sugar or brown sugar

1

ripe banana

can sub 1/2 cup applesauce

3/4

cup

unsweetened almond milk

1

tbsp

baking powder

1.5

tsp

vanilla extract

3/4

cup

fresh blueberries
instructions
Preheat oven to 350 degrees F.

In a blender, blend banana, milk, vanilla and sugar on high until completely smooth.

In a large bowl, whisk oat flour and baking powder together then pour the wet mixture into the bowl and stir to combine well. Now gently fold in the blueberries.

Add the batter into a muffin pan filling each about 3/4 way to the top. Garnish with oats if you'd like.

Bake for about 22-24 minutes. Allow to cool for a bit before removing from the pan.
If you liked this recipe you'll love my recipe for VEGAN CARROT CAKE MUFFINS:
You will also be obsessed with my chocolate chip peanut butter blondies!
Have a sweet tooth and want a healthy brownie recipe?! Try these!
In good health,
Danielle