HEALTHY VEGAN PANCAKES…sign me up!
OMG. You need these healthy vegan pancakes in your life.
My kitchen smells so good right now – I wish you could smell through the internet! It smells like a cider mill donut! Cinnamony, sweet…absolutely perfect! If you love pancakes but want to make a healthier version, you have to try this recipe immediately! They are completely 100% vegan and totally free of eggs, dairy, and sugar.
I have good news, the entire batch is only about 500 calories! I shared this batch with my boyfriend..I had blueberries on mine and he made his into chocolate chip pancakes! So yummy!
This recipe is: 
✔️Vegan
✔️WFPB
✔️Oil-free
✔️Soy-free
✔️Gluten-free
✔️100% yummy
What could make for a more perfect Sunday morning treat? Healthy vegan pancakes, a little music, family time…yes please!
If you are trying to get your kids to eat healthier you need to make these pancakes for them! Need to impress your spouse or your boyfriend/girlfriend, whip up a batch of these healthy vegan pancakes for them and I promise they will be hooked!

They are EVERYTHING you could possibly want in a pancake.
Fluffy 
Golden brown 
Subtly sweet 
Soft
I added blueberries to mine but you can add whatever makes your tummy happy. Fresh strawberries would be great, sliced bananas, a few vegan chocolate chips or just plain! They are DELISH just on their own…dipped in a little pure maple syrup.
Are you drooling yet?!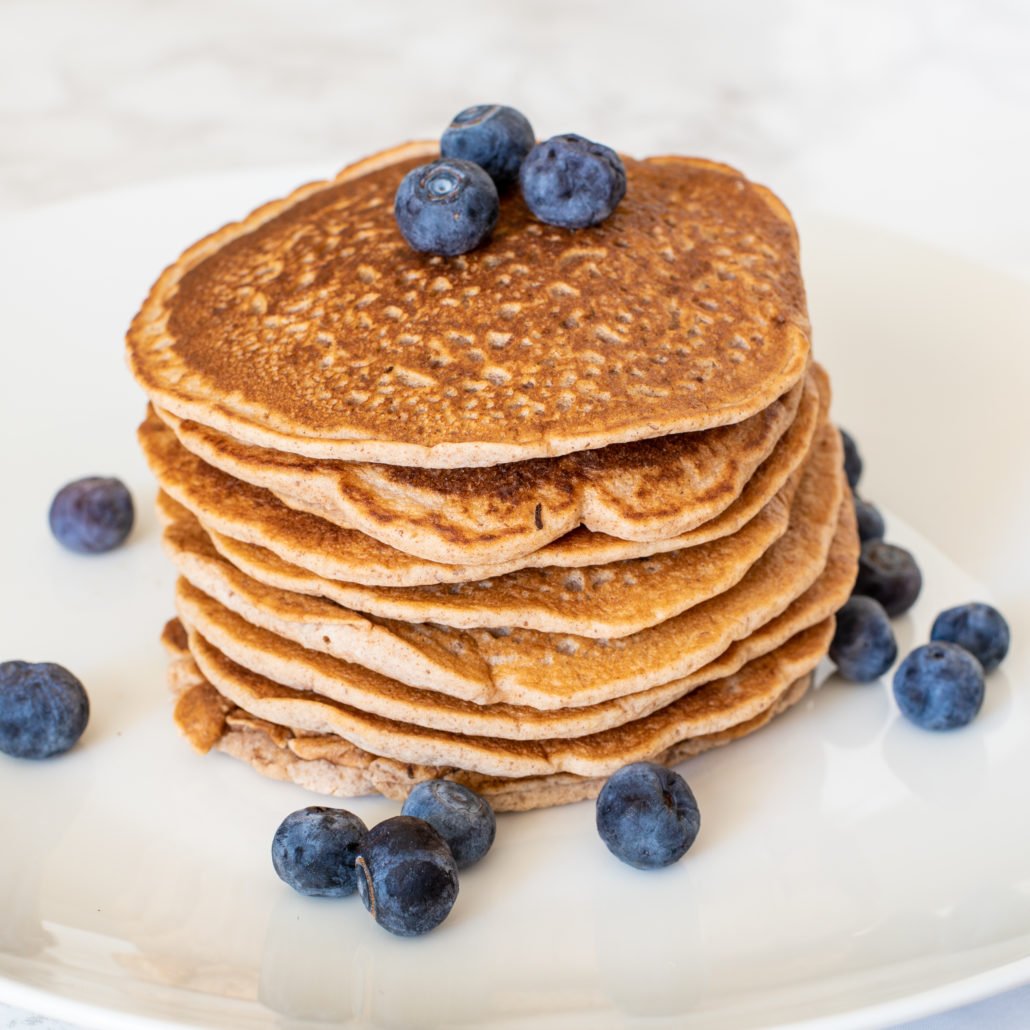 Could these be any more irresistable?
Lately, I have been looking for the perfect vegan gluten-free pancake recipe for a while and I think this is truly the one! I adapted this recipe from the Momables blog.
Over the years of being vegan, I have tried different recipes like the one with bananas and only 3 ingredients which I find stay wet in the center and don't get very fluffy.
Listen, I promise you won't be disappointed when you make these!
I have now made this recipe for a couple people and it has been a hit every time! No one can get enough of these healthy vegan pancakes.
Honestly, I am not a huge breakfast person and I typically have a smoothie 99% of the time but I wanted to switch things up and have some delicious pancakes in addition to my morning smoothie. It was definitely the right decision.
Additionally, you could probably turn this batter into a waffle as well! If you try it, tell me in the comments if it worked!
You can easily just eat these healthy vegan pancakes plain they are just that good. Also, I had to stop myself from eating them as a I made each one.
This is some seriously stack goals, wouldn't you agree?!
Pancake Bar
I have a fun idea for you all. Host a brunch and make a pancake bar for all of your guests! In addition, you can make these pancakes and then have bowls with all kinds of different toppings – don't forget to invite me ;).
Topping Ideas:
Strawberries
Blueberries
Raspberries
Blackberries
Chocolate chips
Hemp seeds
Coconut flakes
Chopped walnuts
Banana Slices
Maple syrup
Share the Love
If you make this recipe I want to see your creations! Also, post a picture and tag me on Facebook or Instagram @healthygirlkitchen and don't forget to pin this to save for later!
Healthy Vegan Pancakes (gluten-free)
These healthy vegan pancakes are gluten-free, oil-free, egg-free, soy-free and super delish. They are fluffy, subtly sweet, golden brown and the perfect texture!
the ingredients
3/4

cup

gluten-free all purpose flour

I used the one from Trader Joe's

1/4

cup

almond flour

1

tbsp

ground flax seed

2

tsp

baking powder

2.5

tsp

ground cinnamon

2

tbsp

maple syrup

1

tsp

vanilla

1/4

cup

unsweetened applesauce

3/4

cup

almond milk

Start with 3/4 and see if you need more (max 1 cup milk)

pinch of salt
instructions
Use a non-stick pan to avoid using oil and put it on medium heat

In a mixing bowl, combine the flour, flax, baking powder, cinnamon and pinch of salt.

In a separate bowl combine the wet ingredients - maple syrup, applesauce, almond milk and vanilla. Stir to completely combine.

Add the wet ingredients to your dry ingredients and stir until there are no lumps in your batter. If the batter is too thick add 1/4 cup more almond milk.

Start making your pancakes! Measure 1/4 cup for each pancake. Cook them 1-2 minutes on each side or until bubbles have formed and the side being cooked is golden brown.
In good health,
Danielle