Hi beautiful friends!
I have an amazing new recipe for you all for vegan air-fried tofu nuggets. They're crispy on the outside and soft on the inside and literally are the yummiest way to enjoy a block of tofu.
To be honest, tofu was never really my favorite food….it's always mushy, flavorless and boring. HOWEVER, I recently got an air-fryer and decided to make tofu in it. You guys, I am not kidding when I say my life is forever changed.
As a 5-year vegan veteran, I can now say that tofu has become one of my favorite foods. All you have to do is coat it in spices then make it in the air-fryer. THAT'S IT.
The best part is that it only takes 10 minutes.
Don't have an air-fryer? Don't worry! Scroll down to the instructions and see the directions for oven instead of air-fryer.
Add the tofu to a bag with all of the spices and then shake it up til all of the tofu is evenly coated. If you don't want to be wasteful like I admittedly was here, just use a bowl to mix the tofu with the spices.
Smoked paprika is a key spice here because it gives the nuggets so much flavor! But, if you're making the nuggets for picky kids just omit it.
Add the vegan tofu nuggets to the air fryer or to a baking sheet with parchment then cook in air fryer for 10 minutes at 400 degrees F, OR bake in the oven for 15 minutes on each side.
Shake halfway through in the air fryer to prevent burning.
OMG! Vegan air-fried tofu nuggets are crispy on the outside and soft on the inside – but not mushy AT ALL. Tofu is filled with protein and healthy fats which is great for keeping you full longer and especially great if you need a post-workout meal that's packed with #plantprotein.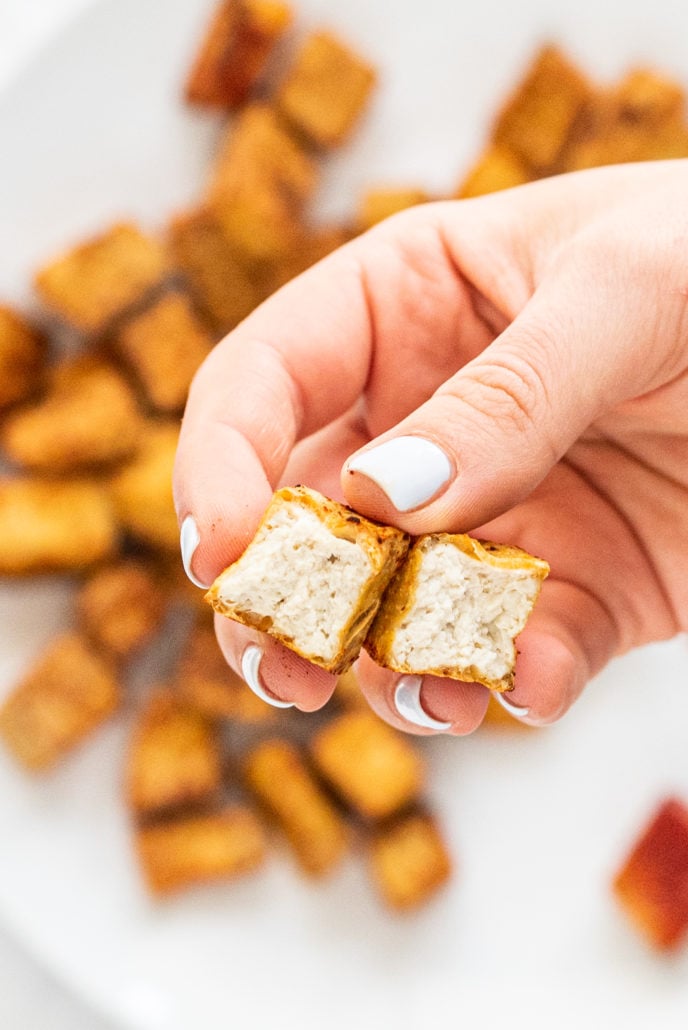 I am obsessed with the organic ketchup from Trader Joe's because it doesn't contain high fructose corn syrup. Dip your vegan air-fried tofu nuggets in ketchup and it's 100 times better.
Feel free to also dip in mustard, spicy vegan mayo, chipotle mayo, hot sauce, buffalo sauce or barbecue sauce – honestly the possibilities are endless (yay!).
Vegan Air-Fried Tofu Nugget Questions:
My kids are super picky, will they like these?! Omg yes! Give them these with ketchup and you can forget the chicken tenders.
I don't have an air-fryer but want to get one is there a brand you recommend? YES! My air-fryer is Cosori and it's the bomb.
Do I have to press my tofu before? Yes. Make sure to get as much moisture out as possible. I use the high-protein tofu from Trader Joe's because it doesn't have a lot of moisture.
Can I dip it in something besides ketchup? For sure. Barbecue sauce or hot sauce would be amazing too!
Do these make good leftovers? Honestly, these are best eaten fresh from the oven or air-fryer as they will get soggy in the fridge.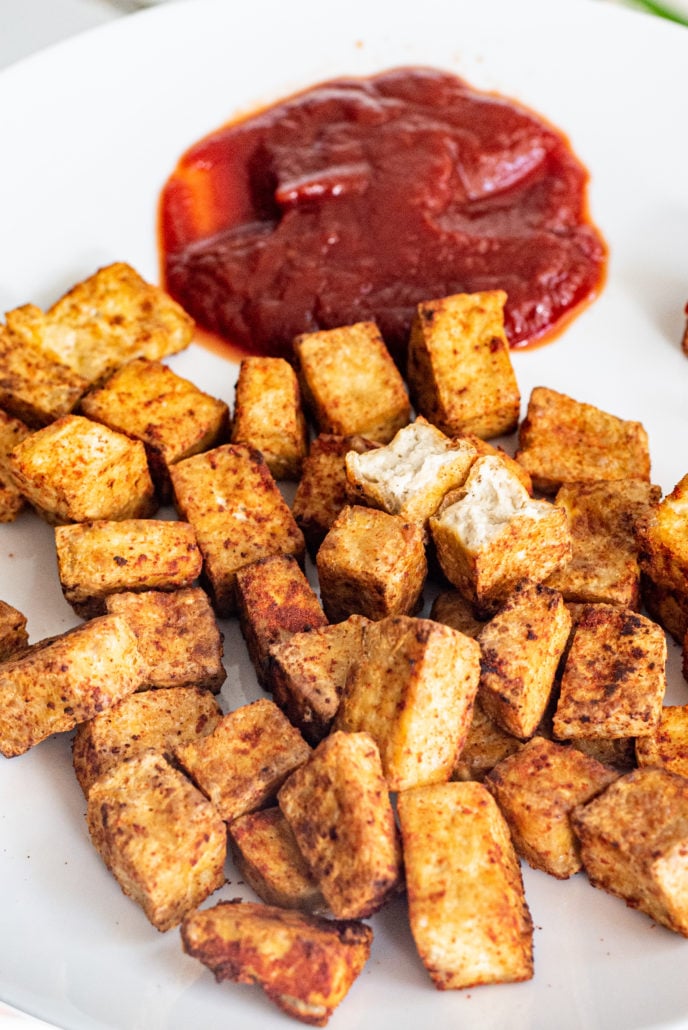 I love your feedback – it truly means so much to me when you take the time to rate and comment on a recipe that you made whether you loved it or hated it. I want to know what you think!
If you made any substitutions and it worked, I want to know! Did you make it this recipe for non-vegans and they gobbled it up?! Please share the details with me!
This blog is here for YOU, if you have recipe requests let me know down in the comments or send me an email at healthygirlkitchen@gmail.com.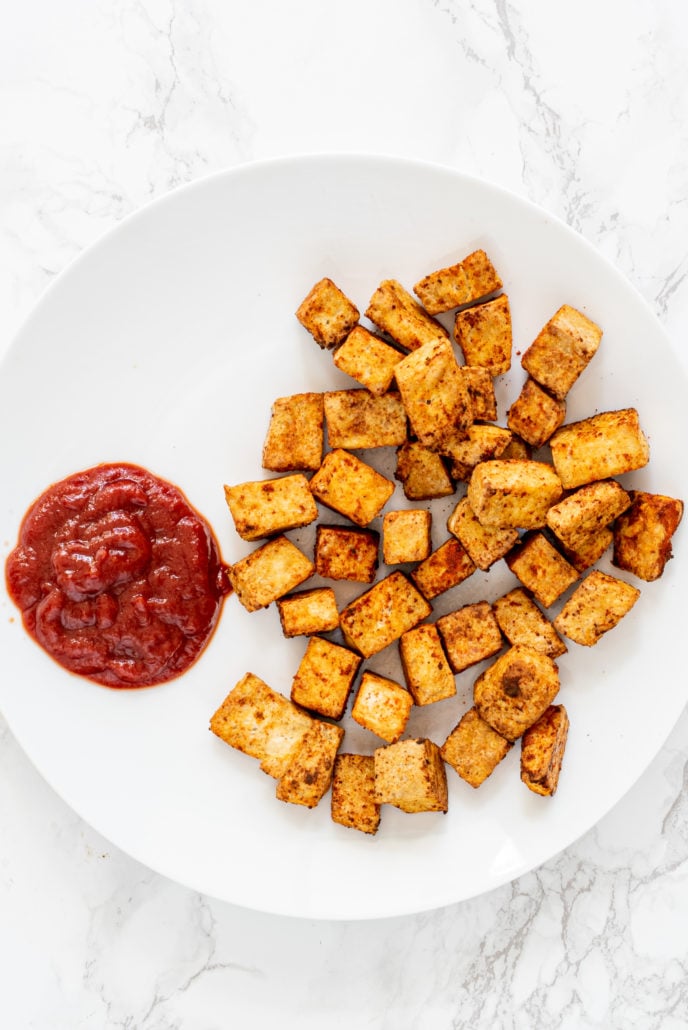 Crispy on the outside
Soft on the inside
Not mushy
Savory
Flavorful
Hearty
Filling
Satiating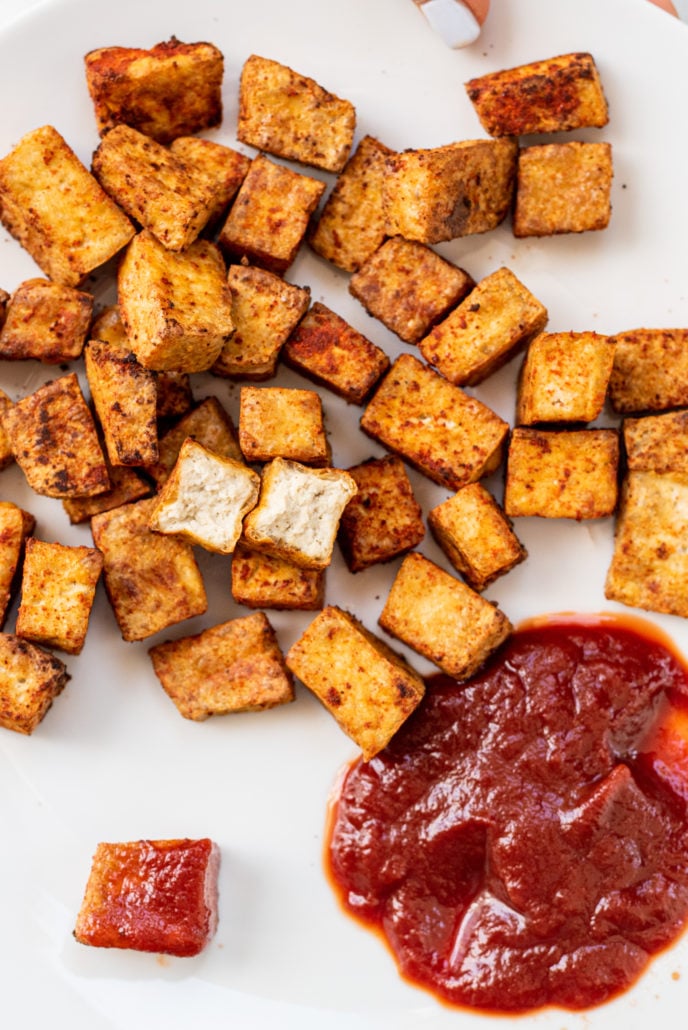 Are you drooling yet?!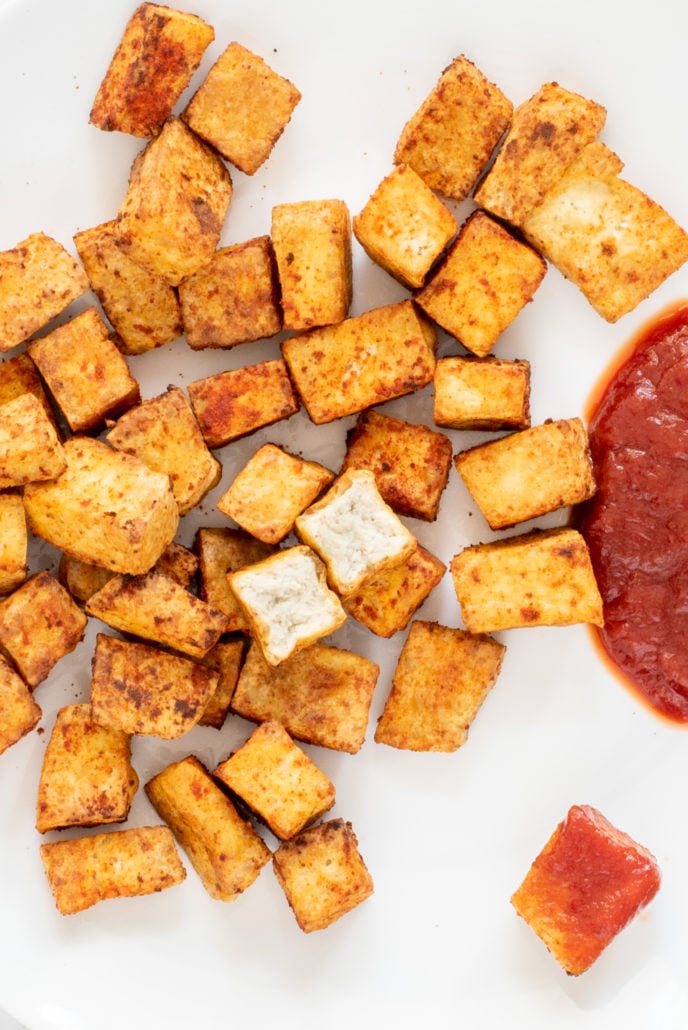 Share the Love
Pin this recipe on Pinterest, share the link on Facebook to show family and friends, or better yet, post a picture to Instagram or Facebook of your #healthygirlkitchen recipe creation and tag me @HealthyGirlKitchen.
Do you want more free plant-based recipes? Follow me on Instagram @healthygirlkitchen. Like my latest post and tell me a fun fact about you so I know you came from the blog!
Vegan Air-Fried Tofu Nuggets (oil-free)
Crispy on the outside, soft on the inside and perfect for dipping. Make in the air fryer or in the oven at a high temperature.
the ingredients
1

block

high protein tofu

or VERY firm pressed and drained

2

tsp

smoked paprika

1/4

tsp

black pepper

1/4

tsp

salt

1/4

tsp

garlic powder

ketchup for dipping

or other condiment of choice
instructions
Cut the tofu into bite size cubes and then use a bowl or bag and shake it with the spices.

Add into the air fryer and cook for 10-15 minutes at 400 degrees F, shaking halfway through. For the oven route, bake at 475 on a baking sheet with parchment for 15 minutes on each side or until desired crispiness.

Serve with dipping sauce and enjoy fresh!
In good health,
Danielle