Crispy Baked French Fries
…UM YES PLEASE!
French fries are typically deep fried in vegetable oil and are harmful to your health. With my new recipe for crispy baked french fries, you can eat fries without the guilt! These are totally oil-free, vegan, and baked to a crisp perfection. You will be hooked on these.
I am SO thankful that I have officially mastered the culinary art of oil-free fries. Now I get to share this amazing recipe with all of you.
This recipe is:
✔️Vegan
✔️Gluten-free
✔️WFPB
✔️Sugar-free
✔️Oil-free
Here is part of my secret…soak the fries in ice cold water for 10 minutes prior to baking. While the oven preheats just throw the cut up potatoes in ice cold water and this makes such a difference! SCORE!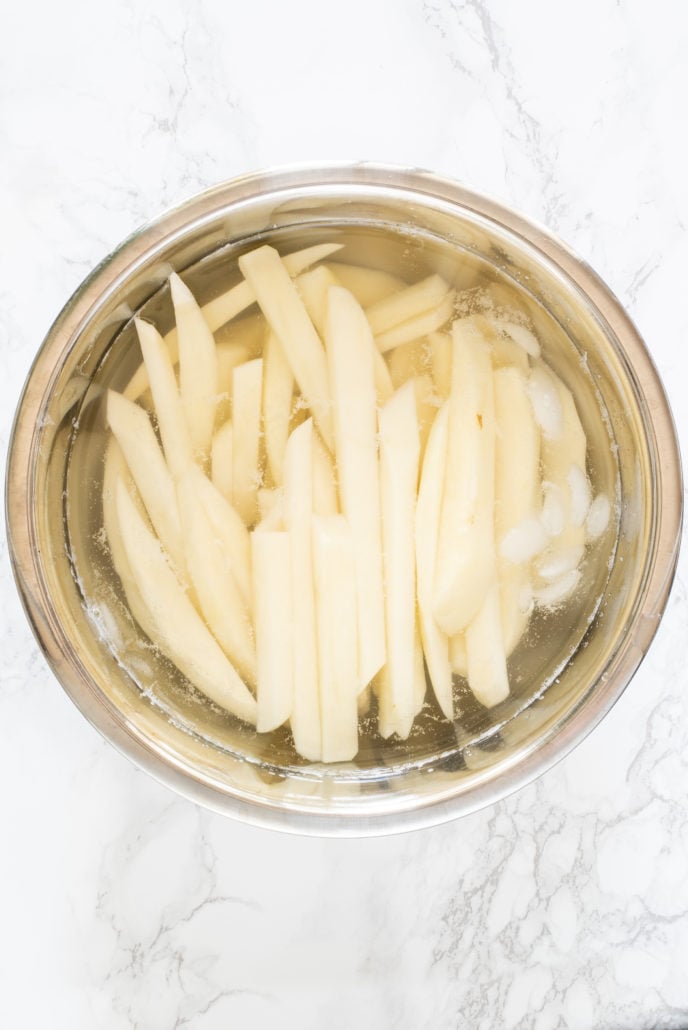 Crispy Baked French Fries: aka best fries ever!
Make sure your fries are not overcrowding on the baking sheet, leave a little room – this allows for extra crispiness!
I dipped my fries in Organicville ketchup – it is sweetened with agave which is definitely better than buying ketchup sweetened with high fructose corn syrup. However, you can dip your fries in whatever sauce you like – or have them plain as they're great on their own.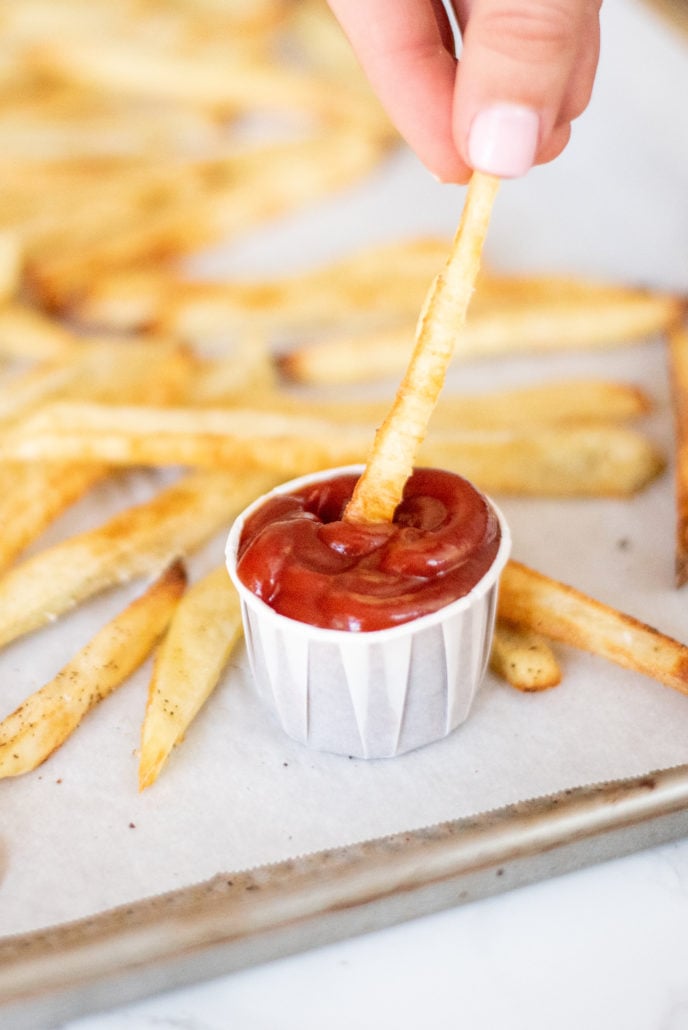 My boyfriend gobbled these up, I had to tell him to slow down to make sure I got some too. We barely even made it through this photoshoot because we were eating the fries as we took pictures (lol!).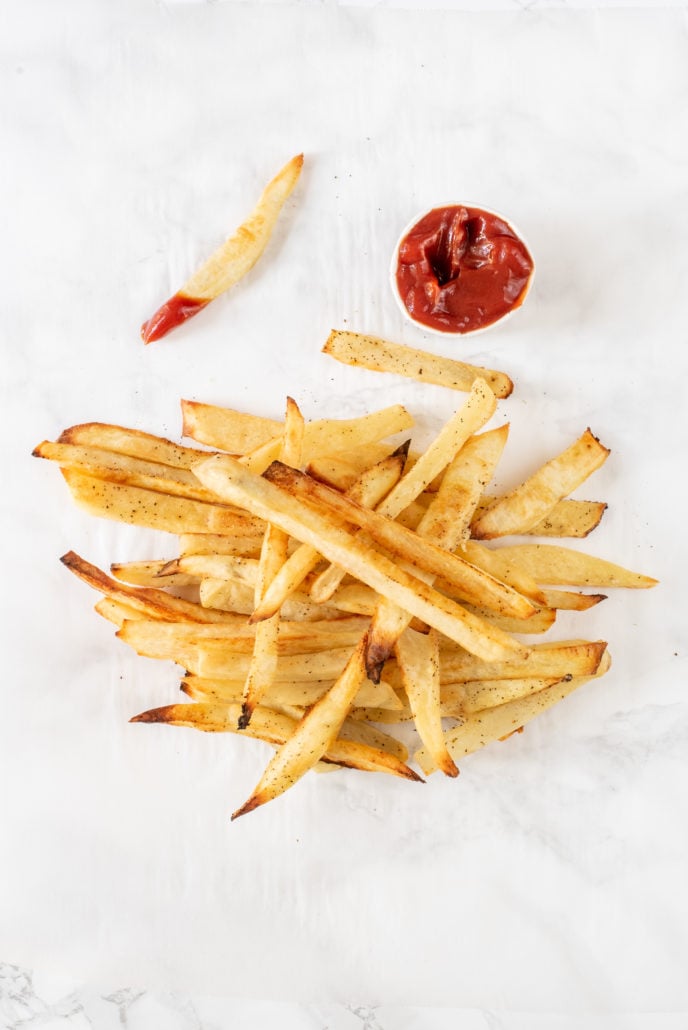 What could be better than a pile of fries?! Tell me in the comments what your fave kind of fries are..thick? skinny? with skin? without? I want to know! Also, quick note..if you ever have any recipe requests, I am open to suggestions.
Mention your requests in the comments.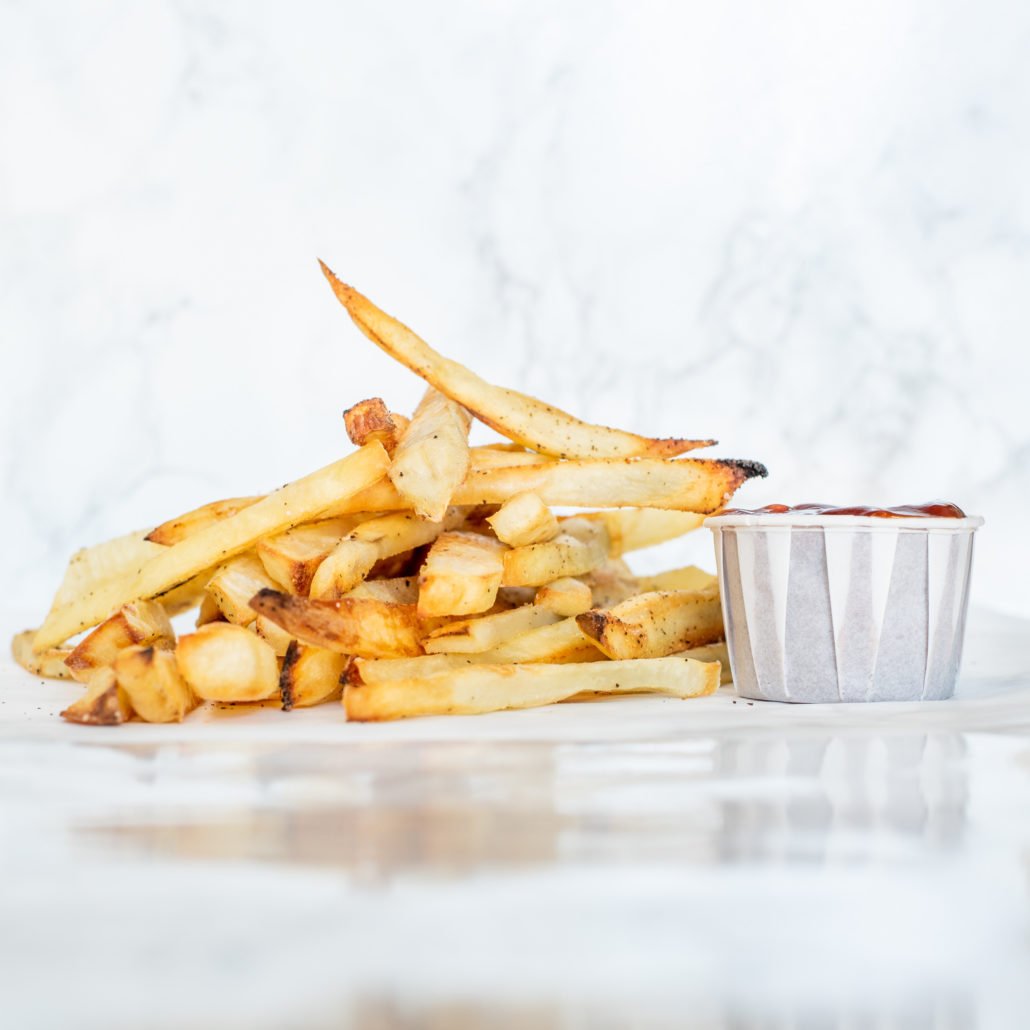 Parchment paper is your best friend when it comes to oil-free baking.
Use parchment to avoid greasing a baking sheet. Isn't this such a neat trick?!
Why oil-free? Oil is highly refined and is very high in fat.
You are better off eating a whole fat source instead of a refined fat source. Aka eat the olive not olive oil, eat sesame seeds instead of sesame oil, etc. Make sense?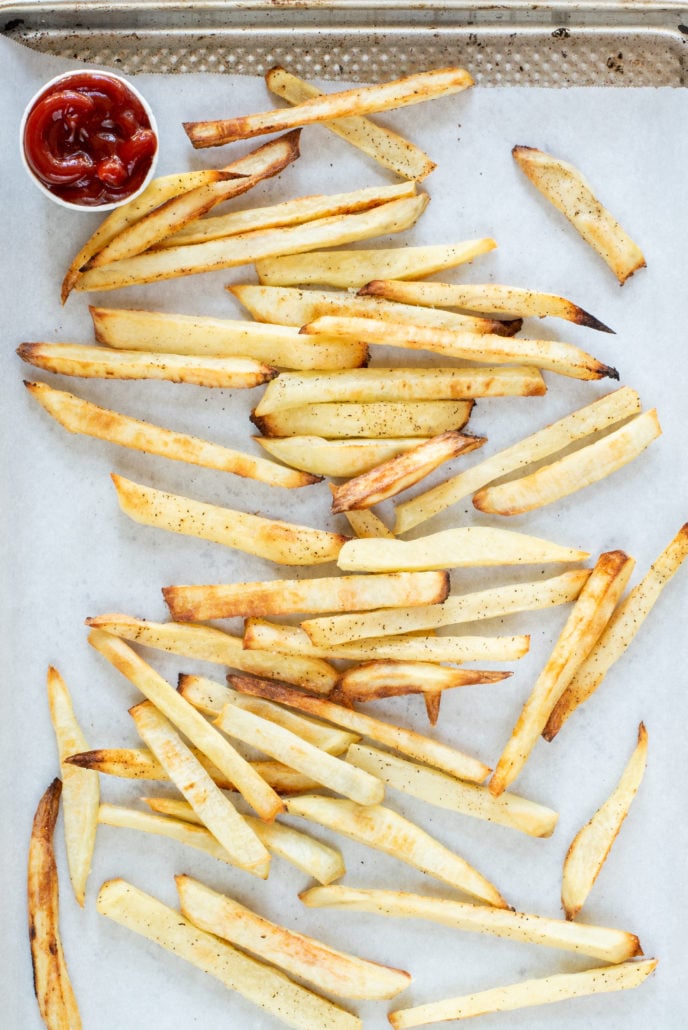 Are you drooling yet?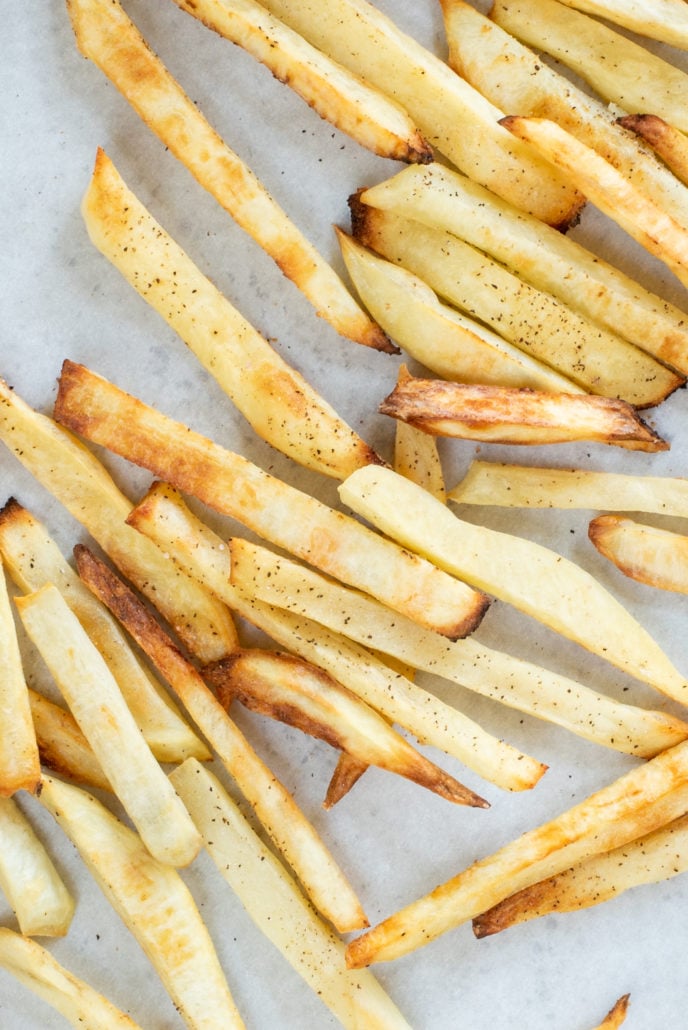 Rate + Comment
If you make this recipe and love it, please rate and comment down below at the bottom of your page with your honest thoughts. Your feedback means a lot to me here at HealthyGirl Kitchen. If you weren't a fan of the recipe or substituted an ingredient/s, please let me know!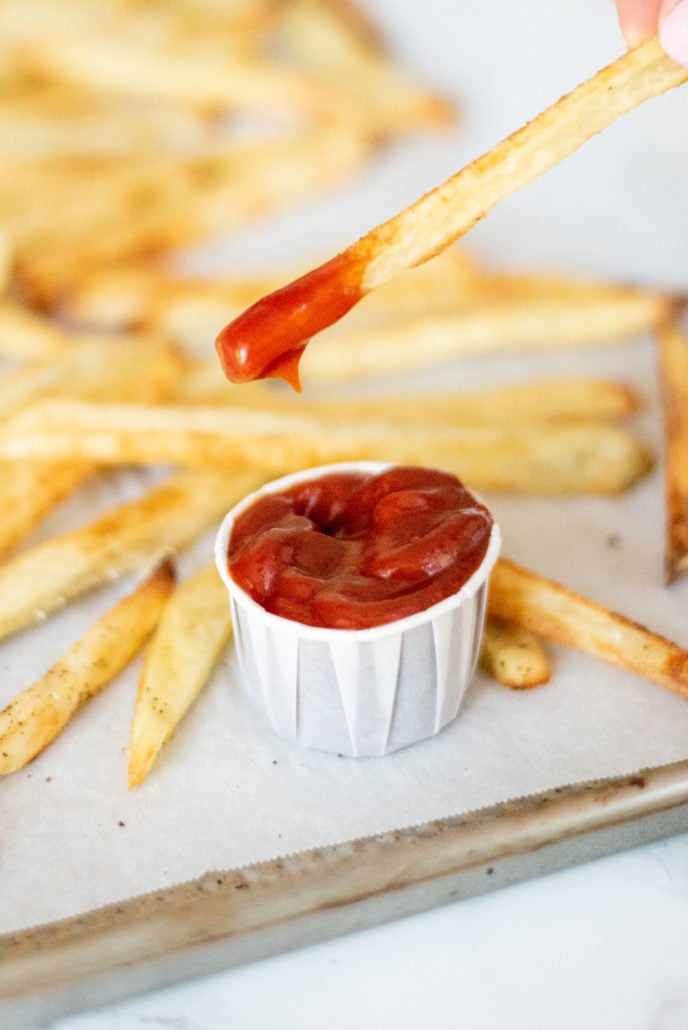 Share the Love on Social Media
Pin these crispy baked french fries on Pinterest, share the link on Facebook for friends and family to see, or post a picture of your creation on Instagram. Also, be sure to follow me on my new tiktok account, I post a lot of great content on there.
Instagram: @HealthyGirlKitchen
TikTok: @HealthyGirlKitchen
Facebook: @HealthyGirlKitchen
Crispy Baked French Fries (Oil-Free)
Crispy on the outside, soft on the inside, these crispy baked french fries are seasoned to perfection and completely oil-free. WFPB friendly, gluten-free, guilt-free and beyond delish. Done in 30 minutes.
the ingredients
2

large

russet potatoes

salt to taste

pepper to taste

garlic to taste

bowl of ice water
instructions
Preheat oven to 475 degrees F and line a baking sheet with parchment paper.

Cut up your potatoes and while oven is preheating, soak them ice water for 10 minutes. Drain water, pat dry, then add onto baking sheet.

After lining your fries on the baking sheet, sprinkle on the spices.

Bake for about 30 minutes or until crispy and golden brown. (time varies depending on oven)
In good health,
Danielle