Hi friends!
I have a great new recipe for you all: crispy chicken nuggets are here and they are all the rage. They are super easy to make, 100% plant-based, gluten-free optional, oil-free optional, and SO freaking yummy. If you love chicken nuggets but need a healthier, unprocessed vegan version, these are for you.
How do you make chickpea chicken nuggets?
First, drain and rinse your chickpeas, but make sure to drain them over a bowl to save the chickpea liquid.
Next, if you don't have oat flour, you can make your own in the blender. Just blend 1/2 cup oats until it forms flour. Use your food processor if you don't have a blender. Add the chickpeas into your food processor with onion, garlic, smoked paprika and salt. Pulse to combine. Now add the oat flour and 2 tbsp of the chickpea liquid. Pulse until combined, scraping down the sides as necessary.
Make sure that you leave some texture, do not blend until smooth, blend until it's well combined but there is some texture left.
Make sure you have clean hands because now it's time to make the nuggets themselves.
Form the Nuggets
Make a preparation station with a bowl of breadcrumbs, bowl of the chickpea liquid and a plate.
Once combined, form the chickpea mixture into nuggets.
Dip each nugget into the chickpea liquid, then roll in the breadcrumbs, and place on the plate.
After that, roll them into breadcrumbs.
Spray them with olive oil or if you're oil-free don't spray them. They are great either way.
Make in the air-fryer or oven – details for each cooking method in the instructions below.
I made mine in the air-fryer! They turned out incredible – I can't believe they are actually healthy.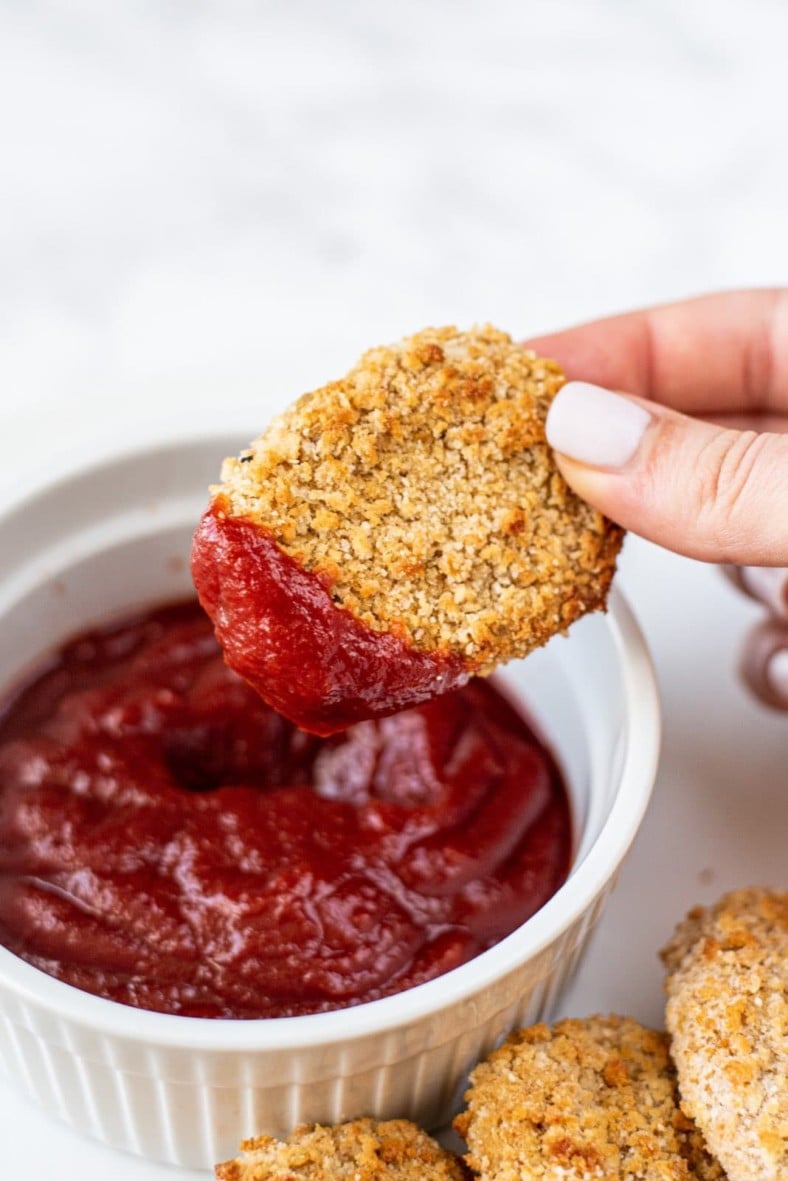 Will my non-vegan friends and family like them?
The short answer is, YES! These are enjoyed by both vegans and meat-eaters. I dipped mine in ketchup and they seriously brought me back to my childhood. These are so nostalgic. If you are looking for a healthier version of chicken nuggets these are IT. Crispy chicken nuggets are going to be your new favorite vegan lunch or dinner. Make these for your guests – they will love these and be so impressed.
A few important tips:
Feel free to make them, then put them in the fridge or freezer to make later on. If you keep them in the freezer, the cooking time just might take a bit longer!
Use any bread crumbs you like whether they're whole wheat, gluten-free, panko or almond.
Serve warm and fresh! Don't wait to eat them after cooking, they are best when eaten fresh,
Best served with a mustard dip, ketchup, BBQ sauce or vegan aioli.
Share the Love on Social Media
Pin this amazing crispy chickpea nuggets recipe on Pinterest, share the link on Facebook for friends and family to see, or post a picture of your creation on Instagram. Also, be sure to follow me on my new tiktok account, I post a lot of great content on there.
Instagram: @HealthyGirlKitchen
TikTok: @HealthyGirlKitchen
Facebook: @HealthyGirlKitchen
Crispy Chickpea Nuggets (oil-free)
100% plant-based chickpea chicken nuggets that are oil-free optional, gluten-free optional and vegan. Delicious, easy and fun to make.
the ingredients
1

15 oz

can of chickpeas

drained and rinsed

1/3

block

extra firm tofu

1/2

cup

oat flour

aquafaba

save the chickpea liquid from the can

1

tsp

garlic powder

1

tsp

onion powder

3/4

tsp

salt

sprinkle of smoked paprika

1

cup

breadcrumbs of choice

if you are gluten-free, use GF breadcrumbs
instructions
Drain chickpeas with a bowl under it to save the chickpea liquid or "aquafaba". Add chickpeas into the food processor with spices.

Pulse the chickpeas, tofu, and spices together then add in the oat flour and 2 tbsp of chickpea liquid. Pulse until combined. Do not over blender - it should have texture.

Make a prep station with a bowl of the breadcrumbs, a bowl with the remaining chickpea liquid and then a plate.

Form the mixture into nugget shapes, dipping each one in the chickpea liquid first then the breadcrumbs. Place them all on the plate. You should get about 10-12 nuggets.

Air-fryer method: bake for 15-20 minutes at 400 degrees flipping halfway through or until completely golden brown (this is what I did).

Oven method: Bake on a baking sheet with parchment paper for about 30 minutes at 450 flipping halfway through or until golden brown.

Serve fresh with ketchup or BBQ sauce and enjoy!
In good health,
Danielle