Hi friends!
I have an amazing new recipe for you all! Ultimate Vegan Sweet Potato Nachos are here! It's so fitting that today is the big game – this is the perfect appetizer to serve to your guests during the game.
Plant-based nachos are a much healthier version of a junk-food favorite. First of all, I made these with sweet potatoes instead of tortilla chips – this saves calories, and is much lower in fat. Instead of meat, these nachos have lentil taco meat – a very hearty, filling alternative that will satisfy even the biggest meat eater.
The toppings consist of jalepenos, tomatoes, avocado, vegan sour cream, and healthy queso. Are you drooling yet?!
When you bake your sweet potato "chips" you can choose how you'd like to season them. I chose to season them with smoked paprika, salt and pepper but feel free to get creative or just leave them plain. Add cayenne to make them spicy. #Yum
Oil-Free Baking Tip: Use parchment paper when you bake to avoid using cooking spray or oils. This saves so many calories and keeps your meals a lot lower in fat. Parchment paper is also great because it creates a non-stick surface. YAY!
I can't get over how incredible the ultimate vegan sweet potato nachos turned out. They are hearty, filling, flavorful, packed with nutrients, loaded with plant-based protein, fiber and amazing health benefits.
Could you have ever guessed that healthy nachos would look this good? I can promise you they taste EVEN BETTER than they appear in the pictures.
Perfect for game day eats, a delicious vegan dinner idea, or even to make for your kids. Better yet, have a nacho bar so everyone can build their plate of nachos exactly how they want – how fun?!
I love using a plant-based queso cheese because it's better for your health, better for the animals and the environment! However, this cheese is truly AMAZING. You could fool any cheese lover that this is the real deal.
Questions:
Can I use chips instead of sweet potatoes? OF COURSE! This is just a healthier version.
Can I use regular Idaho potatoes? Yes! That would be amazing.
Do I have to make my own queso? No! Trader Joe's has a great vegan one as well as Whole Foods and Costco.
Will my kids enjoy this?! 100%! What's not to love?! If your kids don't like spicy, remove the jalepenos and replace with peppers.
Adding the fresh ingredients on top of the ultimate vegan sweet potato nachos is a key part to this dish!
The jalepenos definitely add a kick – I actually used fresh ones from Trader Joe's that were insanely spicy so if you're not that adventurous I would use jarred jalepenos because they are much more mild.
The tomatoes add a freshness to the dish and a great texture while the avocado adds a creamy, fresh richness to the dish.
If you make this recipe, your feedback means a lot to me here at HealthyGirl Kitchen! Your thoughts, opinions, requests and general feedback help me to create the best recipe blog for all of you. Rate, comment, and tell me what you think!
Did you make any substitutions and it worked or didn't work?! I want to know!
Did you fall in love with this recipe or you made it for a non-vegan and they fell in love with it too?! I want to know!
(let's be honest, how good does this plate of nachos look?!)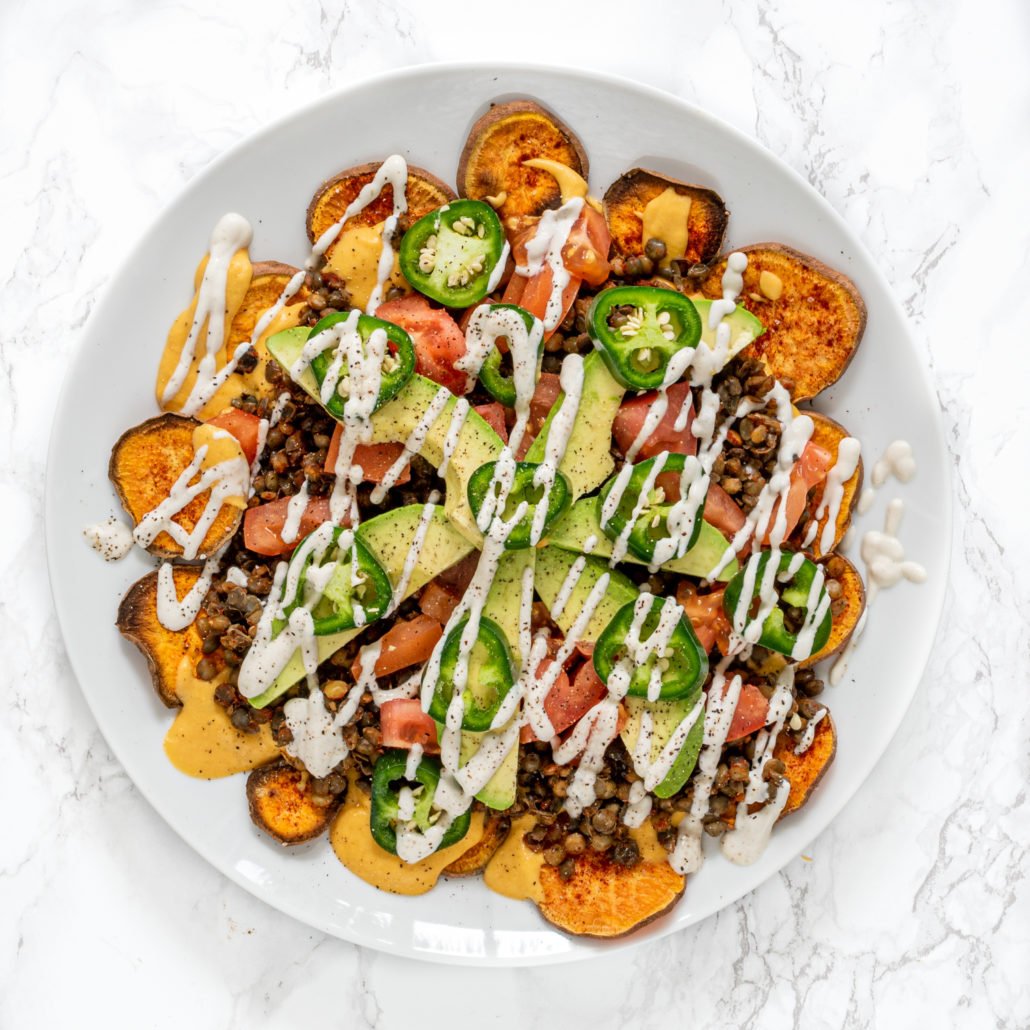 Don't mind if I do! My fiance, Ari, is a lucky man – he came home from work to find this plate of nachos waiting for him. He's vegan too!
I never thought he'd be plant-based because he used to be the biggest meat eater, but for the past 4 years he's been dedicated to this lifestyle and absolutely loves it.
So for those of you out there who don't think your spouse would ever agree to go plant-based – THERE IS HOPE!
Share the Love
Pin on Pinterest, share the recipe link on Facebook, and don't forget to post a picture of your creation to Instagram. Tag me @healthygirlkitchen 🙂
What are you waiting for?! Get cooking!
Vegan Sweet Potato Nachos (oil-free)
Hearty, filling, flavorful nachos and super simple to make. This is gluten-free, vegan, 100% plant-based and has no added sugar or oils. Uses sweet potatoes instead of chips! Can be an appetizer to share or a personal meal.
the ingredients
1

large

sweet potato sliced thin

1

beefsteak tomato diced

1/2

cup

plant-based queso

homemade or store bought - use the vegan cheese from the linked recipe

2

tbsp

cashew sour cream

1

sliced jalepeno

1

sliced avocado
Lentil Taco Meat
1

cup

steamed brown lentils or bean of choice

1

tsp

chili powder

1

tsp

smoked paprika

1/8

tsp

onion powder

1/2

tsp

garlic powder

1/2

tsp

salt

1/4

tsp

cumin
instructions
Preheat the oven to 475 degrees F and prepare a baking sheet with parchment paper. Slice the sweet potatoes into thin rounds and season to taste with salt and pepper and smoked paprika. Bake for about 20 minutes or until cooked through and a bit crispy (not burnt!).

Prepare lentil taco meat by combining 1 cup steamed brown lentils or bean of choice in a bowl with all the spices. Then heat in a pan or in microwave.

While the potatoes are roasting, make the queso and cashew sour cream.

Slice tomatoes, avocado and jalepeno for topping.

Assemble the nachos by placing the baked sweet potatoes on a plate, then top it with queso, taco meat, tomatoes, avocado, jalepenos, cashew sour cream and a bit of salt and pepper!
Need another great game day recipe?! Check out my famous vegan spinach artichoke dip!
In good health,
Danielle