Hi friends!
I have a delicious new recipe for you all for vegan cheesy cauliflower potato casserole. It's everything you could want in a dish – it's creamy, cheesy, easy to make, decadent, savory and HEALTHY! It's 100% plant-based, gluten-free, soy-free and has no added sugar.
The ingredients in this recipe are super simple, which we love.
What ingredients will I need?
You need potatoes, cauliflower, veggie broth, bread crumbs, cashews, non-dairy milk, nutritional yeast and spices…it's THAT simple. You can find these ingredients at pretty much any grocery store. If you can't find nutritional yeast, you can order it from Amazon or any health food store online.
What makes this cheesy? The nutritional yeast adds a very cheesy flavor and the cashews get blended up to make the cheesiest vegan sauce EVER.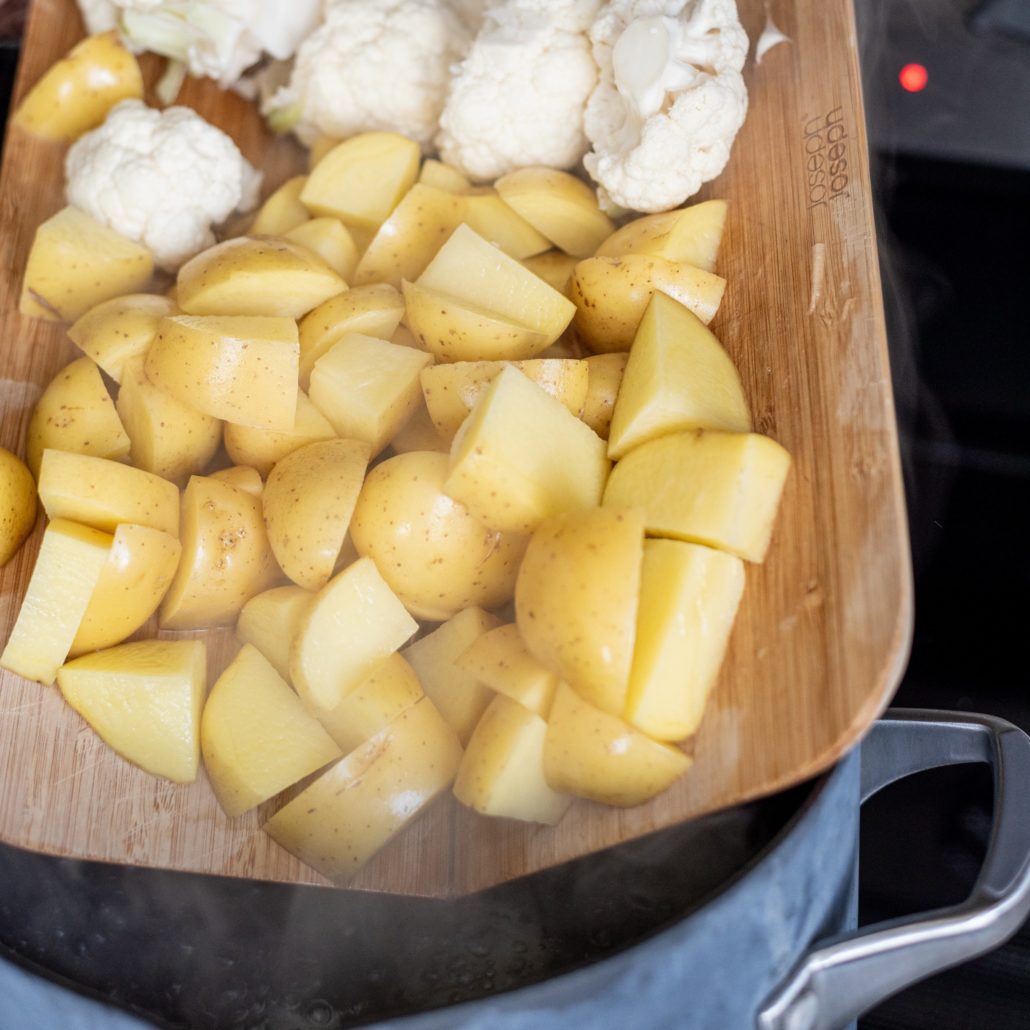 Why is it important to use organic produce?
I used the fresh organic cauliflower for my cheesy vegan cauliflower potato casserole from Josie's Organics, an amazing all organic company that grows their produce in the fertile California Valley.
Their family farming business dates back to the 1920's, when two young Swiss immigrants, Sebastian and Josie Braga decided to start growing beets, tomatoes, onions, hay and corn.
Today, three generations later, the organic family farming tradition is being kept alive! Josie's Organics harvests over 25 varieties of USDA certified organic veggies.
I love their inspiring story and love supporting them by buying their produce!
If I see Josie's Organics in the grocery store, I snatch it up real quick because it's truly such fresh produce. You can find their produce at stores like Trader Joe's, Whole Foods, Sprouts and many more.
Josie's Organics doesn't use any synthetic fertilizers or pesticides on their farms. This is so important!
Be sure to look out for Josie's Organics in your local store! Use their store locator here!
How do you make vegan cheesy cauliflower potato casserole?
Boil potatoes and cauliflower
Blend sauce ingredients together in the blender
Mix taters + cauli in a casserole dish with the sauce
Bake
Top with breadcrumbs and fresh parsley
Serve and enjoy!
The total time it takes to create this recipe is about 30 minutes. For me, this is honestly the max amount of time I want to spend making dinner. The cheesy vegan cauliflower potato casserole will bake for about 20 minutes while the prep is only about 10! It's super time efficient and makes for great leftovers. OR, if you have a large family, this serves 6-8 people depending how hungry everyone is.
I recommend serving this with my vegan caesar salad recipe! The two go very well together.
Common Questions
Can I use any kind of potatoes?
I'd suggest yukon golds, red skins, or Idaho potatoes. Sweet potatoes don't really go with this.
How many servings does this make?
I would say about 6-8 depending on how many people you have, whether there are kids eating it vs. adults or how hungry everyone is. It varies! It does make a large pan though. The leftovers are delicious heated up the next day.
Does this freeze well?
Yup! Freeze for up to 2 months.
Where do you suggest getting nutritional yeast?
Amazon, Whole Foods, Trader Joe's or your local health food store.
Will my non-vegan friends and family like this?
Totally. It's perfect for everyone and is enjoyed by both vegan and meat eaters.
This cheesy vegan cauliflower potato casserole is: 
Savory
Comforting
Warm
Filling
Rich
Decadent
Cheesy
Creamy
…and so delicious!
One important tip:
If the top isn't turning brown, simply turn the broiler on for a couple of minutes to brown the bread crumbs. Also, if you are not oil-free you can add olive oil to the bread crumbs to make them crispier.
Serve this at a party, make this for the holiday time, eat the leftovers during the week if you have a busy schedule, bring it to a pot luck or make for your large family!
Rate + Comment
If you make this recipe and love it, please rate and comment down below at the bottom of your page with your honest thoughts. Your feedback means a lot to me here at HealthyGirl Kitchen. If you weren't a fan of the recipe or substituted an ingredient/s, please let me know!
Share the Love on Social Media
Pin this warm, comforting cheesy vegan cauliflower potato casserole on Pinterest, share the link on Facebook for friends and family to see, or post a picture of your creation on Instagram. Also, be sure to follow me on my new tiktok account, I post a lot of great content on there.
Instagram: @HealthyGirlKitchen
TikTok: @HealthyGirlKitchen
Facebook: @HealthyGirlKitchen
Cheesy Vegan Cauliflower Potato Casserole (oil-free, gf)
Savory, filling, comforting cauli potato casserole that's 100% plant-based, gluten-free and oil-free. Dinner in less than 30-minutes.
the ingredients
1

head

cauliflower

I use Josie's Organics

7

yukon gold potatoes cubed

I used potatoes about the size of a fist

1/4

cup

nutritional yeast

1

cup

raw cashews

soaked overnight or boiled for 5 minutes

1

cup

veggie broth

1/2

cup

unsweetened non-dairy milk

1/2

lemon juiced

1

tsp

garlic powder

1.5

tsp

salt

1

tsp

pepper

1/2

cup

breadcrumbs of choice

fresh parsley to garnish
instructions
Preheat oven to 450 degrees F. Bring a large pot of water to a boil.

Cut cauliflower and potatoes then add them into boiling water and cook for 10 minutes or until tender.

While cauliflower and potatoes cook, add soaked or boiled cashews into a high speed with all the other ingredients except breadcrumbs and parsley. Blend until smooth.

Strain potatoes and cauliflower then add into a 9x13 casserole dish.

Pour cashew cheese sauce over and mix until combined. Top with breadcrumbs.

Bake for 20 minutes or until top is golden brown. Garnish with chopped fresh parsley.
This blog was created in partnership with Josie's Organics.
In good health,
Danielle