Thank you so much to the US Dry Bean Council for sponsoring this post. Join me to celebrate World Pulses Day with U.S. Beans.
Hi peeps!
Did you know it's World Pulses Day?!
"Pulse" is a catch-all phrase for legumes, like lentils, beans and peas. Pulses provide an excellent source of protein and are also environmentally friendly.
In honor of World Pulses Day, I am so excited to share my newest recipe for vegan black bean brownies! They are everything you'd want in a brownie and more, except the best part about them is that they're made with black beans as the base!
Growing up, my mom always used to make brownies. My favorite part was baking them with her and licking the sweet, chocolate batter off the spoon. I'd sit and wait (very impatiently) for them to be done. The kitchen never failed to smell AMAZING.
The hardest part was waiting for the brownies to cool…I'd want to shove them all in my mouth immediately!
The wait was worth it.
My mom's brownies were seriously the best – gooey, rich, fudgy, chocolate heaven. She'd have to hide the pan from me so I wouldn't eat all of them.
My freshman year of college, I decided to start eating a plant-based diet. I have now been vegan for almost 5 years. I have had to find new ways to make my favorite dishes that exclude animal products.
Unfortunately, my mom's brownies contain eggs and dairy but have no fear, this vegan black bean brownie recipe is truly a winner.
You'd never know it doesn't have eggs or butter.
I wanted to create a to-die-for brownie recipe that emulated my mom's and I have to be honest, these brownies leave me beyond nostalgic. They are perfection in a pan.
These vegan black bean brownies are:
Decadent
Rich
Fudgy
Perfectly sweetened
Gooey
Nutritious
Mouth-watering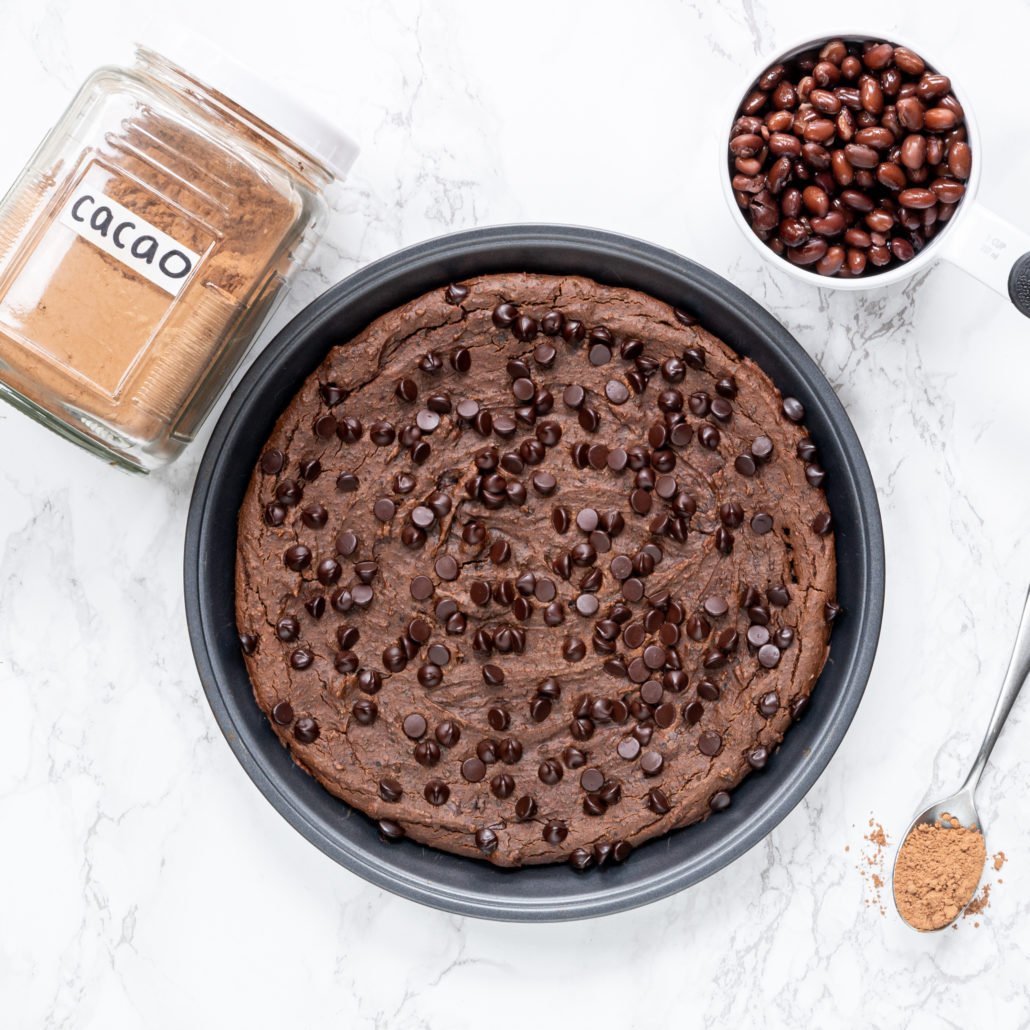 What better way to get your daily serving of beans in than inside of a delicious brownie?! You can't taste the beans at all!
Did you know that eating beans beans can help balance sugar levels, increase digestive regularity, boost energy, and even help prevent certain cancers?
As a health coach, I highly recommend including all kinds of beans in your diet. In these vegan black bean brownies you'll get a ton of iron, magnesium, calcium, plant-powered protein and fiber! Yes please!
Beans are so great for your health as well as the planet – they are truly a superfood.. Also, they are a much more sustainable source of protein than meat.
Are you drooling yet?! I am!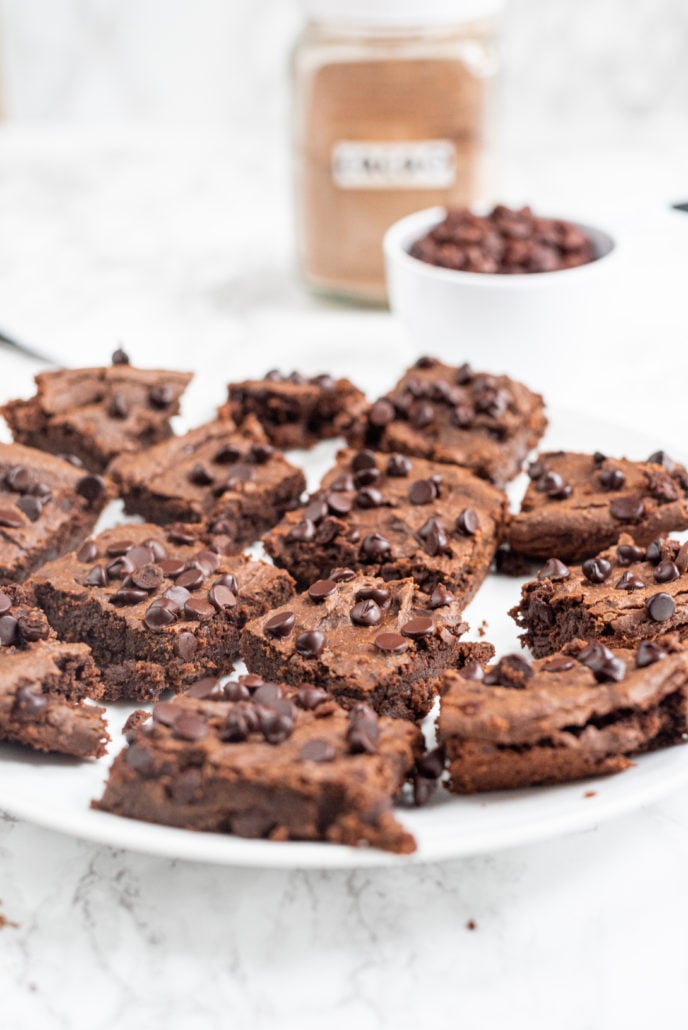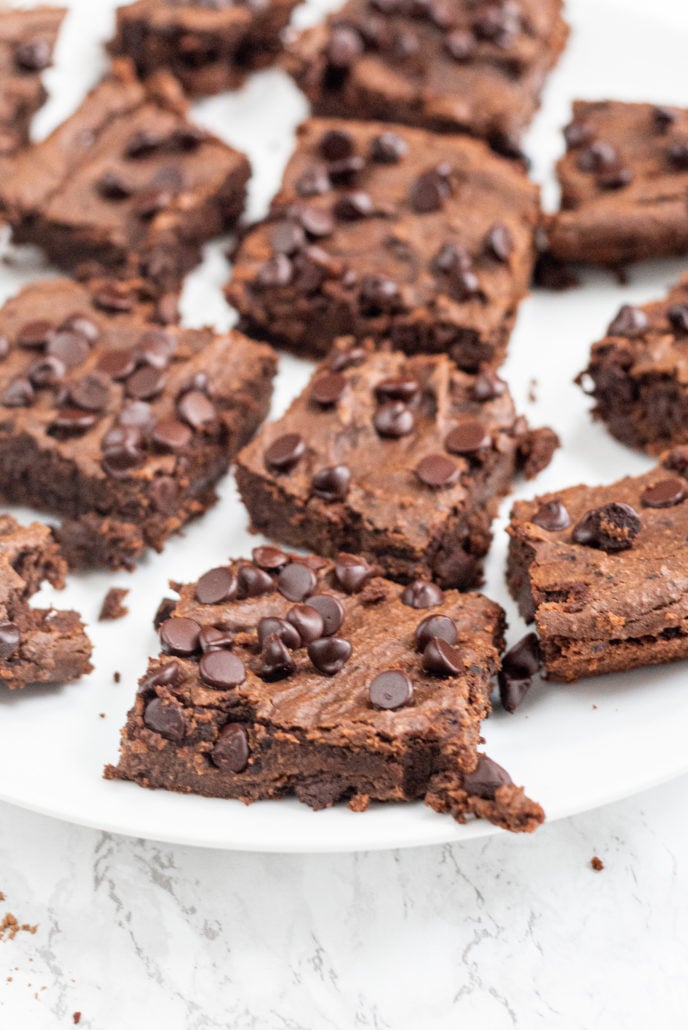 Want more info about beans?! Check it out here!
If you make this recipe and love it, please rate and comment down below at the bottom of your page with your honest thoughts. Your feedback means a lot to me here at HealthyGirl Kitchen. If you weren't a fan of the recipe or substituted an ingredient/s, please let me know!
I can't wait for you all to try this recipe and get more beans into your diet at the same time! You are going to have to stop yourselves from eating the whole pan.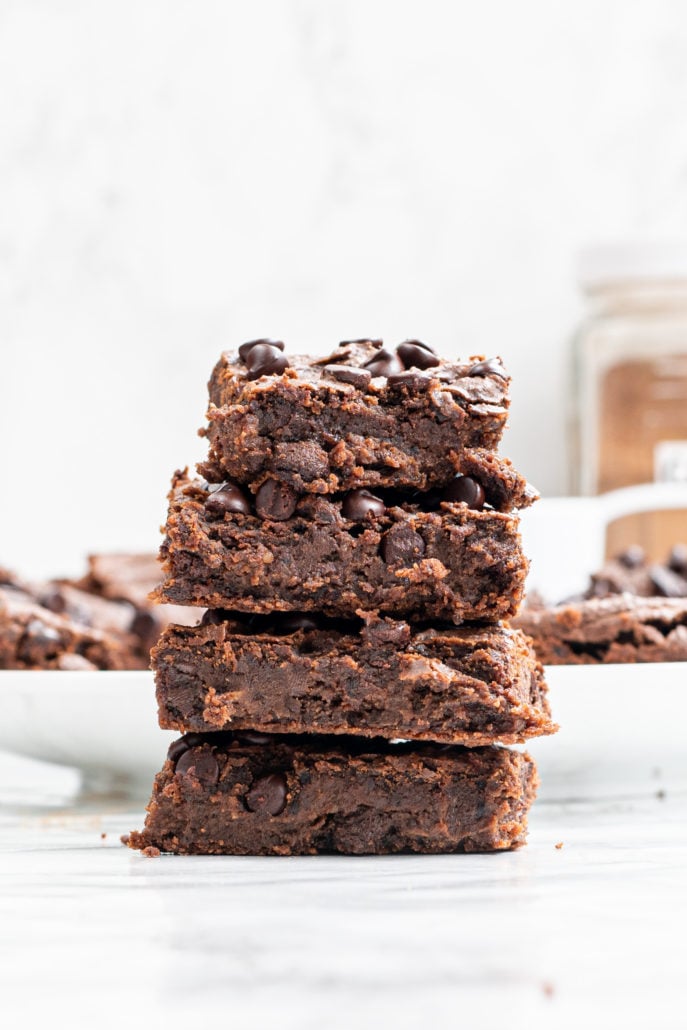 Share the Love
Pin this vegan black beans recipe on Pinterest, share the link on Facebook for friends and family to see, or post a picture of your creation on Instagram.
Also, don't forget to tag me @healthygirlkitchen and use the hashtag #healthygirlkitchen.
Want more free vegan recipes? Follow me on Instagram @healthygirlkitchen!
Vegan Black Bean Brownies (Oil-Free)
Moist, rich, decadent vegan brownies made with a base of black beans! Completely gluten-free, oil-free, 100% plant-based and super simple to make.
the ingredients
1

15 oz

can black beans

unsalted, rinsed and drained

1/2

cup

creamy peanut butter

1/4

cup

almond flour

1/4

cup

cacao powder

or cocoa

1/2

cup

maple syrup

1.5

tbsp

unsweetened applesauce

1.5

tsp

vanilla

1/4

tsp

baking soda

1/4

tsp

baking powder

3/4

cup

vegan chocolate chips
instructions
Preheat the oven to 350 degrees F.

Add all ingredients into a food processor except for the chocolate chips. 

Blend until completely smooth and combined. Stir in ½ cup chocolate chips

Pour into non-stick 9x9 baking pan.

Sprinkle the remaining chocolate chips on top. 

Bake for 25 minutes, then let cool for about 1 hour. 
In good health,
Danielle