These easy vegan summer rolls are fresh, light, filling, easy to make and are such a flavor bomb. You might have had these in a restaurant and might not have thought it was possible to make them at home but I am here to show you that you totally can and it's simpler then you might think. I pair mine summer rolls with a delicious peanut sauce that make these rolls extra special. If you're plant-based and need to spice up your diet, add these into the weekly rotation.
How do you make easy vegan summer rolls?
Step 1: You need three plates. Think of it as an assembly line! You need one plate for soaking the rice paper wrappers in water, one plate for rolling the summer rolls and one plate for eating off of.
Step 2: Cut up and prep all of your veggies. I use peppers, avocado, carrots, purple cabbage, spinach and cilantro.
Step 3: Dip a single rice paper wrapper in water for 15 seconds and then transfer it to your rolling plate. Shake off the extra water. If it's too wet or slimy, blot with a clean towel. Add all of the ingredients to the center of the wrapper- don't add too much because it won't roll if it's overstuffed.
Step 4: Fold each side over and roll just like you would a wrap or burrito! Wrap tightly. Add to your plate and repeat the process until you make your desired amount of summer rolls.
How do you make the peanut sauce?
The peanut sauce is basically a few ingredients mixed together! It's super easy. You need:
peanut butter
coconut aminos
rice vinegar
garlic
ginger
sriracha or chili sauce
toasted sesame seed oil or sub sesame paste if you're oil-free
A few important tips:
Make sure to have all of the veggies cut up and tofu cooked before assembling! This makes preparing the easy vegan summer rolls way easier.
Cut the veggies thin! The thinner the better. The thinner you cut the veggies, the easier they will be to eat and the more you can fit into each roll.
Use warm water when soaking the rice paper wrappers. If the wrappers are breaking, you are soaking them too long! Full immerse it in water for no longer than 15 seconds.
Garnish with sesame seeds, it makes it so yummy!
Are these easy vegan summer rolls nutritionally balanced?
The short answer is YES. It is a common misconception that vegan food doesn't have enough protein or nutrients but these are filled with both! The rice paper wrapper is the carb, the tofu adds a ton of protein, the veggies add antioxidants and fiber and the avocado works as the healthy fat. Because they are very balanced, they will help to keep you fuller longer and are quite satiating.
Don't want to add tofu? Try adding tempeh!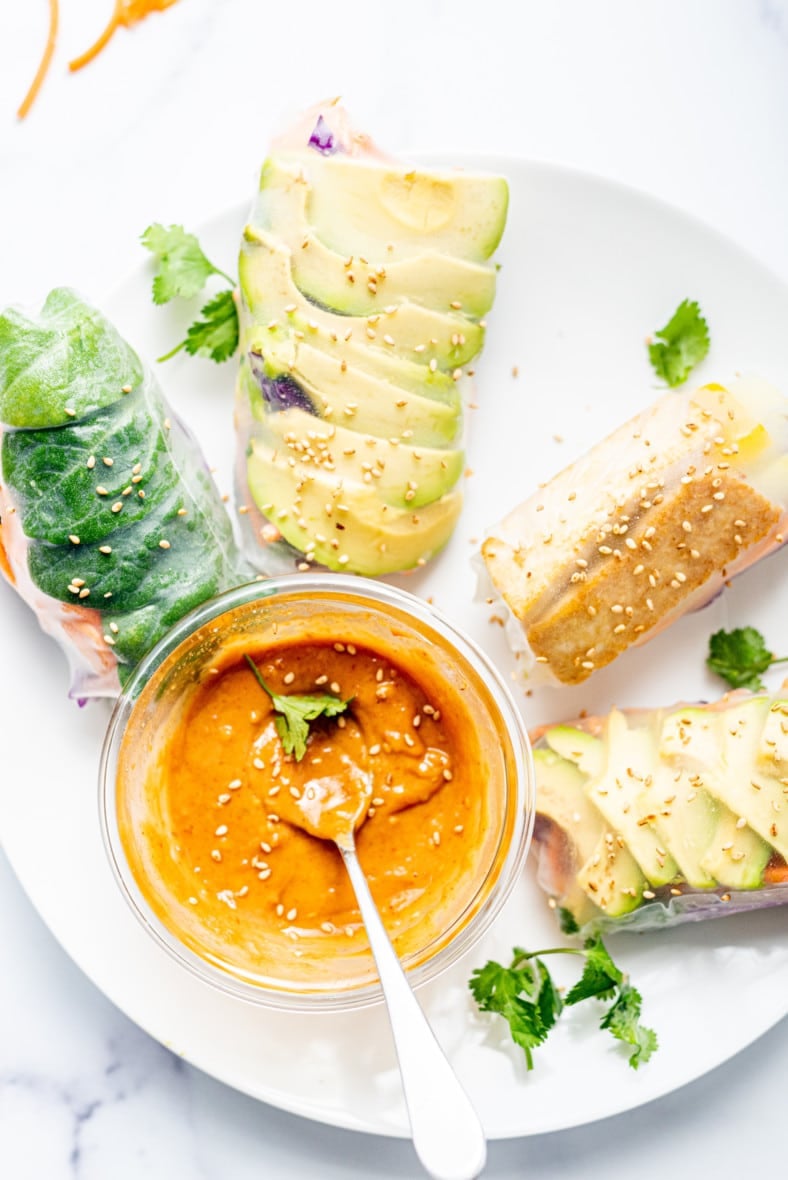 What is the best way to store these?
The best way to enjoy them is to eat them fresh! However, if you want to make them in advance to pack in your lunch or to meal prep the night before, do not refrigerate for longer than 24 hours. So don't let them sit in the fridge for longer than a day! I promise it's worth it to eat them 100% freshly made.
Store them in a container in the fridge. If your fridge is on a higher setting, it might make the the rice wrapper hard so be mindful of that.
Why is it important to use organic produce?
I use the pre-washed fresh baby spinach for these easy vegan summer rolls from Josie's Organics, an amazing all organic company that grows their produce in the fertile California Valley. I love getting their fresh greens – they last so much longer than other brands.
Josie's Organics doesn't use any synthetic fertilizers or pesticides on their farms. This is so important! If I see Josie's Organics in the grocery store, I snatch it up real quick because it's truly such fresh produce. You can find their produce at stores like Trader Joe's, Whole Foods, Sprouts and many more. Be sure to look out for Josie's Organics in your local store! Use their store locator here!
More easy plant-based recipes:
Want more FREE plant-based recipes and meal ideas?
Be sure to follow me on all of my social platforms:
Instagram: @HealthyGirlKitchen
TikTok: @HealthyGirlKitchen
Facebook: @HealthyGirlKitchen
Easy Vegan Summer Rolls (with peanut sauce!)
These vegan summer rolls are light, fresh and delicious. The peanut sauce is a game changer when paired together. 100% plant-based, gluten-free and oil-free.
the ingredients
8-10

rice paper wrappers

brown or white rice wrappers

1

cup

tightly packed spinach

I use Josie's Organics

1

julienned cucumber

1/3

block of extra firm tofu

pan-seared until golden brown

1/2

julienned bell pepper

1

thinly sliced avocado

1/3

cup

julienned purple cabbage

1/2

cup

fresh cilantro

1/2

cup

shredded carrots

toasted sesame seeds

for garnish
Peanut Sauce
2

tbsp

peanut butter

1

tbsp

rice vinegar

1

tsp

sriracha or chili sauce

3

tbsp

coconut aminos

1

tsp

toasted sesame oil

omit if you're oil-free

sprinkle of garlic and ginger
instructions
First, slice and prep all of the veggies. Cut tofu into strips and pan sear in a non-stick pan until golden brown on each side.

You need three plates. Set up in an assembly line. Add warm or hot water to one of the plates. Immerse rice paper wrapper in water for 15 seconds then transfer to the next plate. Add fillings to the center of the wrapper. Fold each side over and roll like a burrito. Wrap tightly. Add the summer roll to the third plate as this is the serving plate.

Repeat process until you've used all of your fillings! Make the peanut sauce by mixing all of the ingredients together.

Garnish with sesame seeds and enjoy!
This recipe was made in partnership with Josie's Organics. 
Made with love,
Danielle