Healthy CAULIFLOWER Cashew Alfredo is calling your name!
Cauliflower is all the rage right now and for good reason. That is why you need to make this cauliflower cashew alfredo recipe! It is to die for! It is a great replacement in pizza crusts instead of flour, it makes delicious gnocchi, it is delicious just roasted but it is SO yummy when made into alfredo.
This yummy vegetable is packed with nutrients and has so many health benefits. In addition, cauliflower boosts the immune system due to its high vitamin C content and it also has anti-inflammatory properties as well.
It also aids in digestion, boosts brain function, prevents diabetes, reduces bad cholesterol, prevents cancer, protects the heart, and promotes weight loss.
This recipe is: 
✔️Vegan/Plant-based
✔️Gluten-free
✔️Soy-free
✔️Oil-free
✔️100% yummy
This cauliflower cashew already recipe is creamy, comforting and everything you could possibly want in a bowl of pasta. If you want a classic comfort food dish but want to skip the dairy and cholesterol, you need to try this one out.
I was craving a cream sauce with pasta one day and I decided to experiment in the kitchen. Also, fun fact about me is that I don't measure anything when I cook…I simply add a little bit of this and a little bit of that. I taste as I go, adjusting flavors along the way.
Let me tell you a secret: I made this recipe up and it happened to work out perfectly on the first try! I was so proud! TOTAL WIN!
Even though there are cashews in this recipe, the true star is the cauliflower! Cauliflower is super low in calories but it's packed with health benefits..it truly helps to make the best alfredo sauce! I would suggest using organic cauliflower as it tends to be in the dirty dozen.
Cauliflower is also relatively cheap so this recipe won't break the bank – this recipe makes a lot of sauce too so it's enough for a whole family or to keep in the fridge for leftovers! Bring this into work for lunch and make your co-workers super jealous. You can make this for dinner, show it off at a pot-luck, wow your vegan and non-vegan friends with it, impress your kids or just make it for yourself.
I honestly just want to cozy up with a bowl of this and watch a good TV show…who's with me?!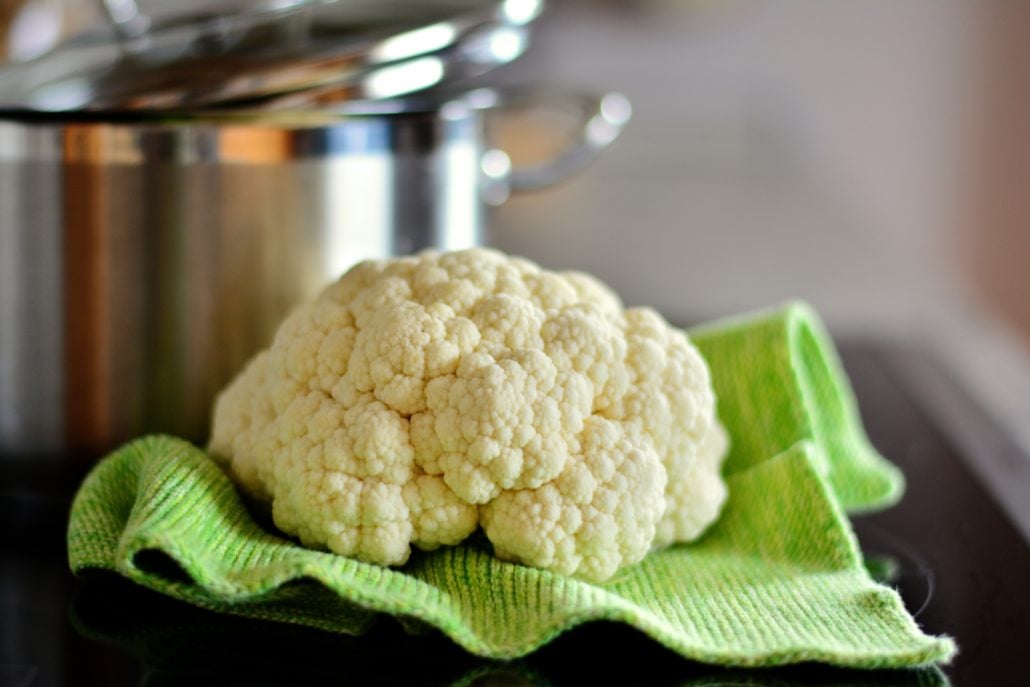 Chickpea Pasta
I used Banza chickpea pasta and for good reason! It is super high in plant-based protein and is loaded with fiber. When compared to traditional white pasta it is a great alternative. Banza is both vegan and gluten-free. Can we just talk about how this recipe is both plant-based and gluten-free but still tastes AMAZING? Eating healthy doesn't have to be boring or bland.
Banza Pasta 
Protein: 25 grams
Fiber: 13 grams
Low glycemic index
High in iron
Made with chickpeas
Vegan
Gluten-free
Don't worry if you can't find Banza or would like to use something else I would suggest lentil pasta, brown rice pasta, the quinoa pasta from Trader Joe's or even a simple organic whole wheat pasta will be perfect! If you aren't watching out for gluten-free use any pasta that is your favorite!
Other uses for this sauce could be for fondue or even to use as a white pizza base. You can get creative with it!
Social media – I would love to see your HealthyGirl Kitchen recipe creations! Tag me on Facebook or Instagram @healthygirlkitchen to share the vegan plant-based love! Pin on Pinterest to save for later or to share with friends.
What are you waiting for?!
Get cooking! Be sure to print this cauliflower cashew alfredo recipe or bookmark it so you don't lose it.
Cauliflower Cashew Alfredo
instructions
Steam cauliflower and cashews together until both are soft (5-10 minutes)


Boil pasta at the same time


Blend all ingredients together except for pasta in a blender until completely smooth


Pour over pasta and enjoy!


Feel feel to add in whatever veggies you like!