Hello my little chickpeas!
Vegan copycat panera broccoli cheddar soup is going to be your new favorite fall soup. It's cheesy, creamy, rich, comforting, 100% plant-based, oil-free and super easy to make. It's also soy-free, is made without any dairy and is filled with nutrients.
If you're looking for a healthier alternative to this panera bread classic soup, you have to try this one.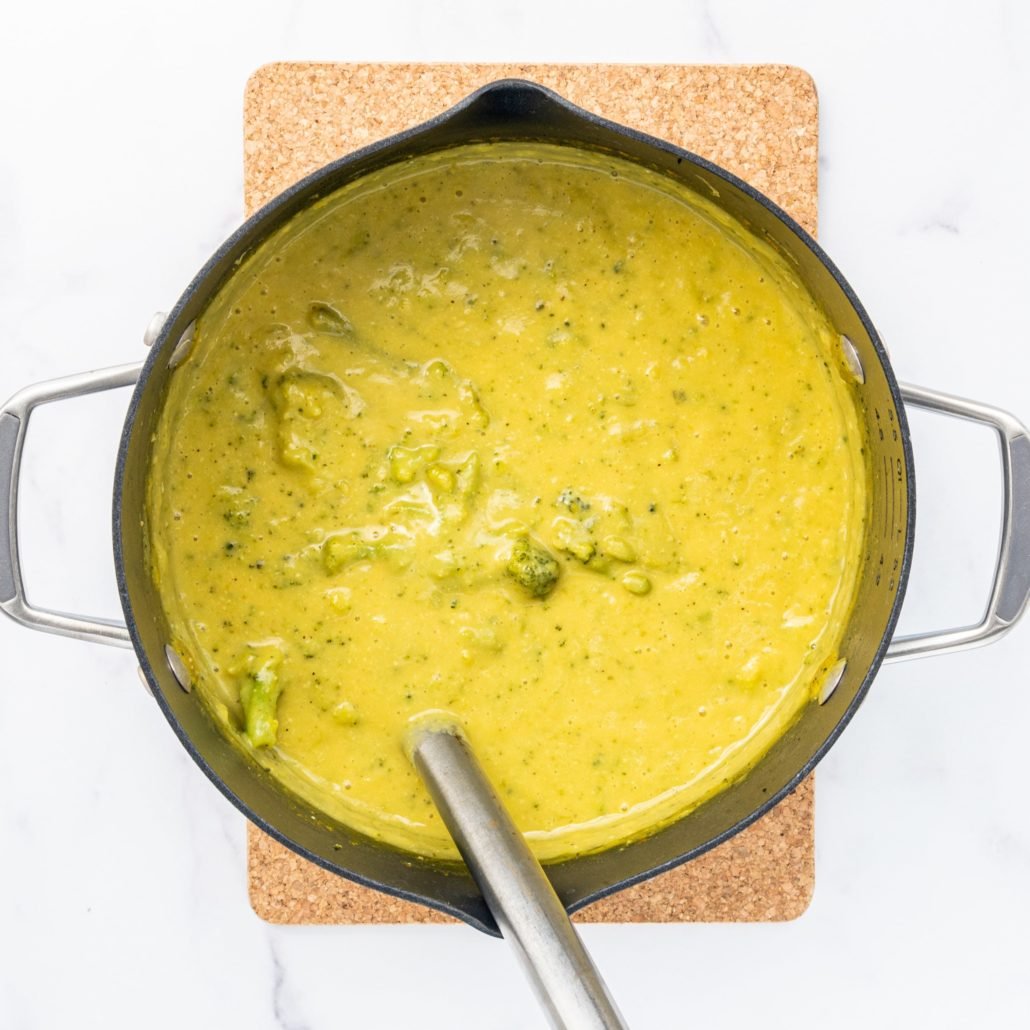 What ingredients will I need for this soup?
Yellow onion
Russet potatoes
Frozen broccoli
Nutritional yeast
Non-dairy milk
Raw cashews
Veggie broth
Salt
Pepper
Turmeric
Garlic
How do you make the vegan broccoli cheddar soup taste like Panera?!
First, the onion and broccoli is sautéed until soft. Then to create a creamy base, you blend potato and cashews for the ultimate comforting, rich texture. Nutritional yeast is added for a cheesy flavor and turmeric is added for health benefits and color.
The combination of the potatoes, nutritional yeast, cashews, non-dairy milk and veggie broth all come together to make a soup base that mimics Panera's very well. If you're a nutritional yeast skeptic, I promise you it's really good in this soup and not too strong of a flavor at all. I recommend this brand of nutritional yeast.
What makes this vegan copycat panera broccoli cheddar soup healthier than Panera?
Dairy is extremely inflammatory and it can cause many health issues such as skin conditions, auto-immune related problems, digestive discomfort, acne, IBS, and more! This soup is so much healthier because it's 100% DAIRY-FREE! Nutritional yeast is packed with protein and b-vitamins. Potatoes are filled with minerals and anti-oxidants including vitamin C! Bet ya didn't know that!
I also add cashews to this recipe which are great for skin health, blood health, clear skin, fiber, nail + hair health, and #plantprotein.
A few extra tips:
This keeps in the fridge for about 4-5 days.
Feel free to store this in the freezer for up to 2 months. Just thaw and then heat when you're ready to eat it!
This makes great leftovers so even if you have extra, you will love heating it up. Bring it to work, pack it in the kid's lunches in a thermos, or simply heat it up at your desk because so many of us are working from home.
Get a crusty bread to make a bread bowl!
How do you make a bread bowl?
Get a nice big crusty bread from your grocery store or local bakery. I got a whole grain variety from Whole Foods but they sell bakery bread basically anywhere! Scoop out the middle and hollow it out. I like to warm the hollowed out bread in the oven at 400 degrees for 5-7 minutes so it tastes super fresh and keeps the soup warmer for longer.
The bread bowl makes this the ultimate Panera copycat!
What do you do with the extra bread?
I make croutons in my air-fryer but you can also make croutons in your oven. Just simply cut it into cubes and air-fry until golden brown – it's as easy as that. If you're oil-free don't add oil but if you'd like some oil simply coat in a little evoo before adding the bread to the air-fryer.
Want more healthy soup + dinner recipes?
…and if you make this recipe, please rate and comment down below at the bottom of your page with your honest thoughts. Your feedback means a lot to me here at HealthyGirl Kitchen. If you substituted an ingredient/s, please let me know!
Want more FREE plant-based recipes and meal ideas?
Be sure to follow me on all of my social platforms:
Instagram: @HealthyGirlKitchen
TikTok: @HealthyGirlKitchen
Facebook: @HealthyGirlKitchen
Vegan Copycat Panera Broccoli Cheddar Soup
Creamy, cheesy, comforting broccoli cheddar soup that's 100% plant-based, dairy-free and a much healthier alternative to your Panera favorite.
the ingredients
1/2

yellow onion diced

2

bags

frozen broccoli

20 oz of frozen broccoli

2

large russet potatoes

peeled and cubed

1/2

cup

nutritional yeast

1/2

cup

raw cashews

1

tsp

salt

1/2

tsp

pepper

1

tsp

garlic

1 1/2

cup

veggie broth

2

cups

water

1

cup

unsweetened non-dairy milk

1

tsp

turmeric
instructions
In a large soup pot, saute onions and frozen broccoli in 1/2 cup veggie broth on medium high heat until cooked and the broccoli is easily broken up with a spatula.

Boil the potatoes and cashews in another pot and cook until super soft. Then strain and add into the blender. (10-15 minutes)

Into the blender with the cashews and potatoes add nutritional yeast, garlic, salt, pepper, non-dairy milk and water. Blend until completely smooth. If your blender has a hard time blending this up, pour half of it out and blend in two batches.

Pour the potato cheese mixture into the soup pot with the broccoli. Pour in the rest of the veggie broth and the turmeric and stir until combined. Heat on medium until warmed all the through.
In good health,
Danielle