Hello friends!
I can't wait to share this Vegan BBQ jackfruit sandwich with you all. This sandwich is a great alternative to a traditional BBQ pulled pork sandwich. This one has all of the yummy flavors without any of the health ramifications or cruelty. It's a win-win folks.
You will need some canned jackfruit for this recipe, I get mine at Trader Joe's. Use canned jackfruit NOT fresh. The fresh fruit is meant to be eaten as such. The canned jackfruit is unripe and shreds like how we want.
Once strained and shredded, add the jackfruit to a pan and saute it until the moisture is cooked out. This should take no longer than 10 minutes.
I made my own homemade plant-based no refined sugar added BBQ sauce but if you are short on time, feel free to get store bought.
Saute the jackfruit with as much or as little BBQ sauce as you'd like. I like mine really saucy so that it's more flavorful but do what works for you.
Use a whole wheat or gluten-free bun of choice and top with the jackfruit + bbq mixture.
I like to pile my sandwich high!
Top with cabbage slaw for an extra freshness and crunch – DELISH!
I like to spread extra bbq sauce on the top bun to avoid any dryness and to add even more saucy flavor.
…and there you have it! A vegan bbq jackfruit sandwich! It's easy, delicious, perfect for meat-eaters or someone who wants to transition to being plant-based OR if you are already plant-based but you are in the mood for a good old bbq sandwich.
These are seriously SO freaking yummy, we gobbled them up.
This vegan bbq jackfruit sandwich is: 
Smoky
Sweet
Crunchy
Meaty
Savory
Juicy
A lil spicy
Rate + Comment
If you make this vegan BBQ jackfruit sandwich recipe and love it, please rate and comment down below at the bottom of your page with your honest thoughts. Your feedback means a lot to me here at HealthyGirl Kitchen. In addition, if you weren't a fan of the recipe or substituted an ingredient/s, please let me know!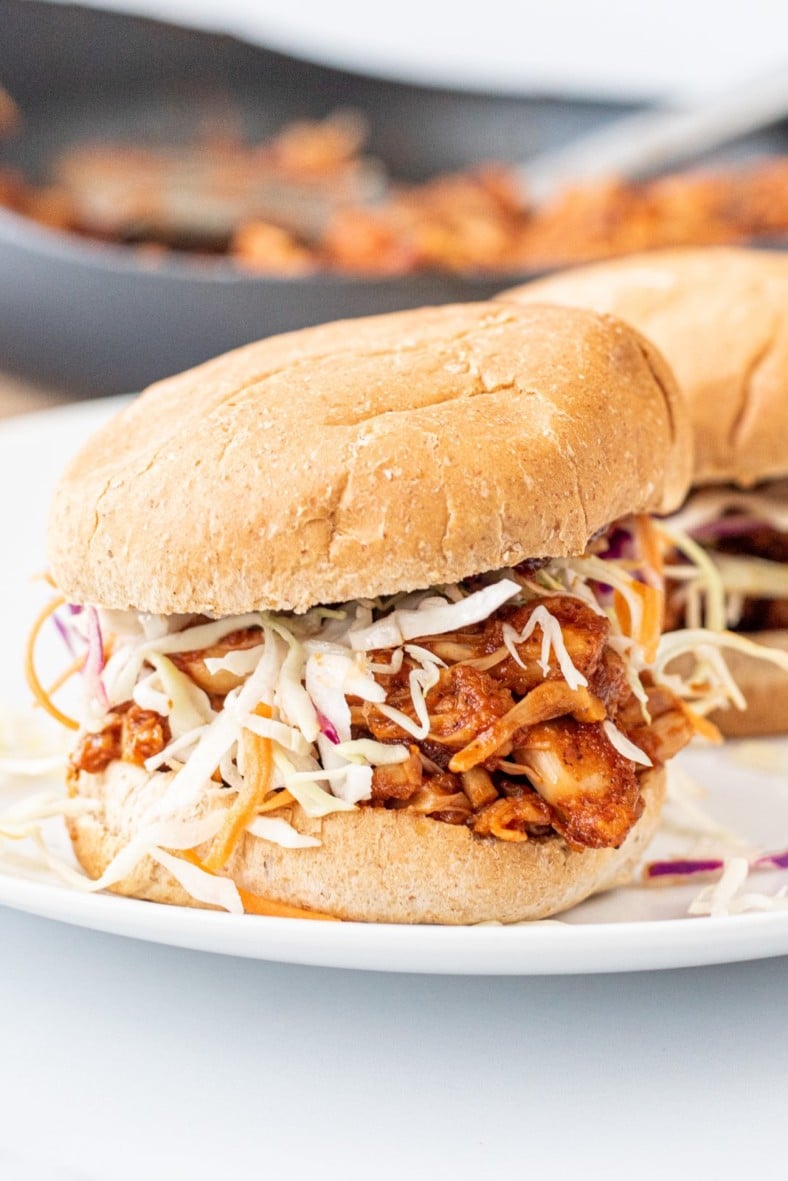 Share the Love on Social Media
Pin this amazing vegan BBQ jackfruit sandwich recipe on Pinterest, share the link on Facebook for friends and family to see, or post a picture of your creation on Instagram. Also, be sure to follow me on my new tiktok account, I post a lot of great content on there.
Instagram: @HealthyGirlKitchen
TikTok: @HealthyGirlKitchen
Facebook: @HealthyGirlKitchen
Hurry up and make these ASAP!
Vegan BBQ Jackfruit Sandwich
Smoky, perfectly sweet, savory sandwich made with jackfruit and homemade plant-based BBQ sauce. Great dinner idea that takes 30 minutes to whip up!
the ingredients
Homemade BBQ Sauce
1

cup

organic ketchup

6

tbsp

apple cider vinegar

2

tbsp

lemon juice

2

tbsp

coconut sugar

2

tbsp

maple syrup

2

tbsp

yellow mustard

2

tsp

smoked paprika

1/2

tsp

onion powder

1/2

tsp

garlic powder

1

tsp

chili powder

1/4

tsp

pepper

2/3

cup

water
Other Sandwich Ingredients
2

cans

jackfruit

in brine or water

2

cups

cabbage slaw

optional: toss slaw in a 1 tbsp apple cider vinegar

4

buns of choice

whole wheat or gluten-free
instructions
BBQ Sauce Instructions
Add all ingredients for bbq sauce into a small/medium pot and bring to a boil, reduce heat to low/medium and let cook until thick, stirring occasionally. Should take 20-30 minutes.
Jackfruit
Strain, rinse and shred canned jackfruit.

Add jackfruit to a non-stick pan and sauté on medium heat until the moisture is cooked out. Should take about 10 minutes.

Turn off the heat or keep on low if the bbq sauce is cold. Stir in about 1 cup of the BBQ sauce or as much or as little as you want.
Sandwich Assembly
Add bbq jackfruit to the bottom of each bun. Top with shredded cabbage slaw.

Add extra bbq sauce to the top bun and that's it!
In good health,
Danielle