Hello beautiful friends!
I have new recipe that you all are going to go crazy for. Vegan banana brownie bread is truly next level. It tastes exactly how the name sounds, banana bread mixed with brownies!
It's a combination that everyone needs to try.
This recipe is: 
Plant-based
Gluten-free
Oil-free
Soy-free
100% yummy
these are made in 1-bowl and they are so insanely easy to make – let's get baking!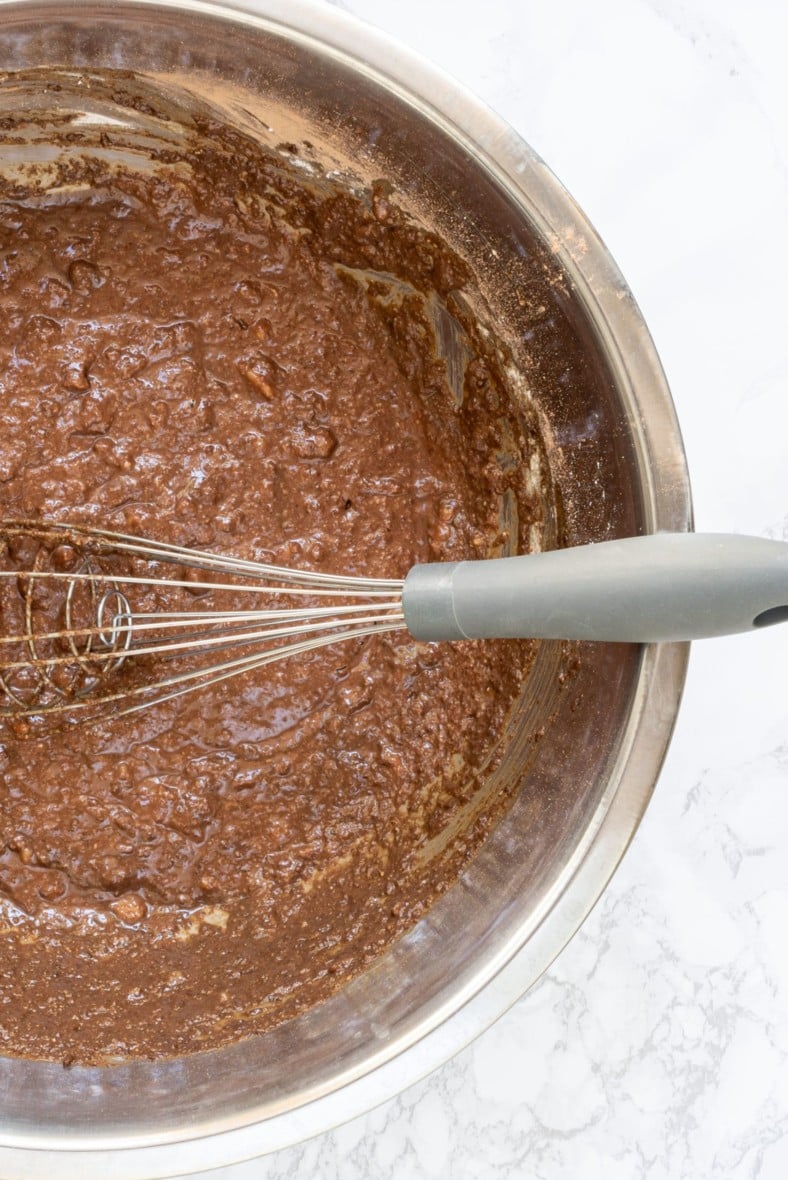 In addition, I tested this recipe and gave some to my future father-in-law and sister-in-law to try and they FELL IN LOVE with it. They aren't vegan and couldn't believe how delicious it is. My plant-based fiance always gobbles up my dessert recipes.
Also, this is perfect for a snack, for a healthy dessert, birthday party activity, a potluck, to share amongst friends, or to bring to a brunch! Delish!
You'll need a few simple ingredients for this vegan banana brownie bread recipe and you'll be surprised at actually how healthy this is!
I used applesauce instead of oil, almond + oat flour instead of white flour and I use ground flax in place of eggs.
This recipe truly is the perfect mix of brownies and banana bread combined – if you make it let me know!
The best part is that it's made in 1-bowl, this means no mess, no hassle, one bowl and you're good to go! It bakes for 45 minutes and then you have yourself the yummiest lil treat or snack. I personally love to have a slice of this with a cup of tea.
Cozy up with it on the couch with a good book or movie! 
Furthermore, wait until it's completely cooled before you cut it into it! Trust me on this. To be honest, I think this vegan banana brownie bread is better after it's cooled and even the next day. It's flavor comes out overnight.
Once you make it, you will see what I am talking about.
Questions:
Can I omit the chocolate chips?
Sure, the chocolate chips makes it super yummy but if you don't eat chocolate, omit them and use something like walnuts or carob chips.
Can I store this in the freezer?
Yes, it stores in the freezer for up to a month!
Did you grease the pan?
Nope! I have a non-stick loaf pan, it's life changing.
Will my non-vegan or non gluten-free friends/family like this? 
Totally! It's universally loved.
This vegan banana brownie bread is: 
Moist
Chocolatey
Perfectly sweet
Decadent
Rich
Banana-y
Heavenly
Mouth-watering
Delicious
Are you drooling yet babes?!
Rate + Comment
If you make this recipe and love it, please rate and comment down below at the bottom of your page with your honest thoughts. Your feedback means a lot to me here at HealthyGirl Kitchen. If you weren't a fan of the recipe or substituted an ingredient/s, please let me know!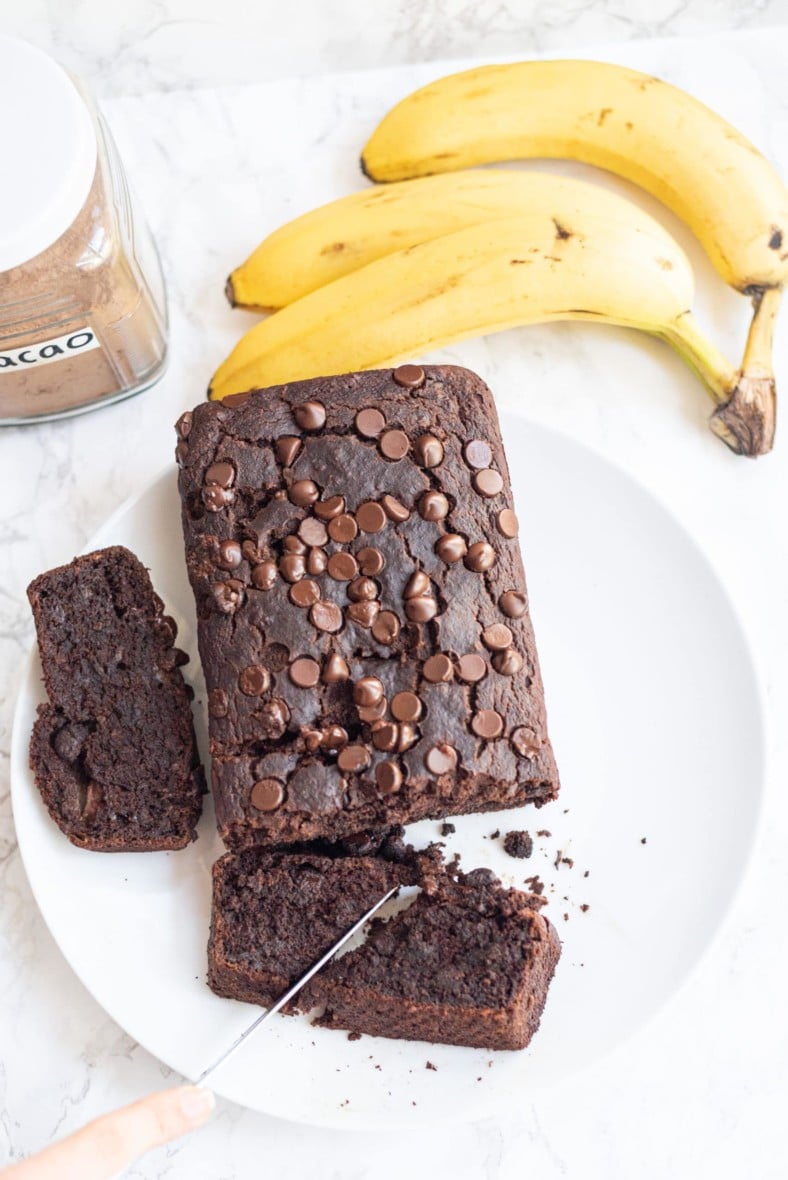 Share the Love on Social Media
Pin this vegan banana brownie bread recipe on Pinterest, share the link on Facebook for friends and family to see, or post a picture of your creation on Instagram.
Also, be sure to follow me on my new tiktok account, I post a lot of great content on there.
💕Follow me on Instagram: @HealthyGirlKitchen
✨Follow me on TikTok: @HealthyGirlKitchen
🥕Follow me on Facebook: @HealthyGirlKitchen
Vegan Banana Brownie Bread (oil-free, gluten-free)
Moist, chocolatey, perfectly sweet, decadent and made in 1-bowl, this is 100% plant-based, gluten-free and oil-free.
the ingredients
2

flax eggs

2 tbsp flax + 5 tbsp water

1/4

cup

maple syrup

1/3

cup

coconut sugar

1/2

cup

applesauce

1

tsp

vanilla extract

1 1/2

tsp

baking soda

1 1/4

tsp

baking powder

1/8

tsp

sea salt

1/2

cup

cacao powder

1/4

cup

almond milk

1

cup

mashed ripe banana

3/4

cup

all-purpose gluten-free flour

1/3

cup

oat flour

1/3

cup

almond flour

1/2

cup

dark chocolate chips

plus more for topping
instructions
Preheat oven to 375 degrees F. Get a large mixing bowl, make flax egg and let it sit for 3 minutes. Prepare a loaf pan with parchment or by greasing it (or use non-stick).

Add the applesauce, maple syrup, vanilla, coconut sugar, cacao, sea salt, baking soda and baking powder. Whisk until combined. Then add almond milk and mashed bananas. Stir.

Add the gluten-free flour, oat flour and almond flour and whisk. Now add in the chocolate chips and stir.

Pour into a loaf pan then top with more chocolate chips.

Bake for 45-55 minutes until the edges are firm to the touch and a fork comes out clean.

Let cool completely before slicing. Transfer to a plate to cool by lifting the parchment or flipping over carefully. Store in an air-tight container for about 3 days.
In good health,
Danielle