Hi friends!
I have a delicious new recipe for mango pineapple turmeric ice cream that you are going to absolutely LOVE! Mango pineapple turmeric ice cream is 100% plant-based, vegan, oil-free, gluten-free, soy-free and has no added sugar. I know, it sounds too good to be true right?!
It's creamy, perfectly sweet, refreshing, fruity, and truly mouth-watering! Unlike dairy ice cream, this is anti-inflammatory and great for digestion.
Mango and pineapple do wonders for your gut health and the added turmeric makes this great for disease prevention.
The coconut water adds electrolytes, sweetness from the pineapple and a boost of hydration. Coconut milk adds healthy fats and a much needed creaminess to the ice cream.
I am so excited to have teamed up with C2O for this post.
They make AMAZING coconut water from green young thai coconuts and C2O explains that young thai coconuts are: "from an especially fragrant & tasty variety that is unique to the inland soils of Thailand, our coconuts are a freshwater type that yields a more delightful taste than the salty flavor of more common coastal coconut".
I am obsessed with their coconut water and their brand.
Use their store locator to find out where you can get their coconut water near you!
If you're like me then after dinner you crave something sweet to cap off the night. A scoop of this is that perfect treat to satisfy your sweet tooth. The best part is that this mango pineapple turmeric ice cream doesn't have added sugar.
Guilt-free ice cream?! Yes please!
Questions:
What kind of toppings would you suggest? Shredded coconut, chopped nuts, hemp seeds, agave or honey, berries, or any other cut-up fruit.
How long does this keep in the freezer? 1-2 weeks in a covered and sealed container
Can I add other fruits to this sorbet if I don't like mango or pineapple? Sure! Frozen strawberries would be great in this as well!
Do I have to use pineapple flavored coconut water? You don't have to but it does add a really nice sweetness and flavor! You can just use plain coconut water instead if you would like.
Will my kids like this? Is it sweet enough without sugar? 100% this is totally kid-approved. And – this is a GREAT way to get your kids to eat fruit.
I bought some organic vegan ice cream cones at Whole Foods to make this recipe even more fun!
You can definitely just eat this out of a bowl but you have to admit, an ice cream cone is SO FUN! Make this for a kid's birthday party, for a dinner party you're hosting, or simply to just have at home for yourself.
If you're trying to lose weight just cut out the cone and have the ice cream in a bowl with some fun toppings like coconut, slivered almonds and raspberries.
This Mango Pineapple Turmeric Ice Cream is:
Creamy
Fruity
Sweet
Healthy
Refreshing
Easy to Make
Fresh
Rate + Comment
If you make this recipe and love it, please rate and comment down below at the bottom of your page with your honest thoughts. Your feedback means a lot to me here at HealthyGirl Kitchen. If you weren't a fan of the recipe or substituted an ingredient/s, please let me know!
Share the Love on Social Media
Pin this incredibly delicious vegan one-pot Mexican quinoa on Pinterest, share the link on Facebook for friends and family to see, or post a picture of your creation on Instagram. Also, be sure to follow me on my new tiktok account, I post a lot of great content on there.
Instagram: @HealthyGirlKitchen
TikTok: @HealthyGirlKitchen
Facebook: @HealthyGirlKitchen
Mango Pineapple Turmeric Ice Cream (vegan + no added sugar)
Creamy, fruity, perfectly sweet vegan ice cream. Perfect for a treat or even healthy enough to eat for breakfast. Takes 5-minutes to make!
the ingredients
2

cups

frozen pineapple

2

cups

frozen mango

1

tsp

turmeric

1/2

cup

pineapple coconut water

I use C2O brand - it has no added sugar

1/4

cup

full fat coconut milk
instructions
Add all ingredients into a food processor or high speed blender and blend until completely smooth, scraping down sides as necessary. For more of a soft-serve consistency you can eat it right away.

For more of a hard-packed ice cream, pour into a loaf pan, smooth, then put in the freezer.

Let the ice cream sit in the freezer for about 30 minutes - 1 hour then scoop and serve!
This post was sponsored by C2O coconut water. I am so honored to partner with plant-based brands that I believe in. Stay tuned for more recipes featuring C2O coconut water.
More healthy plant-based, gluten-free dessert recipes you will love
!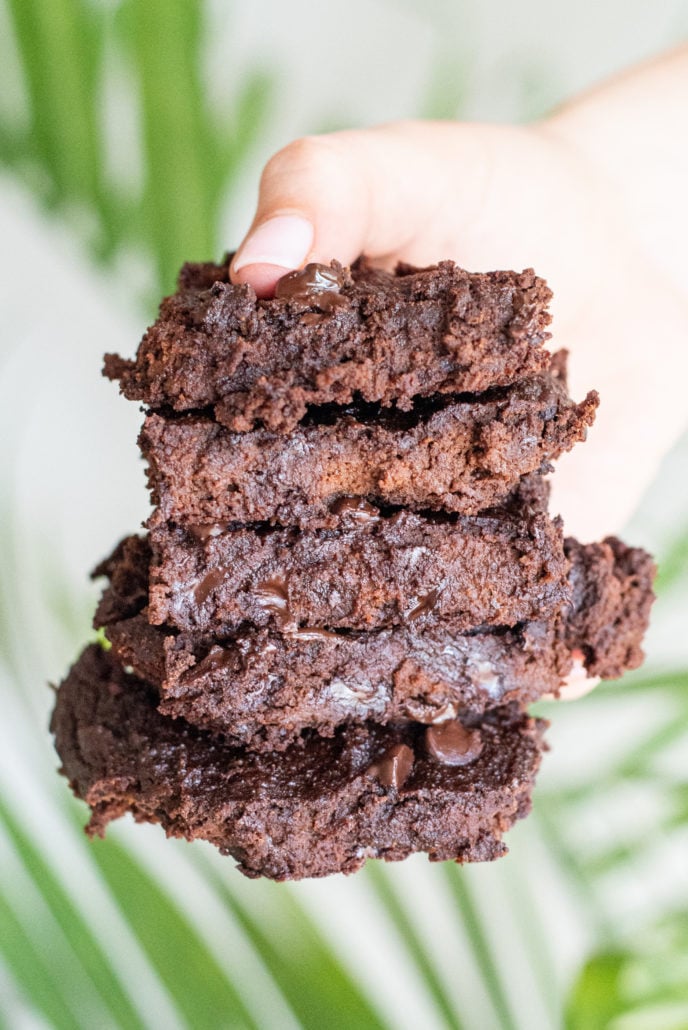 Healthy Vegan Thumbprint Cookies (gf, oil-free)
In good health,
Danielle