Hi!
Are you getting bored of the same breakfast every day? I wanted to share one of my go-to smoothie recipes with you. Whether you're trying to get healthier or want to change things up, this smoothie is a must-try.
This high-fiber vegan smoothie is fruity, tropical, refreshing, perfect for summer mornings, easy to digest, and filled with fiber.
What's your morning smoothie? I'd love to know! Comment below with your go-to smoothie ingredients.
I added Silver Fern Prebiotic Fiber to my smoothie for an extra fiber boost. Silver Fern products are all 100% plant-based – the Tino all natural high fiber supplement actually works by nourishing healthy gut bacteria. It is easy on the digestive system and doesn't cause any bloating.
A female founded company, Silver Fern has a mission to spread the message of good health, one gut at a time! Did you know that 70% of our immunity stems from our gut. The Silver Fern prebiotic fiber is vegan, gluten-free, soy-free and non-GMO. Yes please!
As a health coach, I am always preaching the importance of gut health so when I found this prebiotic fiber that I could add to my smoothie, I was SO eager to test it out.
For the past few weeks now I have been having in my smoothie everyday and it makes such a difference.
If you're sensitive to bloating like I am but still want to get plenty of fiber in your diet, 1 tbsp of this daily adds an extra 10 grams of fiber (yay!)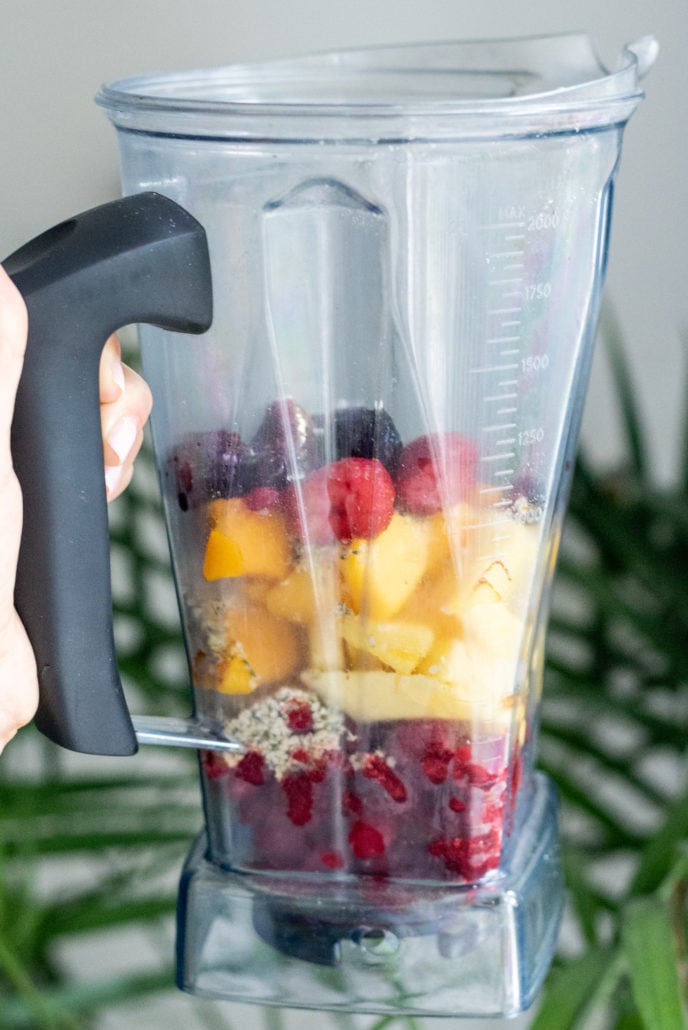 How many grams of fiber does this smoothie have?!
It is suggested that for proper digestion and colon health, women need 25 grams of fiber a day and men need 35 grams.
The majority of Americans don't even receive close to that amount. I think these numbers are conservative – 40 grams of fiber daily should be the minimum.
After adding up the grams of fiber in this high-fiber vegan smoothie it has about 30 grams – WOW! Imagine getting your recommended daily intake of fiber in your breakfast alone.
What kinds of foods have fiber?
Repeat after me: ONLY PLANT FOODS HAVE FIBER.
Animal products like meat, fish, cheese and eggs do not contain any fiber.
It is crucial to add plant-based foods into your diet to receive fiber.
Some high fiber examples include lentils, beans, chickpeas, hemp seeds, chia seeds, raspberries, and kale!
Struggling to eat a ton of fruits and veggies? Add the Silver Fern prebiotic fiber to your morning smoothie for that extra boost.
Fiber Benefits
Helps restore and maintain regularity in bowel movements
Helps maintain steady + healthy blood sugar levels
Improves mineral absorption
Bone health support
Joint health support
Boosts immune system
Prevents colon cancer
Lowers cholesterol
Aids in achieving healthy weight
Increases longevity
I topped my high-fiber vegan smoothie off with hemp seeds for extra fiber, protein and omegas! I can't wait for you all to try this recipe – report back if you make it!
I highly recommend eating a well-rounded plant-based diet for the bulk of your fiber intake – however, if you aren't as regular as you think you should be, it doesn't hurt to add some of the Silver Fern prebiotic fiber into your daily routine.
If you don't want to mix it into a smoothie you can add it into oatmeal or bake it into a healthy dessert.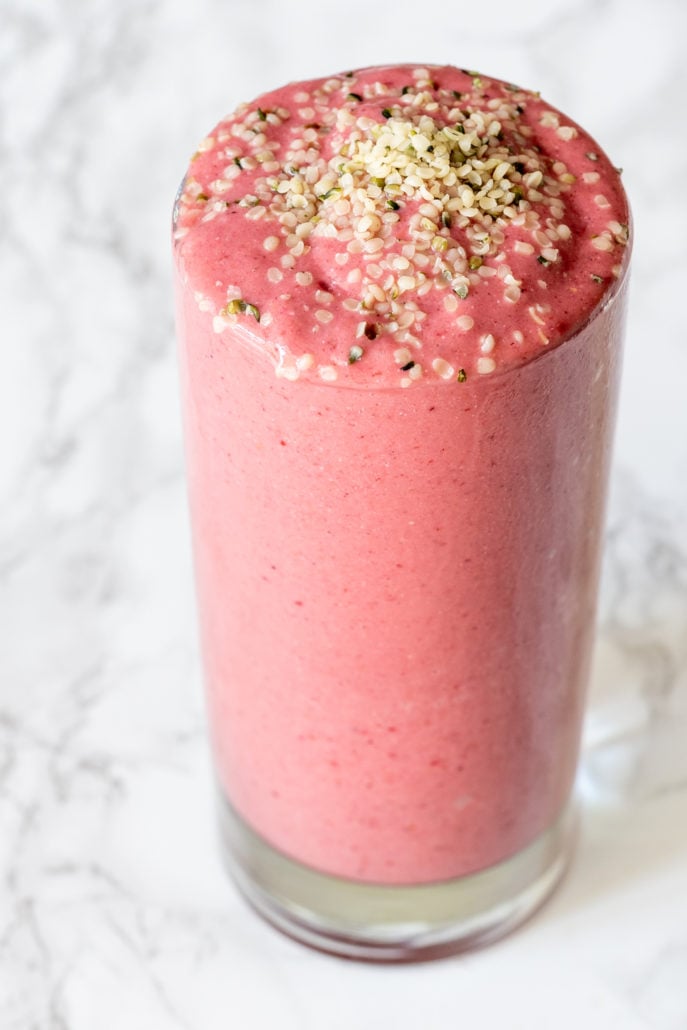 Share the Love
Pin this recipe to Pinterest, share the link on Facebook, post your creation to Instagram and don't forget to tag me @healthygirlkitchen when you do!
High-Fiber Vegan Smoothie
Fiber-packed vegan gluten-free smoothie for a filling, easy and delicious meal. A few simple ingredients and done in 5 minutes.
the ingredients
1

banana

1

cup

frozen raspberries

3/4

cup

frozen pineapple

3/4

cup

frozen mango

1

tbsp

Silver Fern prebiotic fiber

1

tsp

maca powder

2

tbsp

hemp seeds

1

cup

almond milk
instructions
Blend all ingredients in a high-speed blender and serve!
This post is sponsored by Silver Fern. I am honored to partner with such an amazing plant-based company.
In good health,
Danielle