If you haven't yet tried baking your pasta, you are going to be obsessed with this recipe for easy vegan baked spaghetti! This is a one-pan vegan dinner idea so if you need a pasta dish that's not only delicious, but also quick and has little clean-up, add this to this week's menu! This recipe is 100% plant-based, soy-free, oil-free optional and filled with healthy ingredients.
What ingredients will I need?
pasta of choice, I used thin spaghetti or "angel hair"
baby kale
sun-dried tomatoes
onion
zucchini
tomato sauce
dried basil
salt + pepper
garlic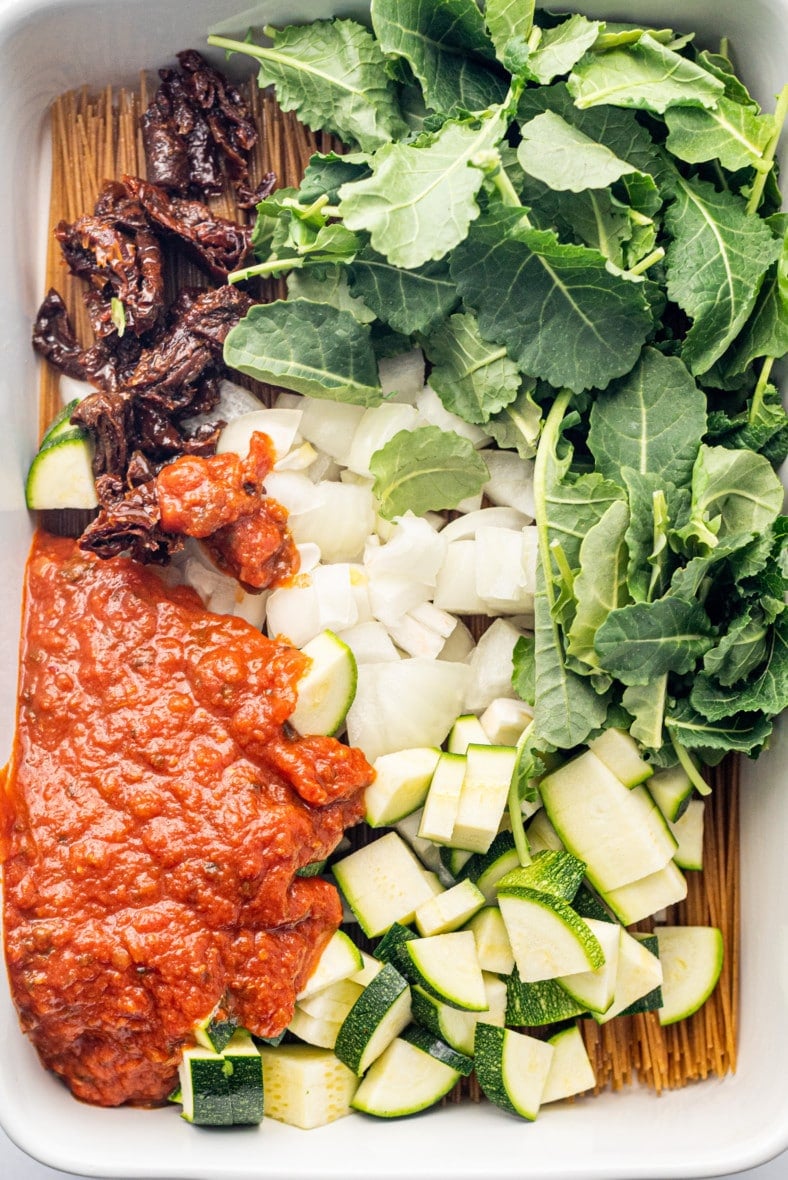 How do you make easy vegan baked spaghetti?
First, preheat the oven to 375 degrees F. Add the pasta into a 9×13 casserole dish. Add 1 tbsp of olive oil and mix the pasta around to coat them in the olive oil – this helps them not stick together. If you are oil-free, don't worry! Omit the olive oil. Add water, tomato sauce, and the rest of the ingredients including veggies and spices. Carefully mix together while keeping the spaghetti vertical and aligned. Bake uncovered for 30 minutes. If you are using angel hair pasta, it will be done in 30 minutes. If you are using any other type of pasta it will take up to 50 minutes – this is because angel hair cooks very quickly! Garnish with fresh basil leaves and vegan parmesan. Serve and enjoy!
Will my non-vegan friends and family enjoy this?
Absolutely! Everyone loves a good pasta dish. I promise you that your non-vegan friends won't even realize this dish is not vegan. It's filled with flavor from the spices, sun-dried tomatoes and veggies. I love making this dish for both my vegan and non-vegan friends and family and it's always a crowd pleaser. This will be a staple in your house that everyone will love!
Why is it important to use organic veggies?
I use Josie's baby kale in this recipe. It's pre-washed, pre-cut and comes ready to eat.  Josie's Organics is an amazing all organic company that grows their produce in the fertile California Valley. It is especially important to get organic greens because they are apart of the dirty dozen.
Josie's Organics doesn't use any synthetic fertilizers or pesticides on their farms. This is so important! If I see Josie's Organics in the grocery store, I snatch it up real quick because it's truly such fresh produce. You can find their produce at stores like Trader Joe's, Whole Foods, Sprouts and many more. Be sure to look out for Josie's Organics in your local store! Use their store locator here!
A few important tips:
If you use angel hair, bake for 30 minutes and use 2.5 cups of water.
If you use any other pasta besides angel hair, you will need 3 – 3.5 cups of water and it will need to bake for 50 minutes or until the pasta is cooked through! Don't worry – just taste the pasta at the 30 minute mark and see if it's ready. If it's still a bit hard, keep cooking it and try it every 7 minutes or so.
If you don't like the veggies I used, feel free to substitute any other veggies you like. For example, if you don't like zucchini, use broccoli! Easy as that!
What other pasta shapes could I use in this recipe?
Penne – Penne would be great in this recipe! The only pro to using smaller noodles vs. spaghetti is that it's much easier to stir pre-baking. Penne would work wonderfully and the tube shape would be great for soaking up all the flavors.
Fusilli – Fusilli's twirly shape would make a great vehicle for holding onto sauce and flavor. If you aren't an angel hair fan and want to use another shape, do this!
Linguini – Don't like angel hair and want a thicker noodle? This recipe works great with linguini! You will need to adjust the cooking time for it though. If you use any of these other pasta shapes you have to cook this for 15-20 minutes longer in the oven.
If you like this recipe, you will love this easy vegan minestrone soup!
What is the best way to store this easy vegan baked spaghetti?
Store in an air-tight container in the fridge for up to 4 days. Reheat in the oven or microwave when you're ready to eat it! I would suggest adding a little extra tomato sauce on top before reheating to give it extra moisture! Sometimes it can dry up in the fridge. However, this does make the best leftovers. Also, this recipe makes a whole pound of pasta so expect there to be leftovers if you're not feeding a family.
Want more FREE plant-based recipes and meal ideas?
Be sure to follow me on all of my social platforms:
Instagram: @HealthyGirlKitchen
TikTok: @HealthyGirlKitchen
Facebook: @HealthyGirlKitchen
Easy Vegan Baked Spaghetti
This one-pan, 30-minute plant-based dinner for easy vegan baked spaghetti is a fun, different way to eat pasta. Flavorful, family friendly, delicious.
the ingredients
16

oz

angel hair pasta

sub any other shape pasta

2

cups

baby kale

1/2

cup

chopped sun-dried tomatoes

1/2

cup

diced onion

1

cup

diced zucchini

2 1/4

cups

marinara sauce

2.5

cups

water

1/2

tsp

salt

1/2

tsp

garlic powder

1/2

tsp

pepper

1/2

tsp

dried basil

1

tbsp

olive oil

optional

fresh basil

garnish
instructions
Preheat oven to 375 degrees F.

Add the pasta to a 9x13 casserole dish. Add a drizzle of olive oil and mix the pasta around to make sure it's fully coated.

Pour water and tomato sauce over the pasta. Mix to combine evenly. Add the onion, zucchini, kale, sun-dried tomatoes, salt, pepper. garlic, and dried basil. Mix gently to combine. Make sure the pasta is completely covered in water. Add another 1/2 of water if needed.

Bake uncovered for 30 minutes or until the water is absorbed.

Garnish with fresh basil and enjoy!
Made with love,
Danielle