These 1-bowl vegan chocolate peanut butter banana muffins are not only healthy and vegan but the are absolutely delicious. They are plant-based, dairy-free, egg-free, gluten-free and soy-free. Make a batch of these for the week to have anytime a snack or for a healthy wholesome dessert. These are the perfect texture too – nice and fluffy and chocolatey.
What ingredients will I need?
You need ripe bananas, a flax egg, coconut sugar, maple syrup, baking soda, almond flour oats, applesauce, cocoa powder and chocolate chips. So ingredient list is minimal and clean. Add these ingredients to your grocery list so you can make these muffins ASAP.
How do you make vegan chocolate peanut butter banana muffins?
Preheat the oven to 350 degrees F. Prep a muffin pan by either greasing it or using muffin liners. Mix all of the ingredients in a bowl then fold in the chocolate chips. Pour the muffin batter into each muffin well about 3/4 of the way full. Top with more chocolate chips then bake for about 22 minutes. Let them cool then enjoy! Store in an air-tight container on the counter.
Will my non-vegan friends and family enjoy these muffins?
The short answer is YES. I gave some muffin samples to my friends who are not vegan and they messaged me saying how much they loved the muffins! They couldn't believe how delicious they are. I also gave my non-vegan father-in-law a few muffins to sample and he gave the thumbs up of approval. These vegan chocolate peanut butter banana muffins are also kid-friendly. This recipe is inspired by Minimalist Baker's chocolate fudge muffins but I wanted to make an oil-free version.
What makes these vegan chocolate peanut butter banana muffins healthy?
Healthy muffins are the best muffins. These are made with healthier ingredients like almond flour and oats instead of refined white wheat flour. They are oil-free too – I used applesauce instead of oil! These are a lower calorie muffin option. Most traditional bakery muffins can be over 600 calories but these are about 220 calories each! They are also dairy-free, soy-free, gluten-free, plant-based and have no refined sugar. I used low glycemic coconut sugar instead of regular white sugar. That is one of my favorite healthy baking tricks.
A few important tips:
Top the muffins with extra chocolate chips if you want them to look like mine in the pictures
Use ripe bananas for optimal moisture and sweetness
Use a greased non-stick muffin pan, or use muffin liners so that they don't stick
Substitution Recommendations
Peanut Butter: feel free to substitute the peanut butter in this recipe with almond butter or tahini for a nut-free version
Cocoa Powder: Don't have cocoa powder? Use cacao powder!
Chocolate Chips: Use carob chips or if you don't want chocolate chips at all then try adding nuts like pecans. This would even be good with vegan marshmallows!
Almond Flour: Don't have almond flour or are you nut-free? Try out oat flour.
Maple Syrup: Use agave or honey if you aren't vegan.
Applesauce: you can sub the applesauce with coconut oil.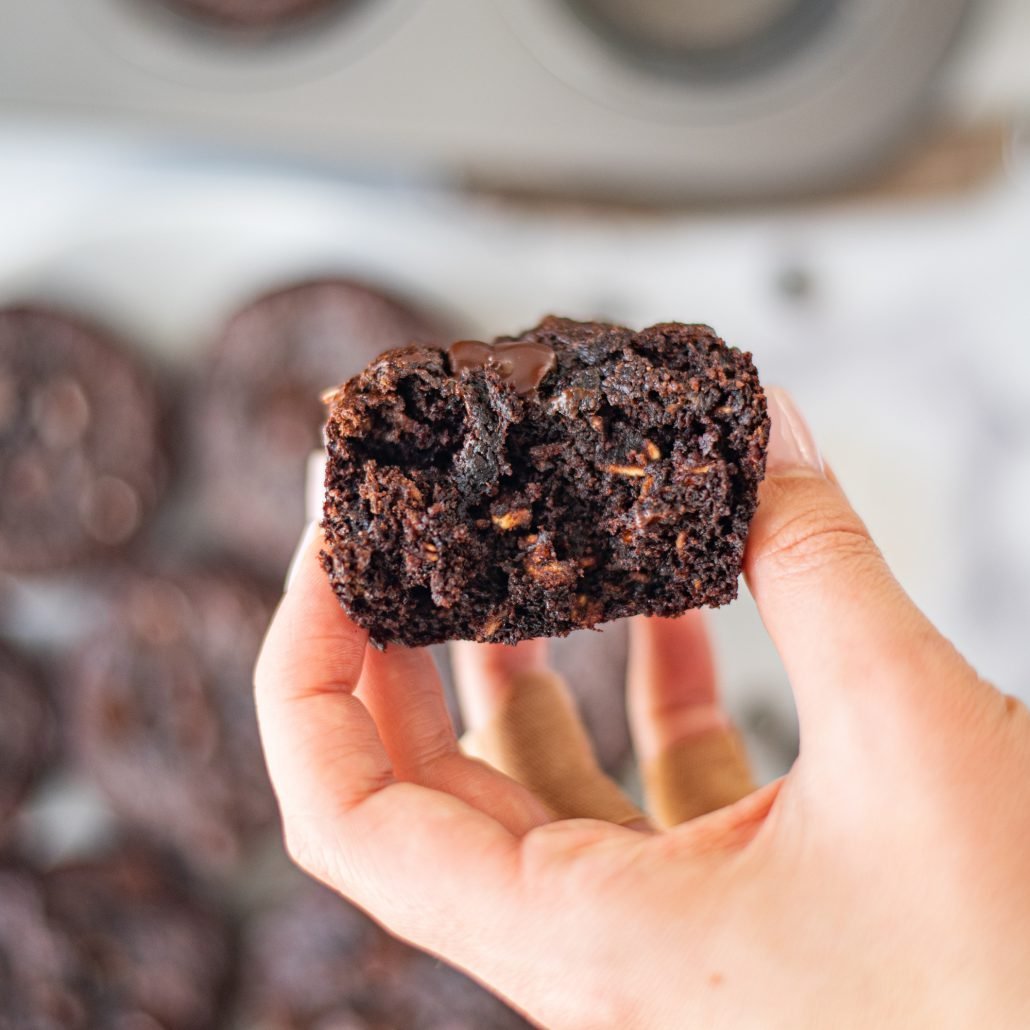 Want more FREE plant-based recipes and meal ideas?
Be sure to follow me on all of my social platforms:
Instagram: @HealthyGirlKitchen
TikTok: @HealthyGirlKitchen
Facebook: @HealthyGirlKitchen
Vegan Chocolate Peanut Butter Banana Muffins
Moist, fluffy, healthy vegan chocolate peanut butter banana muffins are made in 1-bowl and are super easy to make!
the ingredients
2

large ripe bananas

1

flax egg

1 tbsp flax + 2.5 tbsp water

1.5

tsp

baking soda

3

tbsp

maple syrup

1/2

cup

coconut sugar

1/4

cup

creamy peanut butter

2.5

tbsp

applesauce

1/2

cup

cocoa powder

3/4

cup

rolled oats

1 1/4

cup

almond flour

1/2

cup

vegan chocolate chips

plus more for topping
instructions
Preheat oven to 350 degrees F. Prepare a muffin pan by greasing it or using muffin liners.

Make your flax egg by mixing the flax and water and set aside for 3 minutes until it thickens. In a large mixing bowl, mash together banana and flax egg. Add in baking soda, maple syrup, coconut sugar, peanut butter, and applesauce. Whisk. Sift in cocoa powder then whisk again.

Add oats then add in the almond flour 1/2 cup at a time. Mix until completely combined. Fold in chocolate chips then add the batter into the muffin pan. Top with chocolate chips. Fill each well about 3/4 of the way.

Bake for 23-25 minutes until a fork combs out clean. Let cool for 5 minutes then transfer to a cooling rack.
Made with love,
Danielle