Hi friends!
I have a new delicious dessert recipe for vegan vanilla cookie pie that you are going to fall in love with. The vanilla filling is creamy, almost custard like, perfectly sweet and when paired with a cookie crust, it's truly mouth-watering.
First, you are going to make oatmeal cookies then blend them in the food processor, add the mixture into your pie pan and BAM you have your cookie crust ready to go.
How do you make the crust?
You can choose to bind the mixture with applesauce or oil if you don't care to cook oil-free. Seriously, this crust is healthy and delicious. The crust is made in the food processor, it takes a few minutes. Once, it's done in the food processor you bake it in the oven. This is the only baked part to this recipe.
How do you make the filling?
It's absolutely delicious – it's made with cashews, coconut cream and tofu. The sweetener here is maple syrup. I couldn't get over how great the filling turned out. If you don't want to make the crust, you can just make the filling and keep it in the fridge for a healthy vanilla pudding/custard. Pair with berries, granola etc.
Blend all of the filling ingredients for the vegan vanilla cookie pie in a high-speed blender like a Vitamix until completely smooth then pour into your cookie crust.
Once the filling is in the pie, put it in the fridge to set for at least 24 hours. It's even better after 48 hours!! For a firmer texture let it set for 48 hours, but if you can't wait it's still so freaking amazing the first day.
What is the best way to store this vegan vanilla cookie pie?
This must be stored in the fridge to keep the filling nice and firm. It keeps in the fridge for up to 5 days. You can even freeze this in slices and take the slices out when you're ready to enjoy. If you do keep individual slices in the freezer, just let it thaw for about 5-10 minutes before enjoying. Keep in the freezer in an air-tight container for up to 3 months. If you're storing this in the fridge, keep it in the original pie pan, covered!
This vegan vanilla cookie pie is:
Perfectly sweet
Custardy
Creamy
Soft
Light
Melt-in-your-mouth
Heavenly
Cookie perfection
Will my non-vegan friends and family like this?
YES. If you need to impress your guests with an incredible dessert, you have to try this! Vegans and non-vegans enjoy this pie. It's simply decadent. You know all of my recipes are super easy to make and don't take much time but this recipe is a little different. While it's easy, you will have to wait overnight to eat it! however, I had to put it on the blog because it's too good not to share. Make this on a Saturday morning and enjoy on Sunday – I promise it's worth it.
Rate + Comment
If you make this vegan vanilla cookie pie recipe and love it, please rate and comment down below at the bottom of your page with your honest thoughts. Your feedback means a lot to me here at HealthyGirl Kitchen. In addition, if you weren't a fan of the recipe or substituted an ingredient/s, please let me know!
Get more free recipes:
Pin this amazing vegan vanilla cookie pie on Pinterest, share the link on Facebook for friends and family to see, or post a picture of your creation on Instagram. Also, be sure to follow me on my new tiktok account, I post a lot of great content on there.
Instagram: @HealthyGirlKitchen
TikTok: @HealthyGirlKitchen
Facebook: @HealthyGirlKitchen
Vegan Vanilla Cookie Pie (gluten-free, oil-free)
Creamy, custardy vanilla pie with cookie crust that is 100% plant-based, oil-free, gluten-free, super delicious and perfect for the summer.
the ingredients
Vanilla Filling
1/2

block

soft tofu

about 8 oz

1

13.5 oz

can of coconut cream

1

cup

cashews

1/2

cup

maple syrup

2

tsp

vanilla extract
Cookie Crust
3/4

cup

oat flour

1/4

cup

rolled oats

1/4

cup

pure maple syrup

1/4

cup

almond butter

1/4

cup

applesauce

1

tbsp

ground flax

1.5

tsp

vanilla extract

1

tsp

baking soda

1/4

cup

applesauce or melted coconut oil

for binding crust separate from applesauce above)
instructions
Cookie Crust
Preheat oven to 350 F and prepare a baking sheet with parchment paper. Mix all ingredients together in a large bowl until well combined. Scoop the dough into cookie shapes and line them on a baking sheet, flattening them a bit. I got 8-9 circles. Bake for about 12 minutes. Let cool for 5 minutes.

Change the oven temp to 400 degrees F.

Break up the cookies and add them into a food processor. Pulse til they are completely broken up. Add applesauce or 1/4 cup melted coconut oil then blend in the food processor until completely combined.

Pour the mixture into a pie pan and press down until evenly distributed in the pan.

Bake the crust for 10 more minutes.
Vanilla Filling
Blend all filling ingredients in a high-speed blender like a Vitamix until completely. Once crust is out of the oven, pour the filling into the pie. If you have a tiny bit of filling left over just put it in a mason jar and it plain! It's delish!

Let the pie set in the fridge for 24 hours then enjoy! It gets better the longer it sits in the fridge! Serve and enjoy. Store in the fridge.
More healthy plant-based, gluten-free dessert recipes you will love
!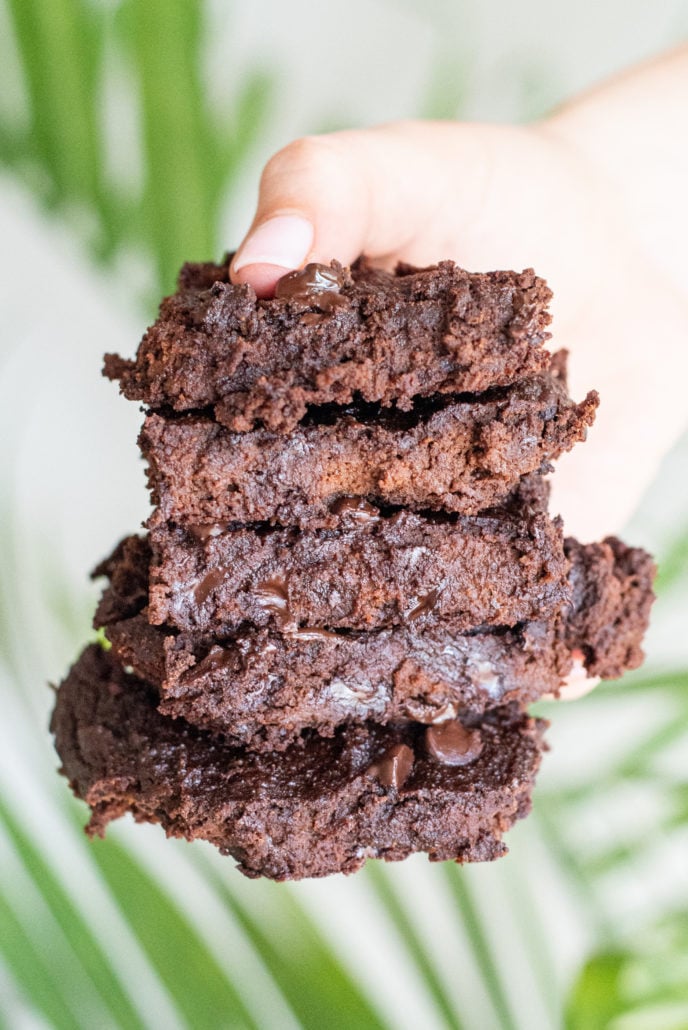 Healthy Vegan Thumbprint Cookies (gf, oil-free)
In good health,
Danielle