This vegan gluten-free carrot cake is a 1-bowl recipe which means it's super simple. It's perfectly moist, sweet, decadent and light at the same time. Carrot cake is truly the perfect spring dessert. If you need a healthy dessert for Passover, Easter or to simply make to enjoy for fun, this carrot cake is going to be your new favorite treat to make.
Recipe Details:
Made with almond flour + gluten-free all purpose flour: almond flour is a great gluten-free flour to mix with gluten-free all purpose flour because it helps to make the baked good not as dense. The fat content is in almond flour also helps to make this carrot cake moist
3-ingredient cream cheese frosting: this vegan gluten-free carrot cake is paired with dairy-free cream cheese frosting you can make in two minutes. All you need is maple syrup, vegan cream cheese and vanilla extract.
No processed sugar: the recipe only uses coconut sugar, a great lower glycemic sugar than white sugar
1-bowl: made in 1-bowl, this recipe has a very easy clean-up. Simply add the wet ingredients first, then the dry ingredients, then mix. Once combined, add in the carrots.
Instructions:
Preheat the oven to 350 F. Mix all of the wet ingredients together in a bowl, then add the dry ingredients.
2. Add in shredded carrots, then combine the batter. Pour the mixture into a loaf pan lined with parchment paper to prevent any sticking. Grease the loaf pan if you don't have any parchment paper.
3. Bake for 50-60 minutes until a toothpick comes out clean.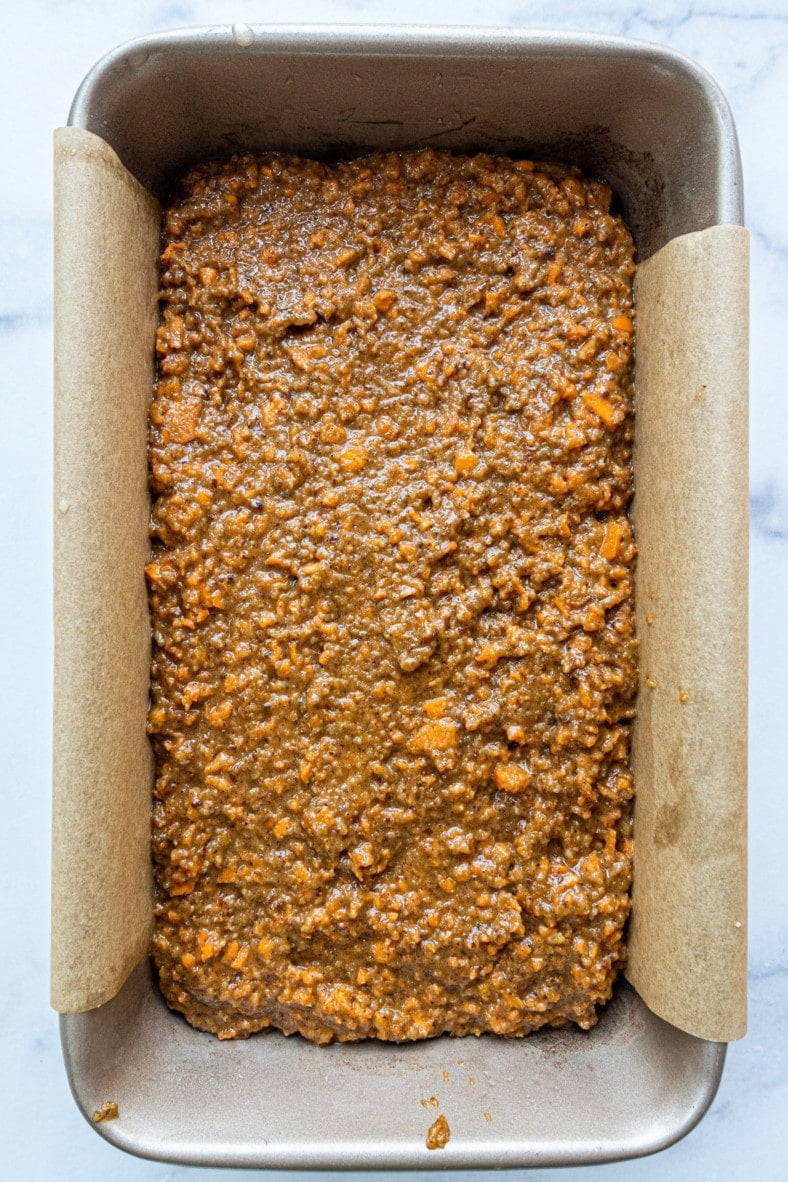 How do you make the cream cheese frosting?
4. Once the carrot cake is fully cooled (about 2 hours), add the homemade cream cheese frosting on top. You need cream cheese, maple syrup and vanilla extract. Just mix it it until combined and spread on top!
5. Add cinnamon and pecans on top of of the frosting for some crunch. If you don't have pecans you can use walnuts.
Will my friends and family enjoy this vegan gluten-free carrot cake?
Yes! You won't believe this carrot cake is made without eggs, regular sugar or flour. It is possibly to use healthier better-for-you ingredients and still have a delicious dessert. Everyone who has tried this carrot cake has fallen in love with it and they always ask for the recipe. Make this for the holidays, bring to a family gathering, to a brunch with your girlfriends or to serve to guests when they come over. Everyone is going to love it, I promise.
What makes this carrot cake healthier?
This carrot cake has almond flour + gluten-free flour instead of regular white flour. Almond flour is great because it won't spike you blood sugar in the same way that white flour would. It is also a great source of healthy fats. I use flax eggs instead of regular eggs and flax is packed with omega 3's, fiber and protein. Other healthier ingredients that I use in this carrot cake include dairy-free yogurt, carrots, applesauce and coconut sugar. It all comes together to make the best healthy vegan gluten-free carrot cake.
A few extra tips:
For the vegan cream cheese, I use Kite Hill Plain vegan cream cheese – it's made from almond milk and has clean ingredients. However, use any non-dairy cream cheese you can find that you enjoy.
Make sure to not under-bake. Leave in for the full 60 minutes if needed. This is a very moist cake so depending on your oven it may need up to an hour. It does firm up a lot once cooled and once you leave it in the fridge.
Store in the fridge! Because this uses cream cheese, make sure to store in a container in the fridge to keep the frosting from spoiling.
Want more FREE plant-based recipes and meal ideas?
Be sure to follow me on all of my social platforms:
Instagram: @HealthyGirlKitchen
TikTok: @HealthyGirlKitchen
Facebook: @HealthyGirlKitchen
Vegan Gluten-Free Carrot Cake
Moist, perfectly sweet, decadent, 1-bowl, 100% plant-based gluten-free carrot cake
the ingredients
1/4

cup

applesauce

1/4

cup

macadamia oil

or any neutral vegetable oil

2

flax eggs

2 tbsp flax 5 tbsp water mixed in a bowl

1/4

cup

non-dairy yogurt

1

tsp

vanilla

1

cup

almond flour

3/4

cup

gluten-free all purpose flour

1

cup

coconut sugar

2

cups

finely shredded carrots

use a food processor or hand grater

1.5

tsp

cinnamon

1/4

tsp

nutmeg

1/8

tsp

cloves

1

tsp

baking soda

1

tsp

baking powder

pinch of salt
Cream Cheese Frosting
8

oz

dairy-free cream cheese

1/2

cup

maple syrup

1

tsp

vanilla
instructions
Preheat oven to 350 F. Line a standard loaf pan with parchment paper.

Make the flax eggs by combining ground flax with water. Mix and let it set for 3 minutes.

In a large mixing bowl, add all of the wet ingredients to your bowl. Whisk.

Add the dry ingredients to the bowl, mix.

Fold in the carrots then pour into loaf pan. Bake for 50-60 minutes until a toothpick comes out clean.

Let it cool completely for a few hours. Use the parchment to gently lift the carrot cake onto a platter. Spread the frosting on top. Sprinkle on cinnamon and pecans.

Slice and enjoy! Store in the fridge.
Cream Cheese Frosting
Add all frosting ingredients into a bowl and mix until smooth and combined.
Made with love,
Danielle