Hi friends!
VEGAN CHICKPEA BROWNIES ARE HERE!
These vegan chickpea brownies are seriously so freaking yummy. If you miss indulging in a rich chocolatey brownie but don't want eat unhealthily, this recipe will solve your problem.
I have been wanting to share a healthy brownie recipe with you all for a while and I have been experimenting in the kitchen. There have been some failures but I finally got it right!
Trust me when I say you would never know that there were chickpeas in these brownies.
This recipe is: 
✔️Plant-based
✔️Gluten-free
✔️Oil-free
✔️Soy-free
✔️100% yummy
these are made in 1-bowl and they are so insanely easy to make – let's get baking!
All you have to do is blend all of the ingredients in a food processor until smooth, mix in the chocolate chips, then pour into a non-stick baking pan. Using a non-stick baking pan is great for oil-free baking! I
If you don't have an oil-free pan just use parchment paper or a little coconut oil to grease it.
Super Easy
These bake for about 25 minutes at 350 degrees F. Let them cool for 20-30 minutes to allow them to set and finish baking before digging in – I know it's hard to wait but I promise it's worth it! Enjoy with vegan vanilla ice cream or a glass of almond milk.
How yummy would a sundae be with these brownies?! UGH, YES PLEASE!
Perfect for a snack, for a healthy dessert, birthday party activity, a potluck, to share amongst friends, or to bring to a brunch! Delish!
Cut into as many pieces as you'd like and serve! I can't get over how incredible these are – every time I make them I am shocked at how delicious they are. Who knew chickpeas could turn into something so INCREDIBLE?! I like to sprinkle extra chocolate chips on top for even more chocolatey goodness!
These vegan chickpea brownies are really for all of the chocolate lovers out there.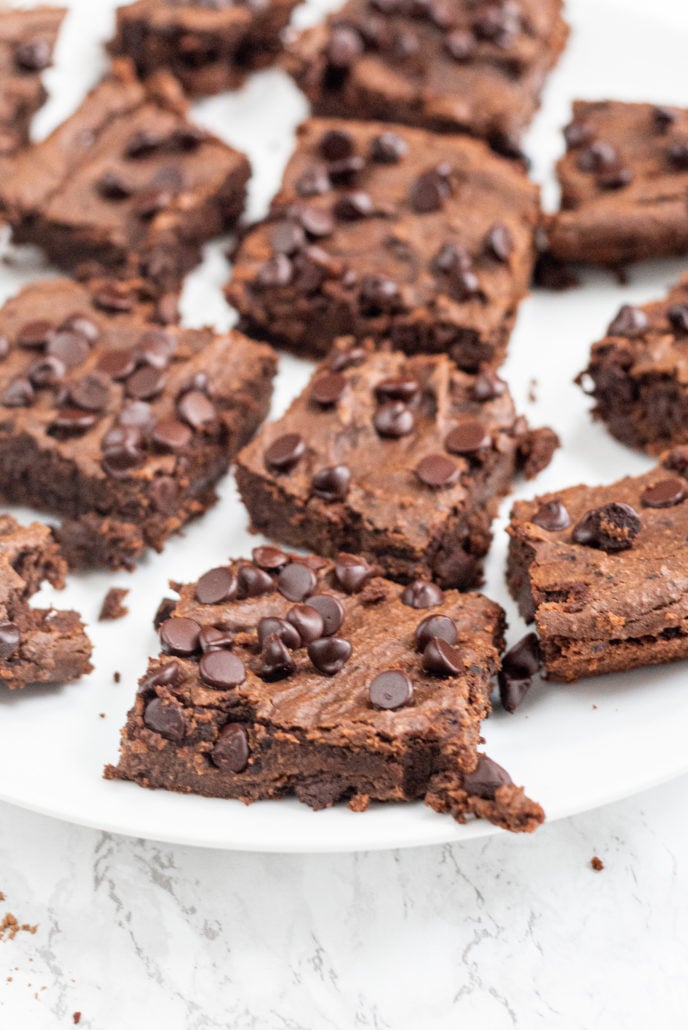 These vegan chickpea brownies are rich, fudgy, just the right amount of chocolate chips…ugh I am DROOLING! A fun game to play is to serve these to your guests and after they try them (and love them), have them try to guess the secret ingredient. These brownies are adapted from a few other recipes – I make mine oil-free!
If your kids are picky eaters and refuse to eat legumes, this a great way to sneak in some chickpeas!
As a health coach, I think it is unrealistic to never eat dessert again. It is nice to have a treat once in a while! For example, instead of eating sugary, processed baked goods with white flour, oil, eggs, etc., try baking a healthier treat! It's a win-win!
You get to have dessert without the guilt or without having to worry that it will sabotage your health journey or weight loss goals. Just remember – don't eat the whole pan at once hehe.
I love a simple, easy-to-make, hassle-free baking project. For this recipe, all you are doing is adding all of your ingredients into a food processor, blending and adding to a pan. Could it get any easier?!
Fun fact: I used organic applesauce instead of oil, this makes the brownies lower in fat and lower in calories – YAY!
These vegan chickpea brownies are:
rich
fudgy 
moist
decadent
rich
chocolatey 
sweet
heavenly
mouth-watering
Comment, Rate, Leave Your Feedback
If you make this recipe and love it, please rate and comment down below at the bottom of your page with your honest thoughts. Your feedback means a lot to me here at HealthyGirl Kitchen. If you weren't a fan of the recipe or substituted an ingredient/s, please let me know!
Share the Love
You have to try this recipe! I am dying to know what you all think! If you make it, post it on Facebook and tag me @healthygirlkitchen or post on Instagram and tag me @healthygirlkitchen too! I can't wait to see your creations.
Vegan Chickpea Brownies (gluten-free, oil-free)
These vegan chickpea brownies are rich, fudgey, decadent and so yummy! They are gluten-free and oil-free as well. Perfect for kids, bringing to a pot luck, or just sharing with the family.
instructions
Preheat the oven to 350F.

Add all of the ingredients except the chocolate chips into a food processor. Blend until completely smooth!

Fold in chocolate chips then pour into a baking dish. An 8x8 pan will work for this.

Bake for 20-23 minutes. When they are done, let them cool for about 20 minutes before cutting into them.
Craving something sweet? Make VEGAN APPLE NACHOS!
Vegan Chickpea Cookie Dough is a MUST! (no-bake)
You need to make Vegan Chickpea Bark!
OMG – Peanut Butter and Jam Thumbprint Cookies
I hope you enjoy these as much as I did!
In good health,
Danielle